Local Features: Miami's The Underline
Green space parks in Miami are hard to come by, no matter the location. Finding a park located underneath public transportation? Completely unheard of. But a group of entrepreneurs, business owners, musicians, and philanthropists—headed by RE alum Meg Daly '78—are seeking to do just that by "transforming the land below Miami's Metrorail into a 10-mile linear park, urban trail, and public art destination."  
Inspired by Manhattan's famous High Line and designed by the same architects, the park, known as The Underline, is a neighborhood space that seeks to redefine the traditional ideas behind community parks while bringing people together. After eight years of brainstorming and construction, the first section of the park stretching half a mile from the Miami River in Brickell to SW 13th Street opened in an official ribbon-cutting ceremony earlier this year. The ceremony featured members of Miami local government, residents, and the original founders of the project.  
When asked about her inspiration, Daly explained that "the idea first started when I had a bike accident seven years ago, and broke both elbows. As a result, I had to go to physical therapy near US1, and I began taking the Metrorail to and from the building, but it dropped me a half-mile short, so I walked below it the rest of the way." Daly had visited the Highline in New York, so when she discovered the 10 miles of underused dead space beneath the tracks, she began thinking about being able to transform the land. She said that at its most basic level, The Underline is a "connector where people who don't own a car can remain connected wherever they live." 
Daly admitted that the project had numerous challenges and heartbreaks along the way. In the very early stages of the project, her father was her "partner, mentor, and friend." He passed away a few years ago, which made the completion bittersweet but motivated her to keep working whenever she got discouraged. 
As we spoke over the phone, she mentioned that she was in her office, right across from the Underline, and pointed out that she could see someone walking with groceries, a mom with her child in a stroller, a skateboarder cruising by, and someone walking their dog.  
The project is split into three phases, each mirroring the cultural vibe of its surrounding area:  Brickell Backyard, Vizcaya Station, and Miami. The second phase, Vizcaya Station, adding another two miles, is expected to be completed by 2023, with all 10 miles projected to be done by 2025. Once completed, the entire 10-mile park will travel from the Metrorail line in Brickell all the way to Dadeland South, encompassing Vizcaya, Coconut Grove, and the University of Miami.  
Despite the 'Brickell Backyard' being only half a mile long, its contents are still impressive. It's home to 30,000 plants and trees, an "Urban Gym" containing a basketball court and exercise equipment, picnic tables, playgrounds, ping-pong tables, and an outdoor stage for live music, all supported by free Wi-Fi. And this remarkable feat needed a lot of help, since Daly's organization was a nonprofit, she revealed that thousands of people have contributed to the project, including 30 members of 'Friends of the Underline,' at least 90 county employees, thousands of pro bono legal hours, and over 800 volunteers who signed up through their website.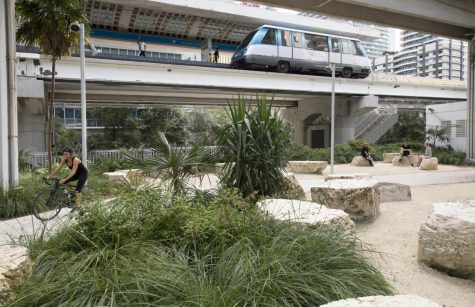 Those volunteers include several members of the RE community, including senior Liza Dill '21, who said she first heard of the project when Daly gave her presentation during an assembly two years ago and worked as a 'Community Outreach Intern' helping to contact local businesses, schools, and housing associations to gather feedback and input on the design of the park. Dill said she was inspired to join the project after being "impressed by how the project served as an economic, social, education, and health policy." 
She says that through her work, she was able to connect more closely to the Miami community. "As The Underline spans multiple neighborhoods, I was able to connect with people throughout my city, despite working from home and doing everything over Zoom," Dill said.  
The project has had the backing of local government every step of the way, through the support of local officials as well as a grant from the City of Miami. Speaking at the February ribbon-cutting ceremony, Miami-Dade Mayor Daniella Levine Cava said, "The Underline will be a place where young professionals, children, families, and the entire community can spend time outdoors, enjoy great programming, and easily connect with our Miami-Dade Transit system… the Underline is a first step toward a people-first transit future, and I invite the community to come and enjoy this beautiful linear park." 
Miami's infamous traffic is hardly a secret: 80 percent of Miami residents use a car for transportation, causing round-the-clock gridlock and costing $4 billion a year in productivity. The Underline is the first step towards encouraging a newly revived public transit system, expecting to reduce traffic by 5 percent. It's also part of a push for increased pedestrian safety; Florida is ranked #1 in bike fatalities nationwide with Miami-Dade being its most dangerous county.  
The Underline is expected to cost $120 million in total with $100 million being publicly funded through donations, meaning no taxpayer money will be needed with the rest of the money coming in through government grants. The project could even be profitable for Miami, since its completion is expected to increase economic activity by $50 million annually, and boost revenue by $3 million by increasing accessibility to local businesses. It will connect over 100,000 Miami residents and provide access to public transportation for 10,000 businesses as well as several hospitals, malls, and schools.