RE Boy's Lacrosse dominates with 11-1 victory against Palmer Trinity Falcons
The Ransom Everglades Boys Varsity Lacrosse team was victorious against the Palmer Trinity Falcons 11-1 at home on Wednesday. The team was led by Jack Rivas-Vasquez '22, who had five goals and two assists, and Jordan Gonzalez '24, who had two goals. Levi Gans '22 led the defensive side of the field for the Raiders.  
The Raiders started off the game strong, with Gonzalez '24 scoring the first goal of the game and the first goal of his varsity career. Two more shots quickly followed. Goalkeeper, Elliot Sable '21, did not allow a Falcons goal in, ending the quarter up 3-0.  
"It was a needed team win," Gori Spillis '21 said. "We possessed the ball on offense better than we ever have, and we showed that we can be calm with the ball in our hands. There's a lot to work on, like running plays correctly and recovering from mistakes quickly, but overall we executed. I'm happy with our performance." 
During the second quarter, the Raiders dominated both sides of the field, mainly keeping the ball on the offensive side. Sable shut Palmer Trinity out in the second quarter as well, ending the half with the Raiders up, 6-0. 
"We executed exactly how we wanted to. We wanted to be able to control the game and move the ball and effectively take the clock down, and we did exactly that. We are going to try and put the ball in the net a bit more than we did today in our future games," Head Coach Tyrone Croom said.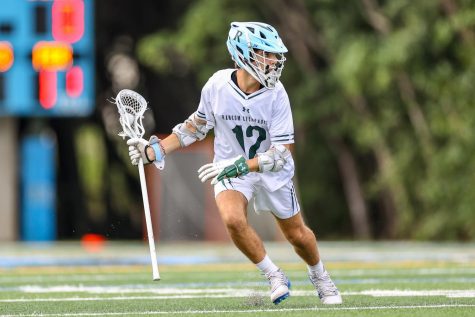 While  Rivas-Vasquez started the second half off strong with three shots in the first minutes, Gans carried the defensive side of the field, hustling to ground balls and intercepting several Falcons passes. However, the Raiders conceded their only goal of the game during the quarter but still led 10-1 at the end of the period.  
RE held the ball for most of the fourth quarter to secure the win, with a final score of 11-1. 
"I think it was good to get everyone in the game and good to add another win to our record. We could've played better, but it's the beginning of the season and we have some time to improve. We need to start playing as a team and not individual players, and when that happens, we will be on the road to success," Gans said. 
The boys' varsity lacrosse team now holds a record of 3-2 and will compete next on Saturday at Key West High School at 2 pm. 
"It was a great team win, but we have to get to work on both sides of the ball if we want to be competitive with better teams," Sable said.