Safety audit ends senior driving privileges
Replacement Tradition in Progress
The Ransom Everglades Class of 2021 received shocking news about the discontinuation of one of the most cherished Senior privileges. An August 11th email from Head of the Upper School Patricia Sasser revealed that Seniors would no longer be allowed to drive cars on and off campus throughout the school day. 
"Ransom Everglades can no longer allow seniors to drive off campus during free periods or lunch," the email read. The email further elaborated that a recent safety audit made clear that, "the risks associated with this privilege are too significant to allow the practice to continue." 
In a later interview, Sasser explained the faculty leadership's decision to end the tradition. "We did do a safety audit following Parkland, not immediately after but after that, and just for the reasons one would think. Really looking at our school and our gaps." 
"We also have a new director of security, Mr. Ramesh Nyberg," Ms. Sasser said. "He also reviewed the campus security protocols, emergency protocols, and all of those things so we can really say, 'ok, what are potential issues that could create bigger problems and what are things we need to tighten up?' 'What things need to be better at?' 
"Your parents hand you all over to us for the school day," Ms. Sasser said. "And then [you] could get in cars and go anywhere at any point, and if someone is rushing back or stuck in traffic or something, it could be anywhere in Miami. And there's the potential to try to rush back to make class, which we want [students] to be in class, but there's potential that could lead to accidents or something worse from that accident." 
However, Seniors will still have the privilege of walking off campus into Coconut Grove. "[The faculty leadership] felt comfortable with [students] still being able to walk to the Grove and everything," Ms. Sasser said. "But not necessarily the cars, even if the cars are parked in the Grove." 
Sasser added that other aspects of the safety audit included revisiting fire drill and lockdown protocols, as well as "making sure any (security) cameras we have on campus are up and running." 
The decision has left members of the Class of 2021 upset and confused.  
"I don't really think it makes sense to take away that privilege our year," Ethan Gomez '21 said. "I don't really know what went on last year in terms of students rushing back and if that caused accidents. If there was a significant report of increased accidents for kids coming back to Ransom then maybe I would understand it, but from my perspective I don't know that, and it doesn't really make sense to me that they're taking away our privilege for that reason." 
"
And there's the potential to try to rush back to make class, which we want [students] to be in class, but there's potential that could lead to accidents or something worse from that accident."
— Ms. Sasser
"I don't really like [the decision] because on certain days, I have two to three hours free," Peri Gould '21 said. "I feel like I should be able to go home, but I live on (Miami) Beach. So, I feel like someone that lives close to Ransom might still be able to go home (by walking)." 
But Seniors understand where the faculty leadership is coming from with their decision. "When you put it in the context of the limited time period, it clicks more in my brain and I understand it," Gould said. "I feel like maybe that rule would help avoid that." 
Now, the faculty leadership and the Class of 2021 are tasked with creating a new tradition for this current class of seniors and those to come. 
"We started a conversation with the SGA seniors," Ms. Sasser said. "We want to continue that conversation to see what ideas you all have." Ms. Sasser added that the faculty leadership has spoken with teachers on the subject as well, noting that the idea of a drive-in movie had been floated as a potential socially distanced event for seniors. She also emphasized that all seniors are welcome to share ideas with either her or Mrs. Townsend via email or with Class of 2021 SGA representatives. 
Yet, at the moment, Seniors are at a loss for what a replacement tradition might look like.  
"To me, not being able to drive off campus, I feel like I'm losing something," Gould said. "But it's hard off the top of my head to think of something equally as effective that would bring us as much joy or privilege that they could give us." 
Gomez shares a similar perspective to Gould. "I don't really know what you can do that would equal that," he remarked. 
Ms. Sasser highlighted that the goal is to find "things that work for everyone and also that you all would be excited about. Like we said, we know this is not the start you all wanted, and then add on that we've just changed a privilege, so it just feels like a lot right now. But we don't want that to take away from your senior year and we do want you to feel that this is still going to be a really great senior year." 
About the Contributor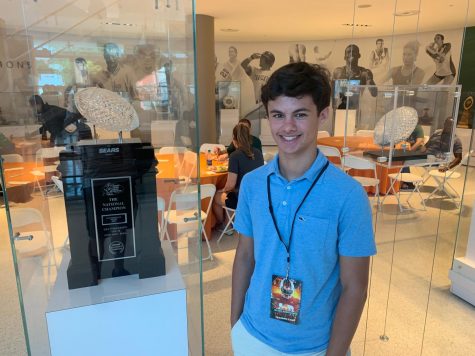 Danny Amron '21, News and Sports Editor
Danny Amron is the News and Sports Editor of The Catalyst. For the 2019-2020 school year he served as a sports reporter. He has been contributing since...