SGA announces constitution
During assembly on Tuesday August 21st, Student Government President Noah Zaldivar '22 announced a new constitution for SGA along with a number of new posts, such as Director of Communication, Director of Operations, and Director of School Spirit. The announcement took many students in the audience by surprise; behind the scenes, however, the project had been in the works for some time, and SGA representatives had already written a draft of the document during the last weeks of summer vacation. After several weeks of deliberation and revision, the constitution is now close to being signed and ratified, and when it is, it will constitute one of the most significant attempts to restructure RE's student government system in recent memory. 
The process of writing the constitution was driven by Zaldivar himself. According to him, "the biggest thing I noticed last year when I was on SGA was that there was a profound lack of, and I don't know if this was COVID or not, a profound lack of organization. It was just kind of willy-nilly." According to Zaldivar, major assignments in the previous administration tended to go to a few select seniors whom previous president Georgia Crosby '21 already knew and trusted. 
These problems led Zaldivar to start working on a constitution. "The first thing I thought was that we need some form of strict organizational structure in place, something to make it absolutely clear what we are doing, what we can do, who we report to, things like that," he said. 
Fellow Senior Dashiell DeStefano '22, who served on student government freshman year under President Henry Schermerhorn '18, partially agreed. "What I did notice was that the efficiency of student government was very reliant on who the president was. I mean if it had been someone else it might not have run as well as it did. It really did all come down to Henry deciding to put in the work he did," he said.
However, Senior Class and SGA Sponsor Mr. Jorge Guzman underscored the importance of who is elected. "It really comes down to who has been elected. As a community you really want to think about who you are electing. Who do you want to have voicing your concerns?" 
While the Constitution has not yet been promulgated to the student body, the Catalyst was given exclusive access to the current draft by SGA. The Constitution is split into nine sections and begins with a preamble: 
We shall seek to represent the concerns of the RE student body while striving to foster a strong academic and extracurricular community. We shall act according to the statutes stated in this Constitution while abiding by the Student Handbook. 

We, the representatives of the students of Ransom Everglades, stand unanimous and unwavering in our declaration of the official Constitution of the Ransom Everglades Student Government Association, and in doing so, affirm our responsibilities and powers as detailed below. 
It then goes on to establish the purpose of SGA in four points. The first purpose is to "represent, lead and unify the student." The second is to "make recommendations to the Administration concerning student issues and concerns." The third is to "act as a means of preserving and maintain the well-being of the Ransom Everglades community." Finally, the fourth purpose is to "encourage enthusiastic school support." 
To carry out and fulfill these purposes, the constitution organizes SGA into several positions and committees. Beyond the President, SGA will have a Vice President and a Secretary as its main executive body. In addition, there are five committees, each headed by its own chair. These are the Operations Committee, Communications Committee, Community Service Committee, School Spirit Committee, and the Activities Committee. The chairs of each committee were announced during assembly and are Andre Joseph '22, Alexa Hommen '22, Livia Herman '22, Jackson Pegg '23, and Loriz Arencibia '23 and Lauren Zanarini '22, respectively. 
The document is also still a work in progress. As Zaldivar says, "We are also getting eyes on it from different teachers and the other people outside of student government. Mr. Cooper, he's advising us right now. We're asking fellow students, just to get as many eyes as possible." 
Some students, however, have voiced the concern that Zaldivar's aspirations for student involvement do not reflect what is actually happening. "I'm a little concerned in that we haven't seen any of that process," DeStefano said. "Like, we are told that it's being written and that we will be able to see it soon, but if it is really supposed to be representative of all the students, I feel like there could be more involvement, or at least transparency."  
Other students like Marco Zhao '23 agreed. "They are writing a constitution? Since when? I'm concerned that they are writing a constitution without consulting any of us, I feel it should be more public and more publicized than it is right now." 
Once the constitution is finalized, there will be a signing ceremony according to Zaldivar. During the ceremony, the constitution will be signed by Head of School Mrs. Stephanie Townsend, Head of Upper School Mrs. Patricia Sasser, Mr. Jorge Guzman and all the student government representatives, including the president. The time frame for when it will happen remains unclear. 
About the Contributor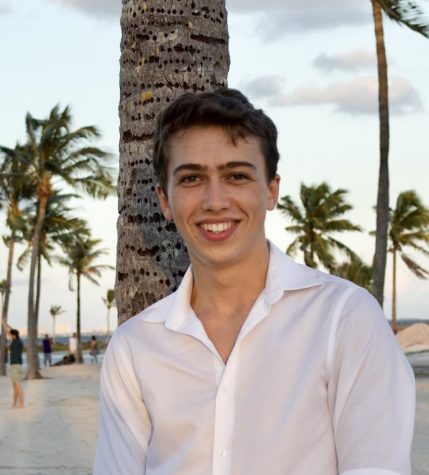 Luca Campiani '22, Co-Editor-in-Chief
Luca Campiani '22 is a Co-Editor in Chief and writer for The Catalyst. He covers the Features and News sections of the newspaper.