RE Drama's "Clue" proves that even the darkest topics can be funny
It seems that my future lies in reviewing theater productions rather than being included in the cast. That's right, folks: I auditioned for Ransom Everglades Drama's production of "Clue" (this time with a Miranda Priestly monologue) and, once again, didn't make the cut. All is well, though! Rather than working hard to pull off this production like "Clue's" wonderful cast and crew, I got to sit comfortably in the Lewis Family Auditorium and play the role of the audience.  
"Clue," for those of you who didn't get the chance to watch this wild whodunit story unfold on stage, is based on the 1985 film of the same name (which is, in turn, based on the family-favorite board game). During the Red Scare of 1950s America, six adults, each with their own unique personality, are invited to a mysterious mansion in the middle of nowhere owned by a Mr. Boddy (Alejandro Andrade '25).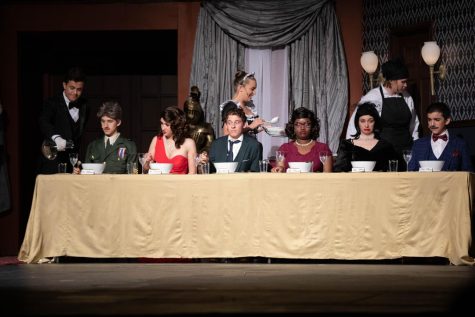 However, the neurotic Mr. Green (Matthew Zide '22), flirtatious Miss Scarlet (Zoe Holtzman '22 and Natasha Rodriguez '23), narcissistic Professor Plum (Armando Segrera '25), repeatedly widowed Ms. White (Celeste Viana '22), genteel Mrs. Peacock (Jaerla Sajous '25), and obtuse Colonel Mustard (Tager Lehr '25) have one thing in common: each person has a secret someone is threatening to reveal. They all arrive at the mansion unsure what to expect, only to find out the enigmatic Mr. Boddy himself is their collective blackmailer, and he's driving up his price.  
When Boddy ends up as, well, a dead body, this quirky cast of characters, along with Yvette, the maid (Natasha Do Valle '23), Wadsworth, the butler (Nicolas Maynulet '23), and Cook, the cook (Finn Oberg '24), must face a question they're all afraid of discovering the answer to: who murdered Mr. Boddy? 
Thanks to the talent of the cast and crew and the direction of RE Drama teacher Ms. Laura Montes (and assistant director Kathleen Stanton-Sharpless '22), watching "Clue" was like being in Mr. Boddy's mansion itself. Each actor made their character distinct, whether it was Miss Scarlet flirting with anything that moved or Mr. Green jumping at the slightest disturbance. Even the more minor characters, up until their untimely deaths, were memorable. Cook's blank expressions and slightly off-putting demeanor (and, of course, large knife) made the audience immediately suspicious, and Natasha Do Valle's commitment to Yvette's French accent was impressive.  
Not only did the play intertwine suspense, humor, and entertainment, but the set design made "Clue" a visually stunning production. Each small detail, from the books in the library to the distinct looks of the various rooms, made the play just that much more interesting to watch. With every small detail–the dancers playing mysterious shadows was an incredibly creative touch–the hard work of each cast and crew member shone through.  
For seniors Zoe Holtzman, Kathleen Stanton-Sharpless, Celeste Viana, and Matt Zide, "Clue" was an impressive swan song as they move on to further their careers in both theater and other endeavors. They will be missed! 
About the Contributor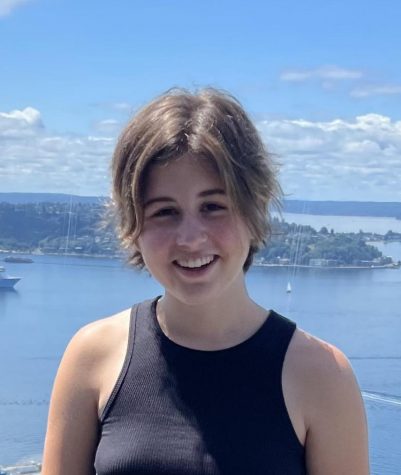 Sabrina Soto '22, Co-Editor-in-Chief
Sabrina Soto '22 is a Co-Editor in Chief and writer for The Catalyst. She covers the Arts and Opinions sections of the newspaper.