What You Can Make in the Makerspace
Art, Design, and Technology gives students new tools to unleash their creativity
Imagine walking into class and creating your very own mandala-patterned lantern. This is exactly what the students in the new Art, Design and Technology class did one day last fall. During their time together in the Math/Science "dungeon," photography teacher Mr. Matt Stock and engineering teacher Mr. Robert DuBard created the idea for a course that combines conventional art-making tools with software and hardware. The course allows students to get hands-on experience with machines while giving them a creative outlet. 
Before its first semester even began, the course drew significant student interest. "It was the only class that did not seem like the others. I thought it was going to be something new and fresh. Plus, I really wanted to be in this room. I would walk by it and see the 3D printers and machines and think 'Oh! I really want to use this,'" recalled Karyna Steele '23. 
The course came around due to the brand-new resource of the STEM Center. According to Mr. DuBard, it makes a "collegial and inviting" impression—but not to everyone. The STEM building and equipment are usually used by math- or science-focused students. Witnessing this happen, Mr. DuBard set out to change this preconceived notion. "I want to give students who might not see this as their space the ability to understand that this resource is for the whole school. The Makerspace is for anyone who is interested in making something either technological or artistic," he said.  
The Makerspace is an area filled with machines, tools, materials, and technology that aims to assist students with the production of objects. Students enrolled in the course frequently use the laser cutter, Cricut machine, 3D printers, and vacuum former. The Cricut machine cuts out vinyl stickers, regular paper, and other types of thin materials, while the laser cutter cuts thicker material precisely. Students in the course also 3D print objects in resin, and the vacuum former molds and vacuum pressures objects into desired geometric shapes.   
All this innovative equipment is not the only fresh aspect of the class. The juxtaposed collaboration between Mr. Stock and Mr. DuBard allows both teachers to bring their respective backgrounds and perspectives to the table. "This idea of artists toiling away with archaic mediums no longer exists, and art is now involved in technology, biology, humanities," Mr. Stock said. "It is immersive. So, this class is designed to get students to think about art in a different way, and in a way that incorporates technology into their thoughts about the creation of art." 
Both teachers only had positive things to say about their work together. From their perspective, the only downside of the course has been "a wealth of options and ideas," as Mr. Stock put it. "Sometimes it is hard for us to focus and decide what we want the students to actually work on," he said. "How can we take these great ideas we had and pair them down to be an assignment that can be given in this traditional learning environment?" 
The beginning of their journey presented some serious challenges. Mr. Stock and Mr. DuBard did not anticipate the extent of knowledge students would need before being able to freely pursue their artistic potential. They began the semester with a mask project, where students created hand-drawn or computer-created proposals that contained cultural significance that spoke to them. But they then realized that the students needed to learn more foundational skills before getting sent out into the wild.  
 "There were a variety of manufacturing techniques that would be necessary to deliver each of those mask proposals," Mr. DuBard explained. "So, we put that on hold. But it took that time to figure out that we needed to do smaller, more focused projects before we opened it up and told them to go nuts." 
Last semester, students also made 2D pieces of art that they created into custom-made stickers using a Cricut machine. Afterwards, they learned to use 3D design software to sculpt an object in the 3D realm and then print it in 3D. Most recently, they used the laser cutter to create light boxes: a cutout that a light is shone through to project a mandala onto the floor or a surface.  
Maria Schuchovski '22 decided to take the class because of her curiosity for interdisciplinary subjects and desire to continue taking art after trying out both photography and ceramics. Her favorite assignment so far has been the lightbox because "it allowed individual creativity and a chance to learn laser-cutting techniques." The lightbox seemed to be a class favorite overall, with Nico Imery '24 seconding her opinion. "It is our only project where we can make cool projections, and we got to use the laser cutter," he said.  
Tommy Fisher '22 described his experience with the laser cutter as "simple and easy to use. You just have to make a design in Photoshop or Adobe Illustrator, and then you have to put it in the software for the printer, and after that, you just press print." 
Inceni Cabrera '22 joined the course because it allowed her to pursue her love for digital art and prepare for a career in computer science and video game design. Cabrera had served as the Digital Art Club's president before the student organization was discontinued due to "not [meeting] the requirements to continue as a student activity," according to an official communication. Art, Design and Technology enabled her to reignite her passion.  
"This class is very different from the digital art club, as the club mainly focused on illustration and composition. ADT, while having a similar premise, does not focus on character illustration and mainly uses mini projects as a way of teaching various techniques," Cabrera explained. 
The course is open to students of all backgrounds, and Mr. DuBard hopes it will inspire students and teachers to use the Makerspace for other classes and activities beyond ADT.  
"I would love to see this place work more as a library and less like a classroom, where individual students can come in with things they are interested in and make use of their resources to fulfill their dreams," he said. "If you can operate a cellphone, you can design and build stuff from your own imagination." 
About the Contributor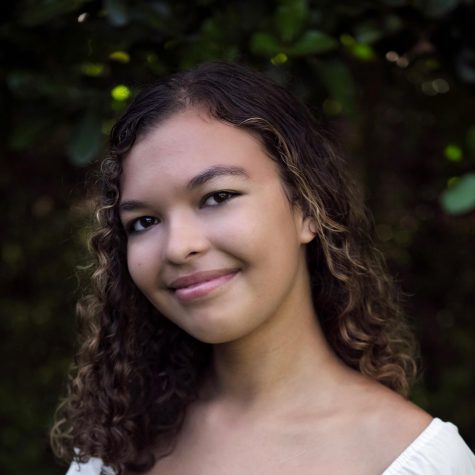 Sol Cuello Robert '22, Staff Writer
Sol Cuello Robert '22 is a staff writer for The Catalyst, specializing in sports and features.