A REturn to normal?
With the new schedule and looser COVID restrictions, students feel more productive—but at what cost?
Returning to in-person school in the fall of 2020 excited most Ransom Everglades students who had been confined to their screens for the last six months of their educations. As the era of REmote School transitioned into the era of hybrid learning, with a looser schedule and many different COVID protocols in place, this excitement morphed into something different for each student. Some people were left itching for a more normal school experience, while others relished the increased amount of free time. 
The 2021-2022 school year has brought a new era of normalcy—almost. Students still wear masks indoors, both during class and even at events like this past Saturday's Homecoming dance. Elements of last year's COVID-era schedule also remain, with some post-COVID modifications: it's still a block schedule, but it now includes morning advisory, shorter passing time between periods, and time explicitly carved out for student activities that were not able to run last year.  
For the most part, RE students feel relieved. But some also expressed ambivalent feelings about aspects of REmote and hybrid school that might have been abandoned all too soon. 
For football player Matthew Acosta '22, the lifting of restrictions this year was a welcome change. He described the difficulties of training last year, and why things have gotten better since the slackening of COVID protocols. 
"We had to schedule certain times, and we had to social-distance and everything and wear masks, but this year it's definitely a lot easier," he said. "We have more freedom, and we've definitely gone at it a lot harder this year, trained a lot more. Over the summer also, this year, we were able to do the camp, 3 weeks of training. Last year that had to be cut down because of COVID." 
Acosta also referenced the social repercussions of lifted restrictions, saying that he had missed seeing the stands full of people at football games.  
"[It's] so much better when a lot of people come out, and you can see all your friends in the stands and everything," he said. "Definitely much better to have that. When there's nobody there, there's not much motivation to play hard." 
Senior Karlee Malloy '22 explained that being completely physically present in school this year has channeled her back into a more focused mindset. In her view, the pressures that come with attending classes on campus have pushed students to work more diligently and be more attentive during class.  
At the same time, Malloy admitted to feeling more disorganized this year, in part because last year came with simpler expectations. "Last year it was very easy to know what you were supposed to do," she said. "Most teachers used [only] OneNote or Google Classroom, and this year you turn things in physically, but sometimes also online." 
Several members of the RE community said that they miss another kind of simplicity: the slowed-down and pared-down COVID schedule, which provided significant breaks between classes to allow students to decompress. When online classes shifted to in-person ones, these 20-minute passing periods remained and gave students valuable time with their peers that they had never been able to have before. These breaks allowed students to breathe between classes or activities and gave them more time to complete work if needed—or to relax and take a moment for themselves.   
Sophomore Maggie Seabrook '24 and English teacher Ms. Frances Alexander both described what they missed most about the months of online and hybrid school: the way students and faculty alike were finally allowed a break where they could do the things that they wanted to do without having to feel guilty because they weren't being productive.  
"There was nothing to do," Ms. Alexander said. "When we were teaching from home, there were many more breaks, and my only option was to sit and do work or go for a walk. So I was going for walks multiple times a day. And right at the beginning, when we first shut down and went virtual, every day after school the entire neighborhood was out taking a walk with their family."  
Without as many pressing responsibilities, students like Seabrook were able to pause and reflect while focusing on themselves rather than the rush of a busy school year. The most mundane tasks that had been pushed off for months were suddenly prioritized, and people had time to focus on mindfulness. 
"I just found what I liked to do," Seabrook said. "I read a lot of books, I watched a lot of TV shows, I spent a lot of time with my family, we got a dog. I just did a lot of things in my life that I don't think I would've been able to do as in depth now." 
"It was nice to suddenly have an opportunity to invest in reflective practices," added Ms. Alexander. 
About the Contributors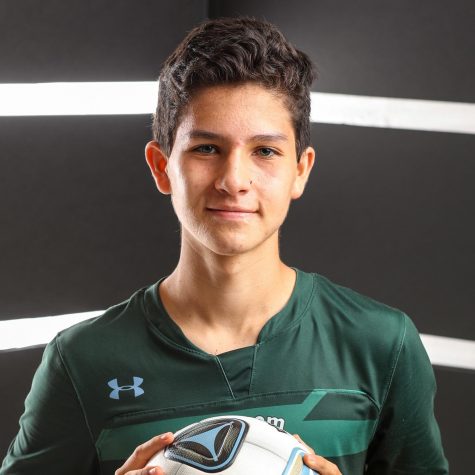 David Pulido '22, Staff Writer/Photo Editor
David Pulido '22 is a staff writer and photo editor for The Catalyst. He covers the Ransom Everglades school community.