Was Kanye West's "Donda" worth the hype?
The wait is over. No more album-listening parties and live streams on Apple Music of Kanye West performing self-immolation and ascending like an angel into the sky. After a prolonged, meticulous, and often controversial roll-out by the "Chi-Town" billionaire and rapper, Universal Music Group released his long-awaited tenth studio album, Donda, early last Sunday morning on all streaming platforms. This was done against the perfectionist's will — and it shows: Donda finds Kanye West, who has now legally filed to be known as Ye, more erratic and confusing than ever before.
The 27-track project starts with "Donda Chant," an eccentric intro track that maniacally repeats the name, Donda, and intends to rhythmically imitate the last few heartbeats of the person this album is supposedly a tribute to his mother and teacher, Donda West, who passed away in 2007 during surgery complications. And yet, besides talking about dead, inspirational figures in his life – including his mom, Pop Smoke, and Kobe Bryant – on the track "24," this album feels more like a self-indulgent, bombastic homage and anthology to himself than one to his mother or even God. Even on the title track of the album, Ye includes a snippet of his mother celebrating the life and works of Ye himself, discussing how Ye can reach the new generation in ways that the establishment cannot.
To Ye's credit, he does in fact reach the new school and "kids" of rap on the album through an extensive list of features from the most prominent and upcoming names in modern rap. These artists serve not only as Ye's followers but also as his "disciples," frequently enlisted to spread his message of faith.
"Praise God" sheds light on the star Travis Scott and "on the come-up" artist (who is also the cousin of critically acclaimed rapper Kendrick Lamar) Baby Keem.
The celestial, mellow, and calming vocal echoes of "Moon" levitate the listener in an almost psychedelic journey to the moon (or in this case, heaven). This track does not even feature Ye himself; rather, it highlights the chemistry between Don Toliver, who blew up on TikTok with "No Idea" in 2019, and the Man on the Moon himself, Kid Cudi.
On another enchanting track, "Hurricane," Lil Baby floats over an organ-like instrumental which transitions into the Weeknd's stunning gospel-like vocals. The track sheds light on lifestyle changes that come with fame and riches, as well as dark moments in the Weeknd's past. The Weeknd now even claims that he is at the "dawn" of a spiritual awakening – a tease to his next album and a compliment to Ye's core message of the importance of finding God.
Ye raps fervently with perhaps two of the most well-known names in the zeitgeist of modern trap and drill rap on the standout track "Off this Grid:" Playboi Carti's zealous and breathy "ad-libs" drip over into a verse by 'Woo'-Clan gangster Fivio Foreign, who spits gloriously indignant bars about how God helped him during his prison sentence over a lush layer of quasi-gothic synths. Ye also reaches underground rappers Westside Gunn and Conway the Machine on "Keep My Spirit Alive," who describe how their troubled past has made them successful, even defining their aesthetic as artists: "Hundred-round drum didn't jam when my shooter tried to spray it, Thank God."
The most poignant and prophetic message about the "hood life" and jail, however, comes from Ye himself on the lyrical and introspective track "Jesus Lord." Joining forces with Jay Electronica on Pt. 1 and Styles P on Pt. 2, Ye recounts his childhood exposure to gang violence, rapping about how death and institutional pressures, such as mass incarceration, can often affect a family's dynamic.
At the end of the track, the son of Larry Hoover (the founder of the Gangster Disciples) thanks Kanye in an audio snippet for liberating his father from jail under the Trump Administration, renewing himself and his community's faith. This jail trope also loosely ties back to the anthemic and triumphant "Jail Pt. 1," which features Mike Dean's classic guitar riffs and also marks the "return of the throne" of two rap legends and billionaires, "Hova and Yeezus," whom Jay-Z compares to "Moses and Jesus."
As the album goes on, Ye continues to insist that God blessed the album himself, reminding listeners once again of his Yeezus-like God complex on the minimalistic, synth- and choir-filled "God Breathed"– a track that strongly resembles his 2013 track "I Am a God."
With all that said, the album doesn't always make it easy to believe in 'Yeezus,' let alone his "pure soul," especially when he admires his ex-wife Kim Kardashian's sexual prowess on the dull "Lord, I Need You" and compares her to Mary. Or when he compares Drake to an anti-Christ in the way he imitates and copies his own flow (and Christ, by extension) on the shoddy track, "Ok, Ok Pt. 1," and disses Drake with the "Globglogabagalab sample" at the end of the obnoxious chorus on "Remote Control."
Yet despite all the inconsistencies of faith, Kanye urges the listener to have trust in his message (as he does on "Believe What I Say," a track which elegantly samples Lauryn Hill's classic, "Doo Wop"), and sometimes listeners will feel compelled to do so. On the holy production of certain tracks, such as "Come to Life," Ye uses a cadenza of piano notes and chords to prove how God can still shine through the darkness and bring his mom– and our dreams– to life. With artist Vory, Ye wholesomely reassures Chicago rapper Lil Durk about the power of God to vanquish "demons" on "Jonah," a touching track that refers to the tale of Jonah, a symbol of forgiveness in the Bible.
At the end of it all, Ye wraps up the album by forgiving everyone who has made mistakes in the past—except for Drake—with "No Child Left Behind." This might be Ye's most grandiose ode to his God-complex, were it not for "Pure Souls," a track in which Ye discusses the power of God – and himself – over the Devil – and Drake – by boasting that he could, with his 6.6-billion-dollar net worth, donate a dollar to each person on Earth, "It's gotta be God's Plan" – a reference and diss to Drake's music video, in which the rapper donates over one million dollars to Miami residents.
Ye's prophet-like attempts to forgive everyone come off especially distasteful on the unseemly "Jail Pt. 2," a track that features not only DaBaby, who was recently canceled for homophobic remarks, but also Marilyn Manson, who has multiple sexual assault allegations. To make it even worse, Kanye uses the euphoric, synth-heavy, Graduation-like track, "New Again," to express that he does not care what people think and will end up making the same mistakes all over again because God will end up forgiving him because of faith, a process that Ye describes with the line "what they vandalize, He'll [God] evangelize." This idea explains why Ye must even edit out his swears on this censored album.
On Donda, Ye has given up on changing and controlling himself.
And it is often this self-indulgent lack of control and vanity that takes away from this album. The value of certain narratives, including the themes of his mother's death, mass incarceration, and even faith, often get lost by his extended metaphor of associating Drake and Kim with Satan and the Virgin Mary, respectively – and most importantly, Ye comparing himself to Yeezus.
Add the fact that at the end of it all, this 27-track album clocks in at nearly two hours with little homogeneity, and Donda as a project becomes tedious—for some, it will even be objectionable. The lack of sonic transitions, the lost narrative between bangers, and the surplus of filler make Donda a messy album that only a chosen few stans—perhaps not even Ye himself—can come to truly understand.
About the Contributor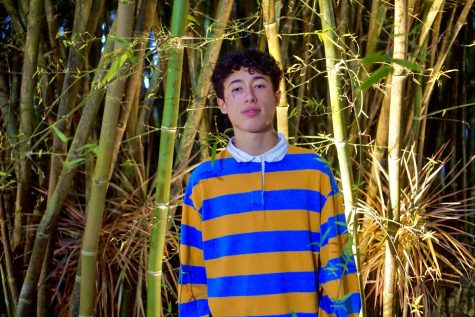 Gabriel Mora '22, Co-Editor-in-Chief
Gabriel Mora '22 is a Co-Editor in Chief and writer for The Catalyst. He covers news & multimedia content for the newspaper.