Stuck at home, RE seniors express themselves through art
With everything going on in the world right now, many people have turned to art as an outlet for their anxiety and worries. For some Ransom Everglades students, art served as a distraction from the stress of virtual school and gave their eyes a break from the screen. 
Helaina Harris '21 said that art, specifically drawing, has always been "a form of expression to me, or a hobby outside of sports with less stress and expectations for performance." For many like Harris, art serves as a medium to express yourself without expectations or fear of judgment.   
This outlet was key during the long days in quarantine for Isabella Bremer '21. "I used paintings to express myself during the boredom of quarantine," said Bremer. "Art is important no matter what your skill level is, because it's just nice to have something to do for fun that you use your hands for, as a grounding thing if you feel stressed or overwhelmed."  
Bremer described one of the works she created in quarantine, a portrait of two girls in a café that she made with spray paint and marker. "It's got a lot of bright colors and undefined space," she said. "The piece is supposed to be representational yet vague, black lines to define features but softer edges to add to the mood of the painting."
Although painting is a common way to destress during difficult times, Felipe Campano '21 chose a different medium: poetry. Campano views art as "more than just a form of expression but a coping mechanism and a manner of communication."  
"Around the beginning of quarantine, I lost some really important people in my life; not from COVID, but because tensions were so high." Due to this loss, Campano turned to art and poetry "as a safety net."  
"I was able to document and rationalize the feelings that I was having so much trouble understanding and talking about," said Campano.  
Campano described his poem "EVE," which "was born out of a frustration with not knowing how to feel over a breakup with someone I really deeply loved."
"When I first wrote the poem, it was full of anger and feelings of abandonment, as though Adam (the person I loved) had just given up on Eve (me)," he said. "After reading it, though, I realized that wasn't how I felt at all; my feelings were more those of confusion and loss. I went back into the poem, and I rewrote it almost entirely to better reflect my true feelings, and after doing so I realized I had a better understanding of what I was actually going through."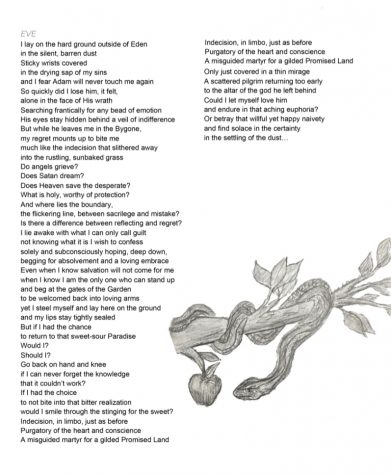 For Daniella Sanchez '21, art served not only as a way to clarify some feelings but as a way to escape others.
"During quarantine, I mostly decided to distract myself with art. I often take myself too seriously, and being stuck in quarantine made me feel the need to loosen up, work on refining my skills, and just have fun," said Daniella Sanchez '21.
For Sanchez, her own experience with art during quarantine spoke to art's universal purpose.
"Throughout history, art has been used as a form of analyzing the times and representing the human condition during change," Sanchez said. "I also think that it is a catalyst for change. It is important to look at how our society is dealing with the global situation and see how we can grow from it, what we can do better, and how to move forward. Art is the first step to that because it brings it into people's minds. It arouses emotions and calls people to action."