After lockdowns, outdoor-focused small businesses experience unexpected growth
Changing the Covid-19 Narrative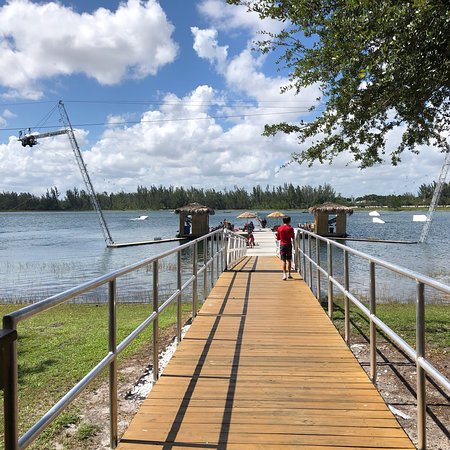 Over the past few months, the coronavirus pandemic has taken the lives of thousands of Americans in Miami alone. In addition, roughly 3,000 local Miami-Dade County businesses had to close their doors, doing unprecedented damage to the economy and leaving many local residents unemployed. Small business owners across the county are still working tirelessly to conform their projects to the new Centers of Disease Control (CDC) regulations, and for some, the process has been disastrous.
Certain small businesses, however, have found unexpected success after reopening — if they were able to adapt.
Manager Nacho Hernandez of the Miami Watersports Complex (MWC) explained that by late March, practically all the employees of the cable park had to file for unemployment. He said he was "scared that [former employees] would not be able to pay rent, but I'm even more scared for their well-being. No one knew how long we were going to be stuck sitting at home, and that mystery scared us all."
Since the MWC is in one of the Miami-Dade County parks, their reopening came before many other small businesses, on June 8. Before they could fully reopen, however, Hernandez said they "had to implement social distancing, multiple hand sanitizing stations, and only allow groups smaller than 5 people per boat, all of which had to be inspected by a certified CDC member."
Even so, frequent wakeboarders at the MWC believe that the precautions put in place aren't enough. "This is the only place in Miami where masks aren't being enforced. I understand that it could be a hazard falling into the water with cloth covering your mouth and nose, but I think it should be mandatory when waiting in line or even while they watch a loved one go ride."
Since its reopening on June 8, the MWC has reached record numbers. Hernandez claims that the "staff spent a lot of [the] quarantine marketing since we knew everyone would want to be outside." Some businesses, such as local boat shops and suppliers, experienced similar success. Kim Laursen, owner of the water sports shop Miami Nautique, claimed that during the quarantine, "even though my physical store was closed, that didn't stop my sales from reaching an all-time high." The coronavirus quarantine took place during the hottest time of year, and companies were ready to use this to their advantage. They increased their social media presence order to keep their customers interested and excited for when they could ride again.
Local entrepreneur Nick Ferrara also found success during the pandemic. Ferrara co-founded GGL Solutions, a software development company, and claims that the coronavirus "came at the perfect time." He and his partners "came up with a business proposal for CAL-MD at the start of January and began pitching the idea to investors shortly after." Ferrera's platform aims to connect individuals with board certified doctors in a more efficient manner. Since the Coronavirus has made its way around the world, people have become more aware of their health. This allowed the company to grow exponentially during this trying time simply because of the market they reside in.
Like other entrepreneurs Ferrera remarked that the coronavirus gave him more spare time. "Since the company is run by 3 college students including myself, staying at home has allowed us to focus on developing the company. We held over 30 meetings over the course of 2 months. They consisted of hiring developers and reaching out to potential clients." Like the MWC, GGL solutions used the new-found free time to their advantage. By creating and utilizing social media tools and by having a product or service that fits the current market, some companies have used this time to engage with their customers. While every small business faces their own set of challenges, social media engagement could be a significant explanation for why a company may or may not survive during this pandemic.