Opinion: In isolation, my family finds togetherness
My brother and I are writing a children's book. We were reading articles in The Times indicating that things will only get worse before they get better and watching John Krasinski's "Some Good News" every Monday, and decided that we wanted to use this time to be both creative and productive. We hatched our plan over one of our daily family dinners, and we have been fairly dedicated to our growing story, which shows an end to the pandemic. While we doubt that it will ever be published, our plan is to donate the proceeds to COVID-19 relief efforts. We want to create a bright spot in the days of both kids and adults.
Such a project would've been inconceivable for us before this period of isolation, but that may be the one silver-lining to the pandemic in our house: the way it has brought our family closer together by giving us time to sit back and have fun as a family in a whole host of ways.
We never thought we would get this time to be together before my brother and I go to college. Both my parents work full time jobs, and my dad's takes him out of the state. When he left for work in the middle of February, I thought I'd see him for a few days during Spring Break, and then not until graduation. I even told people that my dad had moved to New York as a joke. But his shoot in New York City was shut down on March 12, and my mom's office closed the next week. We have spent the last two months together in our house.
While dealing with the COVID-19 pandemic has been difficult, to say the least, and the timing couldn't have been worse for me and Jake as graduating seniors, it's been amazing to lounge around, talk, and have fun with one another. We are now able to have lunch together during school days, and we have more time to take walks around the neighborhood and cook together at night.
And even if there is little talking, we have found that doing jigsaw puzzles together has been both fun and a great way to interact. So far we have completed three 1000-piece puzzles — or completed what we could with my dog stealing the occasional piece.
Between our evening walks, which inspire questions about the world around us, our marathon puzzling sessions, and what has seemed like a mission to watch the first episode of every show on TV, we have dinner together at the dining room table every single night. I cannot remember another time when we all had dinner each night of the week. 
Every night there is the typical conversation about our respective days, not that they are much different than the day before. But then the conversation turns. We talk about the amount of deaths in New York or Italy that day, the antibody tests around the world, and all the success other countries seem to be having righting the ship while the United States' death count continues to rise, with seemingly no end in sight. It has been a time of great reflection, and while we have felt safe in our little bubble at home, we've certainly had our dark moments. Many members of our family — including my grandparents — have been confined to their apartments in New York City, the epicenter of the outbreak in the United States. For weeks my mom fought for a PPP loan. Fortunately, she was successful, but she is in the minority of small business owners who have been able to obtain a loan, and many are likely to lose their once thriving companies.
And yet, however dark our conversations get, one fact remains: we're together under one roof, before Jake and I head off to college. We never thought we would be, and we're grateful that we are.
About the Writer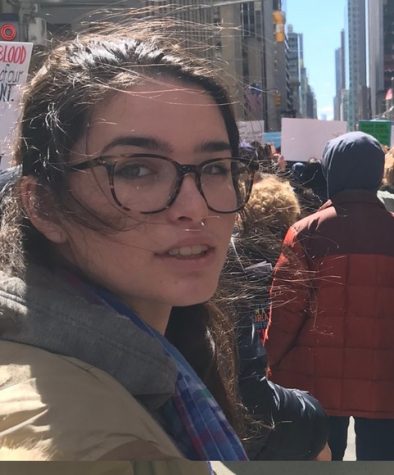 Phoebe Beber-Frankel '20, Sports & Arts Editor
Phoebe is the Sports & Arts Editor for the Catalyst, and has been a contributor since her junior year.