Trivia whiz Lucas Miner '20 on his brief moment of "Jeopardy!" stardom
Once upon a time, the family of Thomas Miner and the Cheeseboroughs sailed to the New World hoping to found a town in the colonies. Did Miner dream that one of his descendants would eventually compete on Teen Jeopardy? Probably not. But if he had, his dream would be fulfilled now. Last summer, millions of viewers watched RE's own Lucas Miner '20 compete in Teen Jeopardy. He made it to the finals and lost. 
"How did I get so curb-stomped in the final two games?" he asked himself, with a chuckle, when he finally watched the episodes on TV months later. 
But he's not too bothered. For one thing, he got to meet Alex Trebek. "[The experience was] definitely positive," he said. "Seeing Alex Trebek, playing the super adrenaline-pumping game, getting to meet all of the contestants, the staff, the producers."
"Losing wasn't even that bad. I had pretty low expectations of myself," he added. "Obviously, you don't want to bomb out in the first round. That would be kind of embarrassing."
In elementary school, Miner liked reading — a lot. On command he can give you a lengthy list of the fiction series he's read. Around sixth grade, when he started competing in the geography bee and on the history team, he realized that his love of reading had given him a knowledge base. "I realized I had picked up a lot from reading," he said.
"He is a sponge. He just reads, and he just keeps everything in there," said Academic Team sponsor Mr. Fontaine.
Miner attributes much of his Jeopardy success to the culture of learning that his parents created at home. "I can vividly remember riding on car rides with my dad and he would give me funny ways to remember the capitals," he said with a smile on his face.
He also cited his experience at RE, and how it helped him get through many of the questions. "It is not just the curriculum but the teachers," he added. "[They're] imparting a bunch of wisdom to you that other teachers at other schools won't." 
In the quarterfinal round, the last $2000 clue was about "Tintern Abbey" by William Wordsworth. Because he had learned about the poem just the week before in British Literature, he was able to answer the question — getting himself into the semifinal round.
For Miner, gaining knowledge isn't just about winning competitions. He sees it as a moral imperative. "The more people know about the world they live in," he said, "the better they are able to bridge cultural divides between societies and people."
"Trivia is important because it touches all disciplines, and when you know that little bit of trivia, you feel good about yourself," said Mr. Fontaine.
Although Miner's run on Teen Jeopardy was met with much trolling from his peers on social media, his friends clearly adore him. "He is a good man," said Izzy Szomstein '20. "And quite the character," added Zach Buttrick '20, a friend since middle school.
"When Lucas first started he was low key. As he has aged and competed more and more he has become more confident and more jovial. He has become a jokester," noted Fontaine.
Szomstein and Charith Reddy '20, another friend, both mentioned Miner's unique hand motions when he goes into "full academic mode." "Sometimes his vocabulary just increases exponentially," said Reddy.
About the Contributor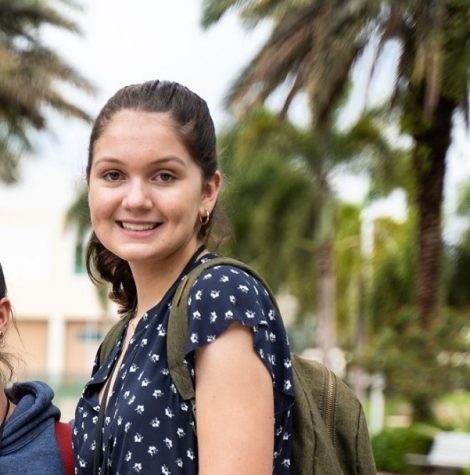 Liza Dill '21, Opinion Editor
Liza Dill is the Opinion Editor of The Catalyst. For the 2019-2020 school year she served as Community News Editor. She has been contributing since her...