The Evolving Classroom
As RE expands its curriculum, questions arise about the effectiveness of APs and other traditional models of education
The Ransom Everglades Course of Study begins with a mission statement: the school aims to "provide rigorous college preparation that promotes the students' sense of personal identity, community, personal integrity, and values for a productive and satisfying life, and prepares the student to lead and contribute to society."
When asked whether the school was living up to this mission, Associate Head of School Dr. John King said, "We work hard to live it out — it's an ambitious statement. It has a lot of parts, and I think that we do aim to achieve them."
Over the past few years, RE has been taking a fresh look at its curriculum, from its course offerings to its academic calendar, in order to fully realize these values. But change is not easy, as RE has to face the sometimes competing forces of innovation and providing a reliably excellent education.
For example, over the past few years, several independent schools around the country have questioned how Advanced Placement (AP) classes fit into their curricula and mission, and RE has not escaped this debate.
When Ilija Wan Simm '19, who has taken a wide range of AP classes in his time at RE, was asked whether he enjoyed the AP curriculum, he answered, "Not really."
"I think that AP classes sometimes put too much restraint on the learning experience and almost hinder it," he said. "I prefer the class Linear Algebra, which is discussion-based. The focus of the class is just to learn math and analyze" — versus having to stick to a standardized AP curriculum. "Having that type of class has been one of the coolest things of my life."
Wan-Simm admitted that "APs create college preparedness," but also suggested that "there are other ways, perhaps even more effective ways, that can be done." One of the examples he offered came from within an AP class itself: Dr. King's "Homework-ishes" in AP World History — analytical writing assignments which have due dates weeks after they are assigned.
"I have to manage my time wisely and pace out my essays in order to succeed" in AP World, Wan-Simm said. "It's about independence and depth of content."
Wan-Simm said that he sees the importance of APs declining in the future, as an increasing number of universities have stopped accepting APs for college credit. "I didn't feel pressured to take APs simply because they're APs," he said. "I felt pressured to take APs because they are branded as the most challenging courses available."
"Students should challenge themselves year after year, but rigor comes in many forms, from completing four years of world language, to doubling-up in the Social Sciences, to enrolling in six core academic classes, to taking APs," said Ms. Claudia Jolivert, Director of College Counseling. "The goal of an RE education is for students to find a way to take on rigor within a balanced curriculum."
And yet, according to Dr. King, APs still play an important role in achieving rigorous, reliable preparation for a wide range of colleges. "AP is definitely a measure of academic excellence [that is] widely accepted," he said.
Without AP classes, said Mr. Gregory Cooper, who will be taking on the role of Upper School Dean of Studies next year, the school would have to consider other ways it could demonstrate to colleges that RE still provides a rigorous education.
That's why Dr. Gila Aloni said she believes that "the change in the culture around APs needs to come from the colleges in some official way." Because students' courses are often driven by what they perceive colleges value, she said, moving away from these courses would first require colleges to communicate that they are interested in alternatives.
Dr. Doug Heller, a member of the Science Department, agreed that there is value in the AP curriculum, but the pace and the focus on standardized testing sometimes comes at the expense of a more enduring and enjoyable educational experience.
"Having taught mostly in college, I can say that APs, at least in the sciences, are neither in content nor in spirit equivalent," Dr. Heller said. "The AP curriculum can be arbitrary as to what is or is not included, and it is not as up-to-date as it could be. We want to foster a spirit of inquiry that allows us to go deeper on topics, especially for our most advanced students."
In addition to the variety of non-AP classes that are offered at RE, over the past few years, the school has introduced some classes geared toward more specialized topics and skills, such as The Roots and Legacy of 9/11, The U.S. Criminal Justice System, and Applied Data Science.
Courses like these come into fruition when teachers bring the idea to the administration and create a curriculum of their own. Other examples over the years have included a Middle Eastern and Judaic Studies class, Artificial Intelligence, Living Religions, and many others.
Teachers who have created these classes expressed that they enjoyed the freedom of developing a curriculum not tied to a specific test.
"I feel much more free to cover what I want," Mr. Cooper said of his Criminal Justice class. "If there is a particular interest from students, then I can just pursue it. What you lose in AP classes is the individualization."
In a related effort to focus more on the content of classes than on labeling them with a particular level, the History and Social Sciences department made the decision this year to remove the Honors distinction from the curriculum.
"We wanted students to take courses based on their interests, not on the levels themselves," said Ms. Jen Nero, Chair of the History and Social Sciences department. Ms. Nero also helped to create the Global Studies and Entrepreneurship course three years ago.
Ms. Nero explained that students were gravitating towards Honors classes because they wanted to represent more rigor on college transcripts — not because they were interested in having a different educational experience.
"RE is a rigorous school that doesn't need that designation," said Ms. Kate Hamm, a member of the History and Social Sciences department who has worked in a wide variety of educational institutions. "Everyone should have to hit a high bar. We have to guarantee a rigorous curriculum. Getting rid of the labels is the most important thing we can do to achieve that."
Dr. King agreed that Ransom Everglades has established a reputation for its rigorous academic program. "Colleges have a sense that if Ransom Everglades is doing it, it is probably at a very high level."
Dr. Jonathan Scholl, also in the History and Social Sciences Department, said that the elimination of the Honors label in the department has opened up discussion about other forms that classes could take.
"A seminar class is a possibility, with a certain level of rigor expected and certain prerequisites to get in, and different expectations," he said.
Moving forward, Ms. Nero is hoping to see the department include more semester classes and explore more "studies" classes based on geographical location.
As academic departments at RE continue to think about how to expand their course offerings, they have also begun thinking about the expansion of the school itself, and what new possibilities might arise from new facilities.
Dr. King said he was excited to see what courses the new STEM building will bring into discussion. According to Dr. Heller, the building's flexible spacing will be key, enabling students and faculty to engage in work that cuts across traditional disciplinary boundaries.
"We know that real-world problems are multifaceted and that scientific research and development is most successful when it leverages teams with diverse expertise and experiences," Dr. Heller wrote in an e-mail interview. "There is always a need for foundational courses, but we want students to be able to integrate and apply basic knowledge to new situations, to see STEM as the vibrant, cross-connected set of disciplines that it is, and to leave here as dynamic, resilient thinkers."
Regardless of the form that RE's curricular development takes, one thing that faculty members hope to preserve is the Course of Study's emphasis on building character.
Paul Ransom's letter "is parallel with my teaching," said Dr. Scholl. "I bring up different perspectives hoping students leave the class realizing there is a certain level of privilege [from attending RE] that they should be aware of," influencing them to take action outside of the classroom.
Dr. Joshua Stone, chair of the English department, noted that literature classes — which include the most robust set of focused semester classes, for seniors — were uniquely well suited to this task.
"Insofar as we can help students imagine experiences they otherwise would not have had, certain experiences that other have all the time, we can engender empathy. We need people who care," Dr. Stone said. The third class of people "will be empowered through their skills, understand the complexities of the world, [and] see the world through an infinite set of eyes."
About the Contributor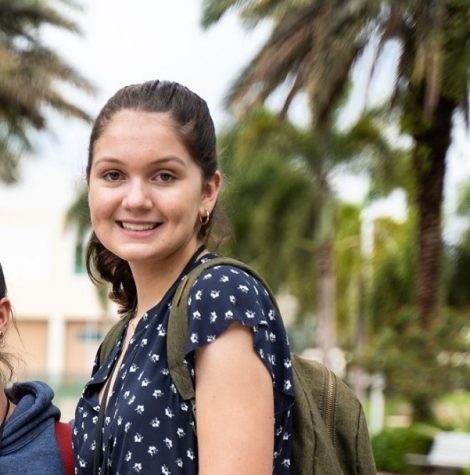 Liza Dill '21, Opinion Editor
Liza Dill is the Opinion Editor of The Catalyst. For the 2019-2020 school year she served as Community News Editor. She has been contributing since her...