Navigating the complex world of college athletic recruitment
While most Ransom students enter the college process from an academic standpoint, there are a handful of students who hope to use their athletic skills as a pathway to college.
This group is a small proportion at RE and the rest of the country. According to the National Collegiate Athletic Association, out of roughly 8 million high school athletes, only about 480,000, or about six percent, go on to participate in varsity college athletics. So what makes a high school athlete stand out on a bigger stage?
Mr. Roger Caron, the Coordinator for College Athletic Recruitment, now in his second year at RE, stressed the importance of student-athletes showing distinction within their specific sport.
"If they play football, then [they need to] do whatever they can to stand out in film and on the field so when coaches watch, the player is noticeable," Mr. Caron said. "If they row, then go out and excel in regattas and be the best they can be."
Mr. Caron also noted, however, that for a student athlete to truly stand out, they must demonstrate excellence both on the field and in the classroom.
"The better you do in school, the easier it is for the coach to recruit you," he said.
Athletic Director Mr. Corey Goff echoed this mentality, noting that "academics are of the utmost importance — it's absolutely essential."
The process of being recruited is extremely different for every athlete. "It's not a precise formula," Mr. Caron said. An athlete can get a commitment from a college as early as 7th grade, or as late as senior year. Different sports also have different calendars and regulations.
The typical athlete commits anywhere between the end of their sophomore year and the beginning of their senior year. "By the end of the junior year the Ransom student-athlete should have a fairly clear picture about what direction they want to go," Mr. Caron said.
Mr. Goff emphasized that being "honest and transparent" with yourself first is a key part of the process, as the college you choose must be an environment where you can grow as an athlete and a student. Both Mr. Caron and Mr. Goff have coached college level athletics, so both have unique insight into the recruiting process.
"Mr. Caron was very helpful," said golfer Anderson Murphy '19. "He took me through the process." Murphy committed to Carleton College just outside Minneapolis and will be attending the school alongside fellow team member Eldon Spencer '19.
The advice that Mr. Caron is able to provide to prospective college-level athletes varies, often stemming from his own personal experiences, but he stressed that students should begin the process early — a piece of advice echoed by Murphy, who started his recruitment process in his junior year.
Starting earlier gives students more time to identify which schools they are interested in, visit campuses, and meet coaches. "I emailed [Stanford] in the beginning of my freshman year," said golfer Jake Beber-Frankel '20, who committed to Stanford University and its admission process late in his sophomore year.
Mr. Caron said that every athlete should build a foundation in the freshman year, such as beginning to compile a list of prospective schools and preparing for the process by improving their skills. Then, a student-athlete should begin contacting coaches in the middle of their sophomore year, narrowing down their choices based on their specific skill level and other priorities.
However, with Ransom's academics as rigorous as they are, it can be difficult to excel in both academics and athletics. "It can be incredibly difficult to balance," said Ellie Carrera-Justiz '19, who committed to Lafayette College in Pennsylvania for volleyball.
Although the academic rigor at Ransom can make the process more difficult, Sophia Antezana '20, who is in the recruitment process for lacrosse, said "it is worth it." The skills a very competitive and invested student-athlete gains in high school, she said, such as time management, can prove extremely valuable in college.
About the Contributor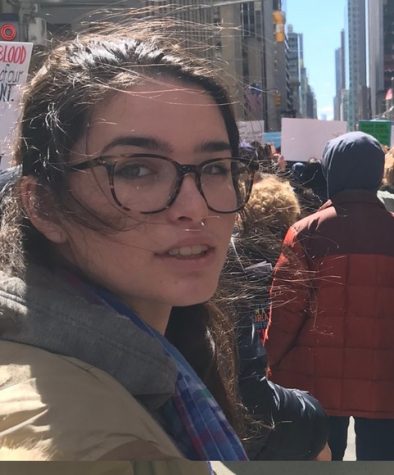 Phoebe Beber-Frankel '20, Sports & Arts Editor
Phoebe is the Sports & Arts Editor for the Catalyst, and has been a contributor since her junior year.