Days before opening night, a step into the auditorium reveals a fantastic yet grueling world of sweat, tears, and music. This week preceding the play is infamously known as "Tech Week." The students who bustle into the auditorium to finish putting the play together are often the last people on campus, undergoing hours of rehearsal every day. For many of them, the work doesn't end there, as they work well into the early morning hours at their own homes to balance their education with their passion for the theater.  
This year's "Cinderella" has been no less of a challenge to the cast and crew behind it—and has also brought some new hurdles to an already intensive process. Rehearsals have been tedious and voice-straining. But the goal is clear: to ensure a "fantastical and magical" evening, in the words of theater director Ms. Laura Montes. 
So what does the extreme workload of "Tech Week" consist of? According to theater veteran Nico Maynulet '23, it starts on the Thursday of the week before the show and extends to opening night. These extensive rehearsals typically run three and a half to four hours, going from 4:00 p.m. to 7:30 or 8:00.  
"Tech Week is so challenging because of how little time there is for anything else," Maynulet said. "People sometimes even get sick and power through their schoolwork late at night because they have no time during the day to do it." 
Unlike Broadway shows or other professional productions, which set aside months to just plan the technical aspects, these school productions have a much smaller window in which to implement the intricate details of show design. Whether it be lighting design, set changes, or sound composition, the four-hour rehearsals are packed with important adjustments and fine tuning.  
The play's stage manager crew has their work constantly cut out for them, needing to complete full set changes in short amounts of time. As Ms. Montes described, "Ideally, a set change should occur within ten seconds. If set changes are occurring without blackouts, like if they happen in full view in front of the audience, everything is done manually. Smoothly flying something off and bringing something else on, like maybe a giant carriage."  
But the giant carriage isn't the only new element that "Cinderella" has thrown into the mix. For this year's musical, the RE Vocal Ensemble will be the ensemble for the play, rather than a group assembled by holding auditions. The musical numbers of the play will be more rigorously practiced than they have been in previous years, simply due to the amount of class time that the ensemble has had to practice together. This approach has also allowed more time for individual work and for the leads of the play to perfect their interpretations of each role.  
Natasha Rodriguez '23, who's playing Cinderella, hopes to explore her role at a deeper level. "I don't want to make her a caricature or just a character. I want to portray her human side instead of just the princess the audience will expect me to be," she said.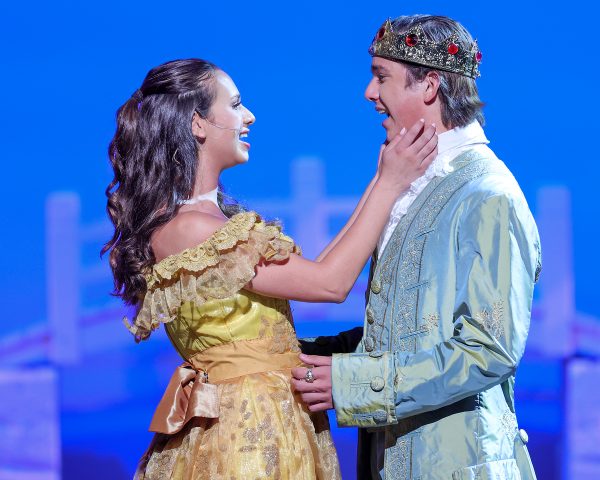 This desire to subvert audience expectations is shared by many in RE's theater program. Ms. Montes said that she "loves to bring the spectacular to my productions, even if they are more mundane plays."  
Some students involved in RE's theater programs said they feel that despite the immense workload that defines the theater rehearsal process, there remain many misconceptions about what it takes to put on a show. They maintain that sports teams get an outsized amount of attention throughout the school year, overshadowing their work. "Something that isn't recognized enough about the theater department is the commitment. It really is just like a sport," Maynulet said. 
"I don't think that people realize the amount of mental work, physical work, and emotional work that it takes to bring to life a role," Montes added. 
To counter this mentality, Maynulet suggested that the school find ways to prevent sports and theater from overlapping. "As a community, we can find days that there aren't sports games and schedule them better. That way, people will come to the show and make a big deal out of it so that sports aren't always taking priority," he said.   
The fruition of the countless hours spent in the theater will be on full display when "Cinderella" comes to life in the Lewis Family Auditorium.