Peace, Love and Lemonade
How Alan Cohen, founder of A.C.'s Icees, keeps the old Grove frozen in time
In recent years, Coconut Grove has shifted from a quiet community of artists and creatives to a bustling center of commerce. Mom-and-pop shops like the Coconut Grove Village and The Maya Hatcha are being closed due to massive increases in rent. Replacing these businesses are new restaurants and shopping centers like the renovated Coco Walk, a sleek, modern lifestyle center with offices, restaurants, and high-end stores—a sharp pivot from the Cheesecake Factory and Fat Tuesday it previously housed. These changes have some longtime residents asking whether Coconut Grove is heading in the wrong direction. "A lot of people are concerned that Coconut Grove is losing the charm and character that it used to have. There's certainly truth to that," said Hank Resnik, Editor-in-Chief of The Coconut Grove Spotlight, a biweekly newsletter that covers local issues.
And yet, amidst this transformation, a white truck remains stagnant in the parking lot of David T. Kennedy Park—and according to Alan Cohen, A.K.A. "A.C.," it's not going anywhere. A.C.'s Icees is a legendary food truck that is most famous for its icees, which come in three flavors: lemonade, cherry, and piña colada. These icees are made locally at a manufacturer in Kendall using AC's original recipe, which is comprised of all natural ingredients. The price ranges from $4-9.00 depending on size and come in a monogrammed plastic cup with AC's face on it and an oversized red straw. A.C. also sells various merch, such as Frisbees and T-shirts.
A young-looking guy named Tommy also clocks in the occasional shift when A.C. isn't there. Tommy started working in the truck last September and explained that A.C. was close friends with the old owner of the pizza place he used to work for and offered him a job. He says that A.C. "is the businessman of all businessmen," and working in the truck has introduced him to Miami culture and its diversity. By pulling the student journalist card and ordering a small lemonade, I stepped foot inside the Narnia that is the inside of A.C.'s truck. A Bahamian flag, the radio blaring "Long Train Running" by The Doobie Brothers, and, of course, two large freezers of the infamous icees. A.C. was using a scoop with a long spout to get deep into the remnants of the clearly popular lemonade flavor. To my left, a slightly withered Heimlich maneuver guide and a shelf containing miscellaneous items, including at least six packs of band aids and three bottles of Hawaiian Tropical tanning oil. I watched as A.C. held a one-hundred-dollar bill under his skylight, checking for its authenticity. I realized that this truck was not just a place to sell lemonade, it was a museum of memorabilia from the last 40 years of A.C.'s life.
A.C. would be the most recognizable guy at a high school reunion. His long, white hair resembles the stereotypical 80s surfer dude, bleached by the sun and sea. His skin is tan from the many days he enjoys at the beach, specifically Exuma, where he goes quite often. But the most ageless quality about him is his personality. Seemingly untouched (but not unfazed) by the chaotic world around him, A.C. lives a simple yet fulfilling life, and this can be gathered in the span of placing an order.
Before moving to Coconut Grove, Cohen lived in Wayne, Michigan with his parents and two sisters. He spoke fondly of his childhood, specifically of his father, who he said always coached his baseball and hockey teams while working two jobs. He began visiting here in the 60s during his three-month paid vacation from his job at a swimming pool company.
Unhappy with his tyrant boss, he decided to move to Miami with no idea of what he was going to do. "I just knew I wanted to live in Coconut Grove" he said. When he moved, Kennedy Park had just opened, and Cohen, an avid runner, used to go there often to run road races with his friends. There was only one issue: Kennedy Park offered nothing to drink. "And I thought, if I could get something together and make this my office, that would be cool," he said, speaking like a true teenager. It was at this point that a new relationship between A.C. and Kennedy Park was formed. One might say it was love at first sight.
"They told me I was nuts, that I was dreaming, that I was on drugs," he said. "None of that's true."
A.C.'s quest to get the business off the ground began with him sending request after request for vendor permits. Eventually, the Director of Parks and Recreation authorized him to sell his icees recreationally in Kennedy Park. However, what A.C. described as a "nasty policeman" arrested him on the premise of an ordinance that said vending was not, allowed in Kennedy Park, despite being officially open for one year. Cohen had to report to court, where the judge held that he didn't do anything illegal. He has fond memories of the judge yelling at the policeman for his unjust arrest, and he knew he had to solidify his position with the city to prevent a situation like this from happening again. After the trial, the next step was to seek concession rights from the city, putting in a bid to city clerks. They countered because there was no official location for him to sell his products.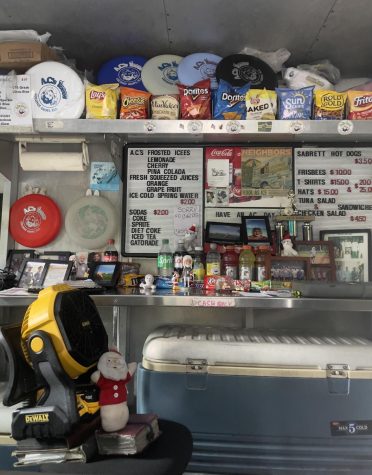 "Well, what about a mobile concession?" he asked them.
"Well, that doesn't exist" they said.
Soon enough, it did. Though it took some convincing, A.C. created what would be the first mobile concession truck in the city of Miami. 44 years ago, against all odds, A.C.'s Icees was finally established.
With his longstanding history of living and selling in the Grove, A.C. is one of the few people who really understands the area's evolution. "How has the Grove changed?" he asks. "The better question is: how has the world changed?" When he first came to the Grove, it was "a neat little village, with artists, musicians, needle houses, lots of trees" which since has since changed with gentrification and development. He cited the constructions of The Mayfair and Coco Walk as the igniters of the new Coconut Grove. A.C. had friends who previously owned a clothing store called 4 Way Street, which was forced to close due to a rent increase. "They were asking $700, 1500 per-month, and then [comes] Coco Walk, and all the sudden they were asking people for $9000. They went out of business, they left Miami" he says. That property is currently occupied by French bakery chain Le Pain Quotidien.
When a woman in scrubs approaches the truck, I'm immediately transported back to the present. All I can see is her eyes, the rest cut off by the window. A.C. greets her with a friendly "Hi" and a familiar smile, immediately whipping up two small ices, her order memorized: "Half cherry, half piña colada".
I stepped out of the truck and asked her what kept her coming here. She told me that she's an aid for the man sitting on one of the benches across from us, and that they come every day. "He has Alzheimer's," A.C. tells me after. For people like him, AC's truck acts as a tradition for people to look forward to during hard times.
This tradition isn't always just daily or weekly; it can also be generational. "There are people who used to come to my stand as kids who now bring their own kids," A.C. says. Both City of Miami Mayor Francis Suarez and former City Commissioner Ken Russell came to the stand with their parents when they were young, and both bring their children now. The longevity of the business was finally recognized in 2019, when Mayor Suarez declared January 26 "A.C.'s Icees Day". AC was also honored on the 40th anniversary of opening the business by throwing the first pitch at a Marlins game.
In the time I spent with A.C., I came to understand that his greatest accomplishment is the role he plays in so many people's lives simply through a refreshing beverage and a warm smile. I watched as his cups spread throughout the park, appearing in selfies, being shared by partners, or simply being enjoyed alone. Though it might be difficult to find A.C. in places other than in his truck or Exumas, his presence is contagious, and will be felt so long as Coconut Grove remains.