The Bridge Master
Last year, Max Wiesenfeld '23 made bridge making history. Can he do it again?
One of the most anticipated events on the RE Upper School campus is the annual bridge competition, a contest among Physics, Engineering, and Architecture students that ends with a popular assembly in early March. Students compete to make bridges that will hold as much weight as possible relative to their mass. At the same time, bridges are also judged separately for their aesthetics. In Ransom Everglades Bridge Competition history, no one had ever taken home a double victory in both strength and aesthetics—until last year. For the first time ever, Maxwell Wiesenfeld '23 dominated both competitions with two bridges: one that achieved a breathtaking efficiency of 1,206.6, and another that won the aesthetics contest. This efficiency proved to be more than enough to defeat all other competitors: he beat the second-place bridge by 22.5%.  
Mr. Robert DuBard, who teaches Engineering at the Upper School, weighed in on Max's success last year, attributing it to several factors. "As I see it, there are three key components to Max's success," he said. "First, Max puts his very best effort toward each and every assignment. Then he puts his own creative and imaginative thoughts into each project. And finally adding these to his deep and accurate mastery of the course material has produced work that truly exceeds expectations at every turn." 
"Honestly, I knew days before the aesthetic judging that I was looking at the winning bridge," Mr. DuBard added. "Additionally, his efficiency bridge was selected by students as the 'most likely to succeed,' and they got that right too!  And yet he is humble as well as supportive of the efforts of all his colleagues, generous with his insights and enthusiastic for every valid contribution to class."   
Heavy lies the head that wears the crown, however. Max has one more Bridge Competition before he graduates, and the pressure is on to replicate his past glory. No student has won the strength competition two years in a row—in part because every year brings new changes to the bridge-building rules. Can he do it again? I had the opportunity to speak with the double champion about what went into his bridge-building process last year as well as what he's doing to prepare for the next contest.
 
When did you first know that you were interested in building and design?  
Ever since I remember I've been interested in building and design. I played legos when I was younger and built outside the instructions. I also had an early interest in model trains which involves a lot of hands-on work. 
Was last year your first year entering the competition? If not, how did you do the first time, and how did you improve so much? 
I built a bridge as a freshman in my Architecture 1 class. But that year, I didn't do my best.  
As a sophomore, I didn't have any bridge-building classes like Physics, Architecture, or Engineering, but I still wanted to build a bridge, so I went up to Mr. DuBard and asked if I could make one. My bridge was an arch, and I was hoping to do well in strength. I remember thinking to myself that my bridge wouldn't do well in aesthetics because I had pen markings all over it, and I just wasn't even considering it. But to my surprise, that year I won third place in aesthetics.  
What was your process of coming up with the design last year? 
For the aesthetic bridge, simply finding reference photos online and sketching designs that fit the requirements for the competition on paper was what I did. Once I had a full idea for a bridge I would draw it on the bridge graph paper handed out to everyone. 
For the strength bridge it was more or less the same. The only thing is that I was thinking about tension and compression and more engineering-like things rather than making sure the design was good.
 
What was your process of building? 
For the aesthetic bridge I glued a bunch of sticks together in a block and then cut them to shape. I then sanded the pieces round and glued all the pre-assembled parts together. 
For the strength bridge I had to boil the sticks to bend them, then keep them in a form so the arched sticks could dry in shape. I then made the two panels and joined them after.  
Where do you find inspiration? 
I googled for inspiration. But the main photo I relied on was one of the Puente de la Mujer in Argentina. This translates to "Woman's Bridge."  
I also just searched up trussed bridges and other terms that were related for the strength bridge.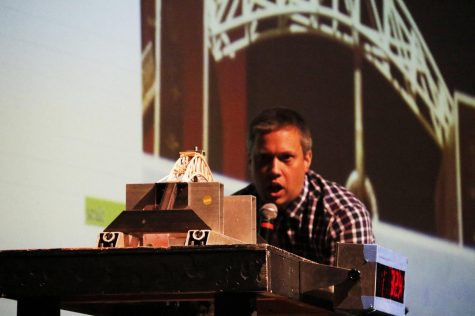 How did it feel to win both the parts of the bridge competition? 
I knew that my bridge in aesthetics was nothing like what teachers voting for aesthetics had seen before. But it was almost a relief when Mr. Natland announced the second place winner in aesthetics. I knew I had won.  
When it came time to test my bridge for strength, I was kinda nervous because I didn't want to get last (even though it is already a huge achievement to even make it to the assembly). I tried to get a video of my bridge being tested, but my hands were shaking, so I asked a friend. All my nerves disappeared when the green bar with my name climbed from 15th to 14th. And it was almost a blur, but when my name climbed to first place, I was just beaming. All my friends were sitting around me and were cheering.  
The win was able to sink in while my bridge held another 13 pounds over the amount needed for first. 
Did anyone help you from RE that you would like to say thanks to? 
I would like to thank Mr. DuBard. He taught me so much about the physics behind bridges and the different types of forces bridges have to withstand.  
Mr. Felipe was a big help. The pedestal project helped a lot.  
Mr. Natland was a major help. Even though he's not my teacher, I went to him a lot for advice and tips and just general thoughts about the designs I had planned.  
Ms. Dalins was a great help. It was in her class that I got my first exposure to bridge building. 
How are you preparing for the bridge competition this year? Has your approach changed since last year?
Since the rules came out, I've been thinking about what to do. I've been brainstorming aesthetics all year with help from Mr. DuBard and Ms. Dalins. I have a completely different approach compared to last year. 
I have three different ideas for strength. This year, I've been more focused on the precise cutting and building of the bridge than on the architectural design for the strength competition. You can make a great design and poorly execute it, and you will have nothing. 
Do you feel any pressure this year as the favorite to win the competition—and potentially break more records? 
The thought of being the frontrunner going into it doesn't really affect me. But the concept amuses me.