In Defense of Ludington
Ludington is my favorite building at Ransom Everglades. I know—shocking. While Ludington may feel a little stuffy at times, it embodies what makes our school great: its rich history, its warmth, and, most importantly, our community's unbreakable spirit of togetherness.
Built in 1964, and located on RE's Upper School Campus, Ludington Hall is an important monument to our school's history. Charles Townsend Ludington, the building's namesake, was not only an alumnus of RE's Class of 1915 but also an English teacher and aircraft connoisseur. He founded the Aircraft Owners and Pilots Association in 1939 and pioneered Eastern Airlines with his brother.
On June 27, 1922, Townsend married Constance Guyot Cameron, whose brother was former RE headmaster Pete Cameron of Cameron Hall. To me, it was fascinating to uncover the connections and relations that RE holds within its walls, the very foundation that our current community stands upon. As involved and accomplished community members and as the buildings' namesakes, Cameron and Ludington have figuratively and literally left their marks on the RE campus.
The infrastructure of Ludington is built out of Oolite Limestone, a construction material now rendered impossible to use due to rising sea levels. This material is not limited to just Ludington; Oolite stone and coral can be found in many places around campus, like the Dining Hall and Ansin Breezeway.
Outside of RE architecture, coral and Oolite are staples of the historic Coconut Grove. As you walk down Main Highway, it is impossible to ignore the limestone and coral that line the sidewalk. Jack Harris '23, an aspiring architect, echoed the opinion of Ms. Astrid Dalins, who teaches Architecture and Design, asserting that "coral limestone is a perfect material for architecture because of its aesthetic and functional qualities." Harris also finds himself enamored with the "coral bedrock that Coconut Grove is built on." With its limestone walls, Ludington proudly advertises a connection to the bay, the landscape, and the natural Florida ecosystem that has made RE unique throughout its history.
Ludington feels natural, too. The intricate turquoise and hunter-green cross-stitched lines of the carpet aren't just there to mesmerize students who start dozing off in class; they're an attempt to capture the colors of the tropical flora around us. The earthy brown and green walls reflect a forest. The colors are soothing to the eye. And then, of course, each Ludington room is lined with windows that let in as much natural light as possible, as if to make the building an extension of the natural world. Alums and longtime teachers remember a time when, in the absence of air conditioning, those windows would be wide open—and students would simply climb out at the end of class.
"I was always in room 13," recalled Mrs. Karen Thompson, who has been an educator at RE for over 40 years. "That room has a great view of a beautiful oak tree through the window."
Chief Operating Officer and Interim Head of the Upper School Mr. David Clark '86 had his own favorite room. "I taught Algebra 1 in 1A, and I took a class in it," he reflected. "It's the best room."
Mr. Clark was enthusiastic as we discussed the building's rich history. To him, Ludington is a "staple" to the community. He also shared that it was a place where "a lot of senior pranks happened." The pranks discussed were off the record.
The entrance of Ludington is lined with memorabilia from a simpler time. Students walk to their classes under the caring eyes of Mrs. Thompson and her dog, Molly; the two of them are framed together in a black and white picture taken in 1996.
The warm and familial feeling you get from the picture extends into Ludington's small and intimate classrooms, which make it a perfect building for communication, especially in different languages. One of Mrs. Thompson's favorite parts of teaching Spanish in Ludington is that with "individual desks" she can "change the configuration" to best suit the activity she is teaching. Ludington is one of the only buildings with these individual, rolling desks. While the desks are not exactly essential to the physical infrastructure of the building, they reflect its playful nature.
Those small rooms facilitate new friendships and stimulate human interaction. In Dr. Helmers's AP Literature class, Annika Gelber '23 finds joy in her daily classroom discussions. "My class has really come together through group activities and conversations," she said. "Before class starts, there are always informal discussions about weekend plans, impersonations, or even just good laughs." She said that the "small and cozy rooms" provide her class with the perfect mix of lightheartedness and academia, the "epitome" of learning in Ludington.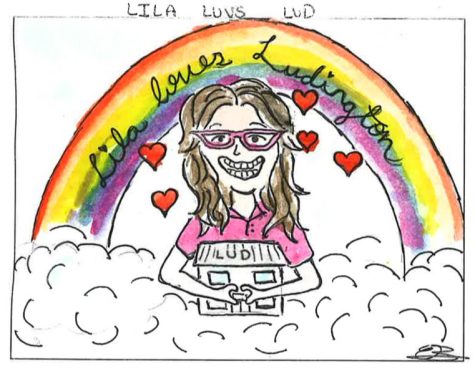 For me, Ludington brings back memories. Many RE students, including myself, attended Ransom Everglades Summer Camp when they were younger. To us, Ludington was a place to spend summers making new friends, playing Just Dance and listening to Justin Bieber.
Emma Dvorkin '24 said that Ludington reminds her of "sunscreen and Nilla Wafers," two RE camp staples. She feels honored to attend classes in a building where she made core childhood memories.
I met my best friend in Ludington, and I would never have thought that ten years later we would have a class together in the very building where we met.
It's true: other RE buildings have shinier windows and better air conditioning. But they're missing a sense of history.
The Fernandez STEM Center is cold, and I don't just mean in temperature. When you pull open the heavy STEM glass doors to sit in a huge room three feet away from your peers, the experience feels isolated and disjointed. This disjointedness is the exact opposite of the feeling imparted by Ludington's classrooms, which center around conversation and collaboration. While, yes, STEM is pristine and polished, it lacks personality. Where are the inspirational quotes stapled to bulletin boards? Where even are the bulletin boards?
There is an essential randomness to Ludington, the product of generations that came before. People take things and they leave things. The hallways mimic the school bookstore. Do you need an Expo marker to finish a "promposal" poster? Do you need a stapler to staple one of Dr. Helmers's AP Literature packets? Do you need a traffic cone for any apparent reason? Ludington has all these things. "Do I Dare Disturb the Universe?" T.S. Eliot inquires on a salmon-colored flier stapled to bulletin board. Ludington's randomness is evidence of the journeys, lives, and stories of the people who have come through it. The building has been lived in, bent to suit all kinds of different purposes.
In recent years, rumors have circulated that Ludington is on the chopping block, doomed to be torn down. According to Mr. Clark, its fate has not yet been determined. "[Ludington] does need some renovations," he said. "We are in the process right now of creating a master plan to look at the best way to structure the campus with the new addition of La Brisa." He said that whatever changes are made to our campus will be "the best way to maximize success," but did not specify whether that future would include Ludington.
Mr. Clark did agree, however, that it's special. "It's one of my favorite places too," he said.
While, yes, I acknowledge that the building could benefit from new bathrooms and maybe even new carpeting, Ludington is the foundation that keeps the community together. As a senior, it's daunting to think about how quickly everything changes. Sameness and tradition are important; they keep an institution grounded in its own history. Ludington epitomizes traditions of unity and harmony on our campus. I hope it will be there for future generations to come.