From around the world to RE
November 14, 2022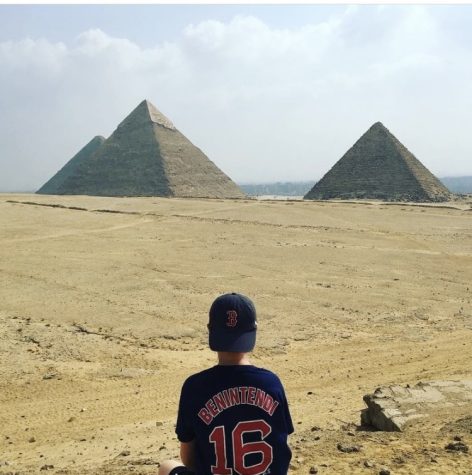 "Do you know that movie The Martian?" Jude Yeo' 24 asks in response to a question about his favorite family trip. His answer is simple: a trip that he and his family embarked on to Wadi Rum, Jordan, during their gap year.
"It was like if the Grand Canyon was put in the desert," he said. "The sunset and stars were unlike anything I've ever seen before." Mr. Benjamin Yeo, a new History and Social Sciences teacher at the Upper School, concurred with his son. The vast, open space made him feel as if he and his family were the "last ones on Earth."
While an experience like this may seem out of this world, it is just one of the many adventures around the world that the Morgan/Yeo family has embarked on.
The family consists of four people, all of whom are new to Ransom Everglades: Jude, his sister Pippa Yeo '27, Mr. Yeo and Ms. Kira Morgan, who teaches English at the Upper School. Together, they've immersed themselves in the cultures of more than 40 countries—though none of them could agree on exactly how many they've been to. Now they're ready to settle down in South Florida, but with a perspective defined by living on the edge of comfort and chaos. Taking a break from their travels, the new RE family reflected on how living abroad has shaped their story as individuals and as a family.
"You can look at pictures of all of these beautiful places around the world, but seeing it, doing it, understanding it and how it feels is a really wonderful part of the human experience." remarked Mr. Yeo.
Both Mr. Yeo and Ms. Morgan grew up with parents who valued traveling, and they knew they wanted the same for their own children. For them, it was important for their children to know "a more realistic picture of the world," Mr. Yeo said.
Their solution: work at international schools in places such as India, Qatar, and Egypt, which have allowed them to live abroad for over 15 years. Even further, the family took a gap year in 2017, where they devoted their time exclusively to travelling to as many parts of the world as possible while the children did a combination of online learning for their math classes and museums and sight-seeing for history.
Creating their travel itineraries was a collaborative process between family members.
"We are a democratic family," Mr. Yeo said.
The family considered their destinations thoughtfully, avoiding rash, last-minute decisions. Mr. Yeo said that whenever he and Ms. Morgan wanted to go to a new place, they had a "family vote." As parents, they always tried their best to inform their kids about where they wanted to go and why.
"We try to get them on board because it's what we want, but we also take into account what they want," Mr. Yeo explained.
While a gap year may sound like a break from academics, for the Morgan/Yeo family, it was deeper dive into their children's education. From June of 2017 to June of 2018, the family traveled through Europe, Northern Africa, Asia, and Oceania, putting a pause on their formal studies and teaching. While this alleviated everyday work restrictions, Jude and Pippa's education was never put on hold.
During their gap year, Jude and Pippa attended what Jude referred to as "travel school." After they finished online assignments through virtual educational programming like Khan Academy, their days were filled with cities and museums, learning without the confines of a textbook. "Bring your notebook, we are going to a museum" became a daily rallying cry.
Pippa, the youngest of the family, views the adventures of their gap year as a shared experience that strengthened their bond—a bond that has remained even as quality time has become more scattered with school, teaching, and coaching.
"We knew what it was like being together all the time," Pippa said. "I think we started to value being together a lot more."
For Jude, traveling has played a key role in shaping his identity and point of view. Good food, in particular, has given him a deeper appreciation for different cultures. From his experiences, Jude has learned to "gravitate towards those who are different [to him]," valuing the opportunity to diversify his communities and surroundings.
Though he has not always been able to keep in touch with friends from other countries, he maintains a positive view of his childhood.
"What I've been given by my parents is incredible," he said. "I wouldn't change a single thing."
As teachers, both Ms. Morgan and Mr. Yeo have had to be flexible, adapting not just to different countries but to different teaching environments. Teaching at various American international schools with students from all over the world, they learned the value of cross-culturalism and inclusion. At any given time, they could be teaching in a room with over "fifteen nationalities," Ms. Morgan said.
But the diversity always excited her. Ms. Morgan went to Exeter, the school that created the Harkness method, and considers Harkness a core part of her teaching. Her eyes lit up as she talked about the Harkness discussions she would facilitate at international schools, with their infinite opportunities for sharing different stories and perspectives.
RE's own embrace of Harkness was one factor that made the school feel like a good fit. But the family was also attracted to South Florida—not just because it was a new place but because it reminded them of other ones.
"[Coconut Grove] really reminds me of Sri Lanka," Ms. Morgan gushed. "It's so green and lush. I love all the banyans; they remind me of India'.' Mr. Yeo also recounted originally thinking the Grove's architecture reminded him of Qatar.
For Jude, the idea of a "new community" excites him, and both he and Pippa have expressed great satisfaction with their year thus far.
With their innovative teaching styles and techniques, both Ms. Morgan and Mr. Yeo have quickly become schedule favorites for many students. As a student in Mr. Yeo's Global Studies and Entrepreneurship class, Emma Holtzman '24 said the class is "fun, lively and involved" because of Mr. Yeo's familiarity with so many cultural perspectives.
English with Ms. Morgan is enjoyable because "you can tell how much [Ms. Morgan] cares about teaching," said Sophia Romanov '24. "I'd take any class if it was taught by her," she concluded. Ms. Morgan also plans to deliver a professional development workshop on the Harkness method to other members of the faculty.
Outside of the classroom, both Ms. Morgan and Mr. Yeo also participate in athletics. This past month, Ms. Morgan's Middle School swim team won the SFMSC Swim Championship, and Mr. Yeo coaches Middle School Cross Country and plans to coach soccer in the coming season.