I thought virtual SDLC wouldn't work. It made me rethink everything.
In 2021, the Student Diversity Leadership Conference (SDLC) celebrated its 28th anniversary. Organized by the National Association of Independent Schools (NAIS), the purpose of the conference is to provide a space for 9th– to 12th-grade students to self-reflect, build connections, and learn how to improve their respective communities. During the week of November 29, I spent four days closed off in the second-floor Cameron conference room participating in SDLC, which immersed me in conversations about important topics such as diversity, equity, inclusion, education, and culture. 
 SDLC began in a Philadelphia church basement in 1993, where a think-tank-like gathering of students were tasked with fashioning a place for themselves where diversity was the norm, not the exception. Three decades later, SDLC is now a gathering of 8,000 students worldwide. The annual gathering is led by a trained group of both professional and peer facilitators. These leaders guide meetings ranging from panel discussions, keynote speeches, family groups, and affinity groups. 
When I sat down the morning of Tuesday, November 30, and logged into my 'family group,' I was dreading the next four days. I imagined that they would contain hour-long, monotone Zoom lectures, awkward breakout rooms, and tedious conversational prompts—all the staples of a Zoom-dependent experience. Normally, the Student Diversity Leadership Conference is held in cities across the nation. 8,000 high schoolers flock to a host city, where their conversations are supported by their ability to look one another in the eye and, perhaps more importantly, their inability to turn off the camera.  
However, that very ability to turn off the camera proved to be one of the many ways SDLC utilized the circumstances of the pandemic to innovate and strengthen the conference.  
Each one of the four days of SDLC began at 9:00AM with a 150-minute, 30-person 'family group.' My personal experience entailed logging on to a happy mix of enthusiastic chatter about breakfast foods and schoolwork, blended with a background soundtrack of Avicii, Beyonce, or Bach.  
The family groups proved to be the most educational part of the conference, both academically and personally. The curriculum included comprehensive information sessions about Critical Race Theory and the Cycle of Oppression, a five-step process in which fear of difference gradually transforms into stereotypes, prejudice, discrimination, and internalized or institutional oppression. Through this curriculum, the family groups prompted me to experience several days of unexpected, profound introspection. 
By journaling my experiences, I found myself broaching subjects about my own identity that I hadn't even begun to consider before. Most notably, I found myself reflecting on the veiled influence of our media, my upbringing, and my culture. In other words, how have I become the person I am today?  
Following our morning family group meetings, we would often continue onto a larger group call. It was on that first 300-person Zoom that I began to see the way SDLC was utilizing technology to benefit the student experience.  
Dr. Rodney Glasgow, Head of Sandy Spring Friends School in Maryland, and a true gem of the conference, led an activity that took advantage of the virtual circumstances that separated us. We were asked to turn on our cameras if we felt we identified with the statement presented by Dr. Glasgow and to reflect on the significance of our identification, or lack thereof. 
Victoria Porto '22, another SDLC attendee, was moved by the experience. "[Dr. Glasgow's] first speech was so inspirational that it set the tone of change and personal development for the whole week," she said.  
This innovative use of Zoom made me rethink the seemingly non-existent benefits of a virtual conference. I felt far more comfortable clicking the 'On' button hovering above my camera icon on Zoom than I would've felt raising my hand in a hotel banquet hall. When we were asked to look around at the people who had also turned on their cameras and identified in similar ways, it felt far less invasive or obvious to scan a screen, as opposed to twisting and turning my head.   
The last key element of SDLC was the affinity groups. I was astounded by the array of spaces one could participate in, ranging from LGBTQ+ to Multiracial to a multitude of others. The International Students Affinity Group quickly became my favorite time block of the day. My experiences and those of the 30-or-so other students who joined that call differed vastly. We had come from nations across the world, and most of us lacked a uniform global experience. Yet, through these differences, we found remarkable common ground, such as our collective struggles to balance our cultural identities. 
Those uncomfortable breakout room silences that I had dreaded were non-existent. As we hopped from room to room, the unexpected solidarity and willingness to communicate were the only constant. We bonded over our notable lack of similarities with one another. I found myself making promises to visit everywhere, from China to Nigeria to Greece.  
The last question posed in the group summed up my experience best: "Where do you feel most like yourself?" A pensive silence followed the facilitator's inquiry. After about 30 seconds, someone asked, "Would it be cheesy to say here? On this call?" His doubt was shut down immediately by an overwhelming unmuting, assuring him that although entirely unexpected, we, too, had found a rare authenticity in that space.   
Reflecting on her experience, Porto said, "I also learned so much about myself through the conversations in my family group and affinity group. I became more comfortable and confident with my identity." Meanwhile, Martin Jaramillo '22 expressed that "it was an incredibly eye-opening experience, particularly learning that people from very similar cultural backgrounds have a very different perspective and experience." 
I logged off that Friday afternoon already nostalgic for the first day of the conference. Moreover, I was feeling overwhelming gratitude. I was thankful for the opportunity to participate in an experience that I had been dreading originally. I was thankful to my fellow peers, all 8,000 of them, for having the courage to embrace their vulnerability and a desire to better their communities. I am grateful for SDLC's role in asking me the hard questions and allowing me the opportunity for profound internal growth.  
About the Writer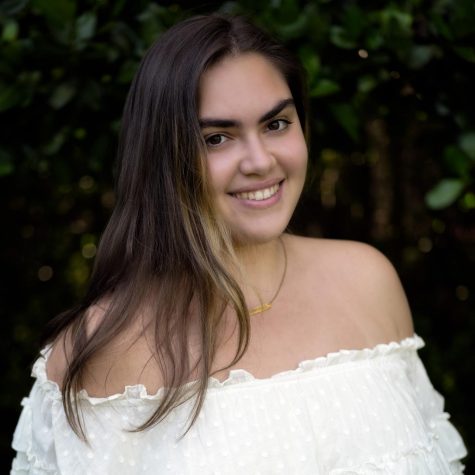 Katya Sucher '22, Staff Writer/Social Media Editor
Katya Sucher '22 is a staff writer and social media editor for The Catalyst. She covers the Ransom Everglades community.