Two-time Olympic gold medalist Ashleigh Johnson '12 revisits RE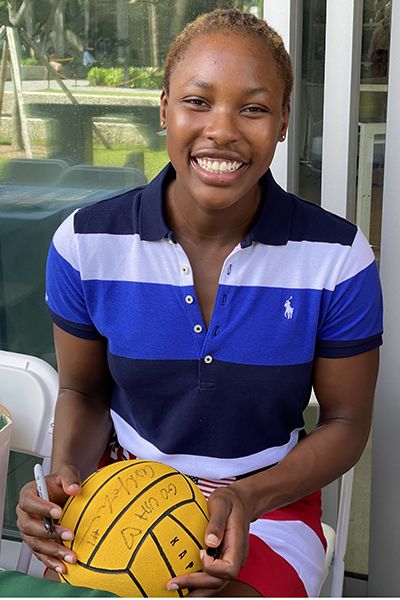 On October 7, Ashleigh Johnson '12, a two-time Olympic Gold medalist for water polo, returned to the Ransom Everglades Upper School, revisiting the place where her journey to the top of her sport began. Johnson won gold in 2016 and 2020 at Rio and Tokyo, respectively, and has been voted by FINA, the International Federation of Swimming, as the best professional water polo player in the entire world (the first time a goalie has been granted this title). She was also the first Black athlete to make the Olympic Women's Water Polo team, an achievement that continues to have a major impact on Black students at RE. During her visit, she had lunch with the current girls' water polo team and spoke about what drove her incredible rise.
Johnson's journey to gold began when she arrived at RE as a freshman in 2008. Mr. Eric Lefebvre, the RE girls' water polo coach, also coached Johnson while she attended high school here. "Ashleigh was coming in as a freshman, and I think one of the biggest things about her was that she was very clearly going to be a phenomenal goalie–and was a phenomenal goalie already," he recalled.
During her time at RE, the girls' water polo team won three consecutive Florida State Championships, while she individually earned multiple All-Dade honors for water polo. Mr. Lefebvre recalled how her talents enriched the team as a whole. "One of the first practices I was watching, nobody was scoring during the shooting drills, but I'm talking about like 100 shots. Nobody scored. And I think that is another thing people don't realize: how much better we became, because we were shooting on her."
At the same time, Johnson's high school water polo career was also remarkable because it never came at the expense of her academic success. "You can be good at sports without sacrificing your academics, and [Ashleigh] represents exactly the values that we have, which is to say, with your academics you can still reach whatever success level you want," Mr. Lefebvre added. Johnson attended Princeton University while also playing water polo for their team. Her athletics never outweighed her academics, and she maintained this dual focus throughout her journey from RE all the way to the Olympics.
Johnson explained this equilibrium when reflecting on her time at Ransom Everglades. "The experience was so dynamic and water polo was just part of that, and this set the tone for my entire career, getting that balance of things, being able to be in ceramics, be in mathematics, and see myself as a full person and an athlete," she said.
After she attended Princeton, where she also become an All-American for water polo, Johnson started training for the Olympics. It was a grueling process. "We're training six and half hours a day, we lift, we swim, we do skills and drills with water polo, and we also do some cross-training like some running and different stuff. It's just a daily grind," she said.
Staying motivated was key—and so were the relationships she formed along the way. "Physically, it's really hard, but there's a social aspect. There's a lot of different things that [allow you to] relate to people and make the process even deeper, and make it even more valuable when you achieve something like an Olympic gold medal together."
Johnson has inspired Ransom Everglades students in a number of ways. "I think everyone is just amazed by [her journey], and people get reenergized by it. You need things to spark motivation," said Mr. Lefebvre. "There were a couple kids that were like, 'I was watching Ashleigh, and it's not that I think I'm Olympian, but I'm really excited about the season, I really want to move forward.'"
Johnson's inspiration to the RE community extends beyond the sport of water polo. She has also been an icon to Black students. As Johnson herself explained, "If you can tell yourself the story that your difference is something that is valuable, something that can be added to the environment that you are in, and that there is a reason why you are here, that's really powerful."
Above all, according to Mr. Lefebvre, Johnson remains inspiring because she showed how far you can go doing something you love. "Ashleigh, above all other people, really needed to enjoy what she was doing so that she can succeed. That is why everyone always says, 'Why is she always smiling when she is playing?' She's having fun," he said.
Johnson's journey is far from over. She outlined her desire to pursue a third Olympics when the time comes around, and her current spot on a professional water polo team in Athens known as Ethnikos. Her impact on the RE community will continue for years to come.
About the Contributor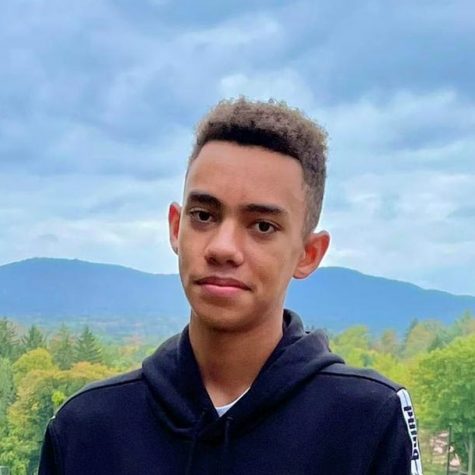 Dylan Vrins '22, Staff Writer/Photo Editor
Dylan Vrins '22 is a staff writer and photo editor for The Catalyst, specifically covering sports news and features.