War of the Italian Restaurants
With five local places competing for RE's taste buds, students weigh in on their favorite dishes
Nothing screams comfort like a warm bowl of pasta, perfectly toasted pizza or a creamy plate of Tiramisu. Whether it's take-out or dine-in, Italian food is a Raider favorite.
But what makes a good Italian restaurant? According to Dr. Giacomo DiPasquale, an Economics teacher at RE who grew up in Italy, Italian food is about simplicity. "Italian cuisine is a simple cuisine," he said. "When you make a pizza or a pasta you use just a small amount of ingredients, because once the ingredients you have are good quality you do not need to put a lot of stuff in it."
Over the last few years, Italian cuisine has flourished in Coconut Grove: there are over five restaurants just within a 1-mile radius of Ransom Everglades. Here are some highlights of how RE students feel about the Italian restaurants in our neighborhood.
Mister O1 Extraordinary Pizza
A modern and innovative pizzeria, Mister O1 offers everything from the traditional cheese pizza to a star-shaped pizza with a tomato, onion and crispy bacon filling. Pizzas are about 13 inches in size and serve one to two people. The restaurant is famous for its star pizzas, which are listed under "extraordinary pizzas" on the menu. These are thin, cheesy pizzas with pointy, doughy, and refreshing ricotta-filled crusts. They are an RE community favorite. Sophia Romanov '24 says her favorite is Star Luca (a star-crust pizza with a crispy spicy salami topping), since it has the comforting homey feeling she feels good pizza should always have. The restaurant's environment is also a large contributor to its popularity. It is located on the new area of CocoWalk, so it has a modern look and contains both outdoor and indoor seating. The one caveat to the restaurant is that while the service is fast, it does not offer reservations, so it is important to come prepared to wait before getting a table, especially during weekends when the restaurant is busy.
Farinelli 1937
Located on the corner of Commodore Plaza and Grand Avenue, Farinelli is a classic Italian pizzeria. Its history dates back to 1937, when Alma Farinelli opened her first restaurant in Bologna, Italy. The smell of wood-fired pizza encases the place, adding to its traditional feeling. Katya Sucher '22 said that "When my Italian friends visited me, I took them to Farinelli, and they said it was the best pizza they had had in America." This was high praise from them. Sucher's favorite pizza is the burrata pizza. A balanced combination of crispy and doughy crust topped with cold burrata, basil leaves, and olive oil gives the pizza a refreshing and light taste. Although Farinelli is a pizzeria, it also offers different appetizers and dishes. Izzy Virtue '22 recommends getting crispy polenta fries that come with a delicious truffle sauce on the side. The wide menu options and homey but spacious ambiance make the restaurant a good place to eat with friends and family. One downside: like Mister O1, it does not offer online reservations currently, so sometimes customers might experience some wait time.
Strada in the Grove
Located in Commodore Plaza, Strada serves traditional Italian dishes in a contemporary space. Olivia Rubell '23, a frequent flyer at the restaurant, says "[the service] is always so incredible. I feel like I am part of the community when I go there, and the food is always impeccable." She recommends going on Thursdays, when the restaurant is not too full, and getting the flavorful Fettuccine al Ragu, with has a rich and thick Bolognese sauce. Isabella Kuppers '22, on the other hand, recommends the Gnocchi Salentina. She says, "You can tell it is homemade, which makes [the experience] more authentic." The Gnocchi Salentina is a balanced dish made with fresh tomatoes, garlic, basil, oregano and Fior Di Latte mozzarella. For those not in a pasta mood, the menu also contains other intricate options such as the Pollo allo Champagne (braised chicken breast in a delicate and smooth champagne sauce) and the Risotto ai Funghi (cheesy mushroom risotto). Strada is a good fit for those looking for a smaller place that serves refined food. It does not offer a lot of outdoor seating, and reservations are encouraged.
Bellini
Who doesn't love eating with a view? Coconut Grove's Bellini offers upscale Italian dishes on the rooftop of the Mr. C Hotel. A yacht-inspired setting, with details such as a light color scheme and windows all around, Bellini is a wonderful place to watch the sunset and enjoy the view of Biscayne Bay whether sitting inside or outside. Sucher says "the combination of Bellini's food and atmosphere is unmatched in the Grove." The restaurant is owned by the same group as Cipriani in downtown Miami and offers dishes from all around Italy, ranging from homemade pastas to freshly caught seafood. The Pappardelle alla Bellini, composed of wide al dente pasta in a velvety tomato-based sauce, often topped with fresh burrata, is a house special. Composed of fried triangular mozzarella pieces with a crispy outside layer and soft melted middle, served alongside a red sauce, the Fried Mozzarella in Carrozza is a popular appetizer. Reservations are encouraged and can be made online.
Sapore di Mare
Famous for its creamy Cacio & Pepe served in a Parmesan wheel, Sapore di Mare has a simple but renowned menu. Since its start in 1983, this restaurant has served a wide selection of fresh seafood dishes similar to what one would find on the Amalfi Coast. The space draws inspiration from nautical themes, and its blue and white color scheme is reminiscent of Capri. Sophia Capote '22 adds that "all the servers there know a lot about Italian cuisine and give genuine suggestions about the dishes, which are super unique." Her personal favorite is the black truffle pasta, because "[the servers] bring it to you inside a hollow cheese round [where they] mix it in… bringing out the flavor of the cheese in the dish." Other than their specialty, Sapore di Mare offers a variety of unique seafood dishes such as Spaghetti al Sapore di Mare (spaghetti with mixed seafood), and Capesante St. Jacques (soft grilled scallops paired with mushrooms and crispy Italian bacon).
About the Writer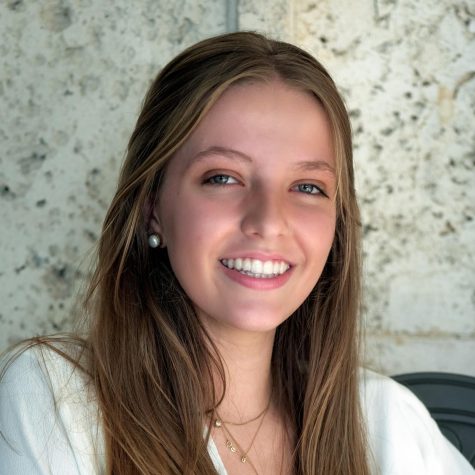 Maria Luiza Schuchovski '22, Staff Writer
Maria Luiza Schuchovski '22 is a staff writer for The Catalyst.