Five songs that capture that fall feeling
Everyone has their "fall favorites." Some people like flannel shirts, some like Starbucks Pumpkin Spice Lattes, and we all know that Ms. Dalins loves pumpkins. For me, fall is a time to take a deep breath, relax, and listen to music. Whether it's because the song's lyrics describe falling leaves or the sound just reminds me of a brisk autumn morning, here are my favorite songs that feel and sound like fall.
"Halcyon" by The Paper Kites
From the Paper Kites EP 'Woodland,' "Halcyon" sounds like a walk in the woods spent looking for peace, freedom, and closure. The Paper Kites are an Australian folk band most famous for their song "Bloom," which was released on the same album in 2011. With soft reverberation and ambient guitar, "Halcyon" and, quite frankly, the entire album, is the essence of autumn.
"Halcyon" takes inspiration from the joyful singing of birds: "The birds will all sing out / The birds will sing our song." But the song also has darker undertones, with lyrics describing how "the sea will pull our bodies down into the deep." The chorus compares a ruined relationship to a shipwreck. But it also focuses on the closure that comes after past trauma, a sense of freedom that is a reason to celebrate: "It's over now, we can love."
The sound is almost celebratory. The soft and whispered vocal harmonies emphasize the childlike joys of a long walk in the woods. Even the sound of fingers sliding on a guitar's fretboard somehow morph with drums into beautiful harmony. "Halcyon," along with many other songs by The Paper Kites, sound like how autumn feels: fresh air, piles of leaves, and chirping birds.
"Flowers in Your Hair" by The Lumineers
The Lumineers are primarily known for their folk-rock hits like "Ho Hey," "Cleopatra" and the ever-so-popular "Ophelia," which trended on TikTok this past year. Few, however, know the softer, more elegant songs like "Flowers in Your Hair." Found on their self-titled 2012 album, "Flowers in Your Hair" highlights not only the rawness of Wesley Schultz's vocals but also harmonious melodies that you wouldn't mind getting stuck in your head. It's a love song that reflects on a nostalgic and idealized childhood relationship. In one minute and fifty-one seconds, it offers an escape from your everyday routine.
"Flowers in Your Hair" starts with a line that evokes sentimentality for youthful naivete: "When we were younger, we thought everyone was on our side." The most poignant lyrics extend from the concept of change over time: "It takes a boy to live, takes a man to pretend he was there." Here, the exuberance of youth is compared to the adventures we long for as we get older. With a catchy chorus that repeats the line "Be in my eyes, be in my heart," "Flowers in Your Hair" deserves its status as a staple of fall folk music and a coffee house favorite.
"As I Lay Down" by Seth Arlan
Do not let the boat on the cover of Seth Arlan's album, 'Daydreaming,' fool you—"As I Lay Down" is perfect for hats and sweaters. Released in 2019, this song encompasses clarity and tranquility. Arlan's stretched and muffled vocals sound like a voice you would hear around a campfire in the middle of nowhere. With the addition of a tuneful whistle, "As I Lay Down" is perfectly complete.
"As I Lay Down" focuses on the inner thoughts that occur when immersed in nature's beautiful simplicity. The song starts with the line "As I lay down, I look above the blue skies," capturing the freedom of nature. "Joy on mind" comes from the vastness of the sky when it is seen from the right viewpoint: on the ground.
What sets "As I Lay Down" apart from other songs is, once again, its simplicity. Arlan sums up his feelings for a friend by saying "I want to know if you're ok," cutting right to the chase. Any other lyrical details would take away the mystery of what makes the world delightful. "As I Lay Down" is a charming fall favorite, perfect for drinking apple cider while catching up with an old friend.
"New Slang" by The Shins
The Shins do an excellent job making music feel like sunshine, and "New Slang" is a perfect example of that. "New Slang" was released in 2001 and also featured in the movie "Garden State." With upbeat guitar strumming and a steady tambourine pulse, "New Slang" feels like home.
There is a funny sense of familiarity when listening to the vocals, with lyrics like "I was happier then with no mindset" suggesting that the best way to live life is on a whim. The chorus climaxes with the line "Well, I'd've jumped from my trees, and / I'd've danced like the king of the eyesores," speaking once again to a lack of concern for others' opinions. James Mercer, the band's songwriter and guitarist, clearly needed an escape from the suffocation he felt in Albuquerque, where the band was formed. What better place to escape to than a world of cheery folk music?
This Grammy-nominated song follows a childlike longing for freedom in a world of constant criticism. The Shins want us to get up and dance, regardless of the spectators, and in the name of fall festivities, we should grab a pumpkin latte and join them.
"All Too Well" by Taylor Swift
Though it may feel like an outlier among this list of folk songs, "All Too Well" is an understated pop giant. "All Too Well" is arguably one of Taylor Swift's best written songs—not only on her album 'RED,' but across all twelve of her albums (counting re-recordings). Following the re-recording and release of 'RED (Taylor's Version)' in response to her infamous feud with mega-manager Scooter Braun, "All Too Well" is as current now as it was when it came out. At first listen, it might strike a listener as a "scream in the car with friends" kind of song, but upon a closer look, it truly embodies the spirit of fall.
"All Too Well" tells the story of someone recalling a failed relationship: the good, the bad, and the prominent age gap that led to the relationship's downfall. While you may be asking how this ties into the autumn theme, the answer is in the lyrics by Swift and her writing collaborator, Liz Rose. The first verse opens with "cold" air and "Autumn leaves falling down like pieces into place." Here we see Swift's vivid imagery, creating a picturesque setting for her malfunctioned love story. The song also mentions a scarf that is left over and in the possession of the antagonist. The name of the song comes from the repeated chorus of lingering thoughts she remembers "all too well." One of her most cutting lines, "You told me 'bout your past thinking your future was me," comes in the fourth verse, powerfully evoking betrayal. She is hurt, and she is not afraid to be vulnerable.
In terms of sound, "All Too Well" is on the brink of both pop and rock. The song is structured around hefty guitar but embodied by the simplicity and clarity of Swift's voice. The song picks up with drums and eventually peaks at a perfect, characteristically catchy Taylor Swift bridge: "Maybe we got lost in translation, / maybe I asked for too much."
If heartbreak is as scenic as "All Too Well" makes it seem, we should all be jealous of Swift. "All Too Well" encourages everyone to put on their favorite scarf, take a drive, and watch the leaves fall.
About the Contributors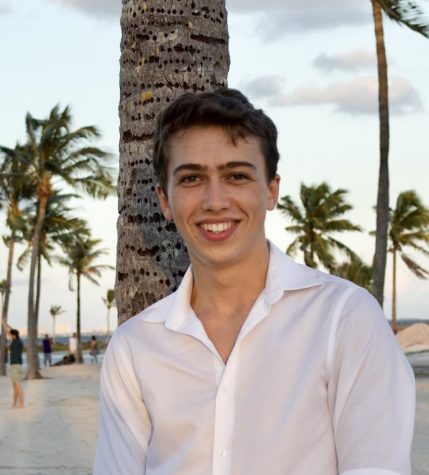 Luca Campiani '22, Co-Editor-in-Chief
Luca Campiani '22 is a Co-Editor in Chief and writer for The Catalyst. He covers the Features and News sections of the newspaper.