'Little Shop of Horrors' was a feast for the senses
Armed with no theater experience and a mostly memorized 'Book of Mormon' song, I auditioned for this year's Ransom Everglades fall play, 'Little Shop of Horrors.' Directed by Ms. Laura Montes, 'Little Shop' centers on flower shop employee Seymour Krelborn and the lengths to which he must go to hide his secret: The odd plant that he has purchased from a mysterious florist thirsts for human blood.
Never have I been so happy not to get picked for something. Being in the audience allowed me to absorb everything that was happening on stage. From the chorus' colorful, sparkly costumes to the rapidly-growing plant to the mesmerizing dancing, everything came together for a spectacular and hilarious performance.
Seniors Matthew Zide '22 and Zoe Holtzman '22 did not simply play the main characters—they transformed into Seymour and Audrey, who work at Mr. Mushnik's (Nico Maynulet '23) failing Skid Row flower shop. Seymour is awkward, klutzy, and hopelessly in love with Audrey, who dreams of leaving Skid Row to settle down somewhere greener. Unluckily for him, Audrey's already in a relationship.
Portrayed by Armando Segrera '25, Orin Scrivello, D.D.S is the sadistic dentist with whom Audrey's going steady. "Doctor" Scrivello, as he angrily reminds Audrey throughout the first act, is an objectively horrible person. It's evident in his narcissism and his passion for causing his patients pain. Ironically, however, these loathsome qualities are what make him such a comedic hit. At the same time, his abuse of Audrey is never used as a punchline. Segrera's character perfectly toed the line between comical and offensive.
The plant, which Seymour names Audrey II, was one of many highlights of the play. Who knew the concept of a man-eating plant could be so…funny? Switching between conniving, angry, and desperate, Jaerla Sajous '25 gave Audrey II more emotional range than some people have—all by just changing the tone of her voice. Santiago Sauceda '24, the plant's puppeteer, made the plant come alive on stage. Whether Audrey II was munching away on its latest victim or angrily waving its vines around, Santiago never missed a cue.
'Little Shop' wouldn't have been complete without its chorus. Ronette, Crystal, and Chiffon, played by Ana Martin '22, Natasha Do Valle '23, and Natasha Rodriguez '23, respectively, added a sassy element to the show. Sometimes narrators, removed from the action happening on stage, and sometimes characters involved in the plot themselves, they delivered every line with sufficient snark.
Of course, a production is nothing without its crew behind the scenes. The sets were detailed, the sound was clear and every element of the production—at least from the audience's perspective—appeared to work flawlessly. The vines that fell from the ceiling were also a nice touch, making the show a more immersive experience.
As the play moved along with each scene, song, and set change, it became increasingly obvious that the cast and crew were immensely dedicated to this production. I'm happy to report that, when I went on Friday evening, the Lewis Family Auditorium was absolutely packed.
For those of you who couldn't make Friday's show or Saturday's matinee, I'm not going to lie and say you didn't miss much. Every cast member fit their role perfectly. The acting was comical when it needed to be and always convincing. And the singing! The singing was excellent. Every. Single. Song. I, for one, can't wait for the spring play. It won't be a musical, but with the talent in this year's RE Drama participants, it will, without a doubt, be just as entertaining.
About the Contributor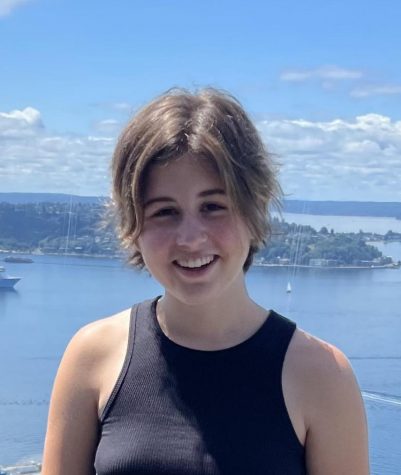 Sabrina Soto '22, Co-Editor-in-Chief
Sabrina Soto '22 is a Co-Editor in Chief and writer for The Catalyst. She covers the Arts and Opinions sections of the newspaper.