The musical journey of Mr. Scott O'Donnell
On occasion, during the lunch period, a certain teacher will set up shop with his viola in the STEM Quad of the Ransom Everglades Upper School and play his favorite etudes and pieces. That teacher is Mr. Scott O'Donnell, who teaches AP Music Theory, String Orchestra and Advanced Chamber Ensemble. 
In his relatively short tenure at RE, Mr. O'Donnell has made an impact on his students.  
"He is an absolute genius. The man knows music theory better than anyone I know," said Jarrett Howland '22, President of RE's Symphonic Band.  
"He has the best personality I've seen from a teacher, bringing joy to all his students while displaying his unmatched music skills. I really love it when he plays in front of the quad. It sets a positive environment to the student body," said Nate Kaplan '24, a student in String Orchestra.  
Coming from a musically-inclined family, Mr. O'Donnell first touched an instrument at the age of six, and he instantly found a passion for music. But the long journey between that moment and his arrival at Ransom Everglades is full of interesting twists and turns. From working as a bouncer at night clubs to playing professionally around the world (including for Michael Jackson), Mr. O'Donnell has done it all. 
I sat down with Mr. O'Donnell to hear about his long and varied career. The conversation has been edited for length and clarity. 
Tell me your story. When did your music career begin, and how did it change your life? 
It all started when I ended up going to Manhattan School of Music in New York City on a full scholarship when I was 17. I was there for a few years to take lessons from the professor Rafael Brunstein, who was the last pedagogue of the Russian style of violin playing.  
After his death in 1983, I felt kind of lost. I wasn't in the school anymore by the time he died, and I ended up going into the nightclub business, where my brother was working as a doorman and a bouncer. I worked at all the top nightclubs in New York City during the 80s: Studio 54, Limelight, a place called The Underground Palladium, to name a few.  
I also worked for an agency that hired security people, so I was in one place one night and the next night I was in a different place. It was very interesting; I met a lot of people and had a lot of experiences. 
I had stopped playing for six to seven years. 
Suddenly, my father became very ill and died in 1989, and I moved from New York City to Daytona Beach, and rediscovered the violin.  
I went to Stetson University on a scholarship, picked it [the violin] up again and started practicing, and then started gigging all over the place. I went to the University of Miami for a Master's, and in my first semester I took a leave of absence and went to Germany for six months to play West Side Story in Berlin. I travelled all around the world playing the violin.  
I picked up the viola later, and I have been all over the world with the viola as well: ballet, opera, professional recordings with people like Ricky Martin and Michael Jackson. A lot of Latin recordings. Emilio Estefan. Just doing my thing. 
"
I feel that after forty years of performing, it's time for a new chapter in my life to give this knowledge to the next generation. I've been there, done that with performing, and I've had wonderful times and very challenging times, but now I'm ready to move on."
— Mr. O'Donnell
How did music ultimately affect the way you approached your life? 
Well, as a freelance musician, I am a very hard worker. I have a very strict work ethic as far as practicing and preparation. Most of the time I was sitting principal viola or principal violin, so I had to be extra prepared to lead the section. And, if the conductor says how they want the violins or violas to play, they call on the principal to demonstrate in front of the whole orchestra to show how it's done.  
So [it required] just a little extra ingredient of getting up at five in the morning and practicing three hours before I go and doing nine hours of performing. And a lot of driving, 32,000 miles of driving in the past I don't know how many years. A lot of flying, a lot of preparation, and a lot of planning.  
I have met people from all over the world, and people always gravitate towards you when you're the principal. They take what you're doing as an example, they look to you, they hear you play and want to hear you play. They want to know: "How does he sound like that? How can I sound like that?" That kind of thing.  
What would you consider a highlight of your music career? 
My favorite moments were working in Germany, working in Spain, a lot of opera, particularly opera.  
I worked in the summer every year for twenty years in Daytona Beach for Seaside Music Theater. And that was just like Broadway, practically; they had people brought in from all over, very high-lining professionals. And you know, when you're a freelance musician, you never know what you're going to get or where you'll be called, what environment you're being called into. It's sort of like they're bringing in ringers to do the job and get it done quickly.  
Most of the time they just have one or two rehearsals and then we have to do a concert, or sometimes we sight read and don't rehearse. All those recordings you hear of commercial music, watching a commercial of a product, it's all sight read. And you just do it off the cuff, and that's a skill you have to develop over the years.  
So, in the same way that you transitioned from being a bouncer to playing professionally, what led you to the decision to transition from professionally playing to teaching your craft to other people and teaching music to younger audiences? 
Well, COVID actually helped with that decision. I was playing everywhere, and then COVID came along and snubbed out my professional work, but I was subbing at Ransom and doing one class at Ransom. I was doing the string orchestra.  
And then, after the summer, I was hired to do two classes, and I was able to survive. No one was playing at all; nothing was happening, and one of my colleagues was in dire straits with their financial situation. I was able to survive, and my wife works too. And then the next year, I created the advanced chamber ensemble and worked in the middle school as well. Now I have more classes.  
But also, to answer your question further, I feel that after forty years of performing, it's time for a new chapter in my life to give this knowledge to the next generation. I've been there, done that with performing, and I've had wonderful times and very challenging times, but now I'm ready to move on. The choice was almost made for me with COVID, and it was good timing on my part. 
I noticed that sometimes you like to play your music to the student body during lunch periods or whatnot. What led you to do that? 
Well, that is something I am very comfortable with. There aren't too many of my colleagues who would do that, but I started playing in restaurants and country clubs when I was fifteen years old, doing that very thing, just walking around playing the violin from memory. 
Showtunes, classical pieces—people would request things, and if I didn't know the song they requested, I would play something for them, then go home and show my mom, and she would go, "Oh, that one? Listen, that's how that one goes," and she would just bang it out on the piano. There is not a song written that my mom does not know. She can just bang it out in any key on the piano. And since I have a good memory for music, she would play it for me a couple of times and then I was able to play it the next night at the restaurant.  
When do you next plan on playing for the school? 
For the student body outside? I'm not sure. It's pretty hot right now to take out the viola. The viola is saying, "uhh there is no way I am going out there." 
About the Contributors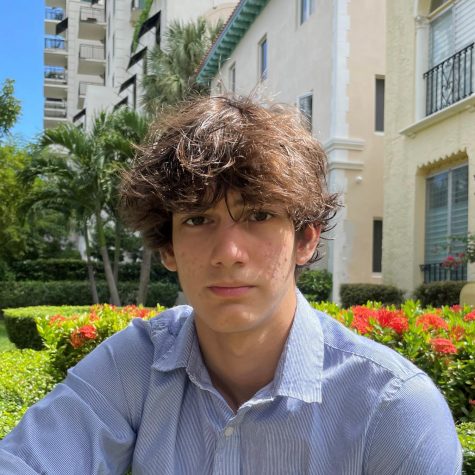 Jan Trauer '22, Staff Writer
Jan Trauer '22 is a staff writer for the Catalyst. He covers RE community news for the newspaper.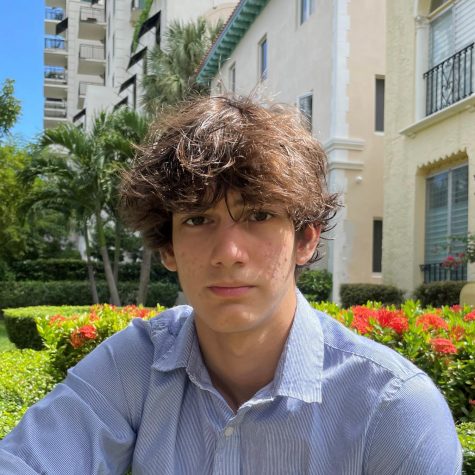 Jan Trauer '22, Staff Writer
Jan Trauer '22 is a staff writer for the Catalyst. He covers RE community news for the newspaper.