A new spin on 'Freshman Friday'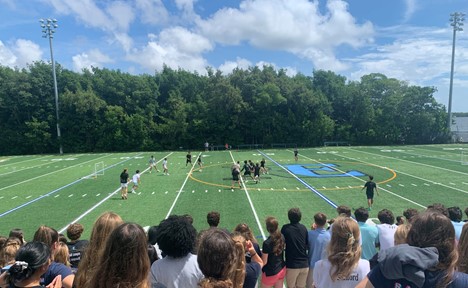 For many years, the first Friday of each school year at RE has been dubbed "Freshman Friday," and is a day on which the senior class plays a prank on the incoming ninth graders. This year's Freshmen Friday, a soccer game between seniors and freshmen, marked the first time in which the event was organized by the Student Government Association rather than independently by groups of students—and also the first time it didn't involve pranking. 
In 2018, seniors placed silly string on the lockers of the Class of 2022 (who were then freshmen themselves). In 2019, the senior class flirted with the freshmen, which Felipe DeCardenas '22, echoing a view held by other students, called "just kind of weird."  
On Friday, August 27, the students in the Class of 2022 played students in the Class of 2025 in a soccer match on the field with the entire student body in attendance as fans. The game took place during the beginning of the lunch break and lasted about thirty minutes. The final score was three to one in favor of the seniors. 
Some students—mainly, and expectedly, seniors—criticized the change, lamenting the loss of an opportunity to torment underclassmen. Christian Gardener '23 called it "terrible." Quinn Lennon '22 simply stated that "it was not good," and Rafa Dovarganes '22 went even further, declaring that this year's Freshman Friday was "the lamest senior prank ever."  
For others, however, including and especially the SGA representatives who planned it, the change represented a necessary and long overdue transformation. They re-envisioned a tradition that had mainly served to humiliate freshmen as a new and more inclusive opportunity to create school spirit.  
According to SGA representative Alexa Hommen '22, seniors began discussing the event during the annual senior retreat at the Circle F Dude Ranch. "During Circle F, there was this idea of Freshmen Friday as a senior tradition. While we were discussing traditions that were normally organized by SGA, it was hinted at that SGA should take care of it, and I think that this was the best idea because people participated more than they would have," she said.  
The original plan for Freshmen Friday was significantly different from what ended up happening. At first  the seniors "wanted to do something on the deck during the day, but we decided that something sports might be more fun to fostering competition, which would create interaction" Hommen revealed.  
Even after it was decided that the Freshmen Friday event would be a sporting event, much remained to be planned. "Originally, I believe the plan was spike ball, Freshmen Friday Spike ball," Senior Felipe De Cardenas '22 explained. "But we decided that a soccer game could be more fun, and then we had someone bring up the idea to student body president Noah Zaldivar '22, and he got it approved."  
With the blessings of the administration (which previous Freshman Friday pranks had not received), the game took place. On the sidelines, Rylan Sadler '22, Matthew Acosta '22, and De Cardenas dressed up as coaches and gave over the top reactions to every play of the game. At one point they stormed onto the field and called a time out.  
De Cardenas revealed that the idea to dress as coaches started with Matthew Acosta '22. "We decided that we wanted to do something funny on the sideline the night before to support our players, and Matthew decided that we all dress as coaches, really intense coaches."  
The Freshmen had intentionally not been alerted to the game beforehand. Chase Dubovy '25, who played in the game, was caught by surprise. When asked whether he knew that the game was part of Freshman Friday, he responded, "Now that I look back on it, it was definitely the Freshmen Friday thing, but I didn't really know what was happening at the time. I was surprised … I didn't know what I was expecting."  
Hommen explained that at first, seniors in student government were planning on selecting random ninth graders from the crowd, but decided to make a roster just in case. Zaldivar was in charge of creating the roster and chose specific freshmen "who would reflect spirit," adding that "most of them were siblings of other students." 
The process of choosing the twelfth-grade players was different. De Cardenas explained that "since the game was sort of Matthew's idea and Levi's idea, they sort of chose most of the soccer kids, and then some other girls volunteered."  
Making the game spirited and getting the whole school involved was a major accomplishment for the seniors who organized the event. Hommen described how "[then-Dean of Students] Mr. Hough afterwards came up to me and said that 'I've never seen a school that spirited so early in the year.'"  
Hommen noted that the number of students participating in the event increased dramatically compared to Freshman Fridays past. "At least from what I can remember, not that many people actually participated in Freshman Friday," she said. "For our year the only certain people got sprayed… so I wanted to do something with the entire grade."  
De Cardenas declared that "I think this year's Freshman Friday blew out all of the other Freshman Fridays out of the water." Zaldivar also praised Freshman Friday, but in a more constrained way saying that "it went well, and I thought it was fun given the constraints we had, which were no overt bullying." 
For some students, even non-seniors, a more inclusive or equitable version of Freshman Friday was hardly a Freshman Friday at all. Dubovy felt that "it would have been much more interesting if you had an eight zero, ten zero, fifteen zero defeat" instead of three to one. Daniel Figueroa '24 echoed this sentiment: "It sucked. I expected the seniors to absolutely dominate the freshmen."  
Still, Figueroa had to admit, "It was better than last year's." 
About the Contributor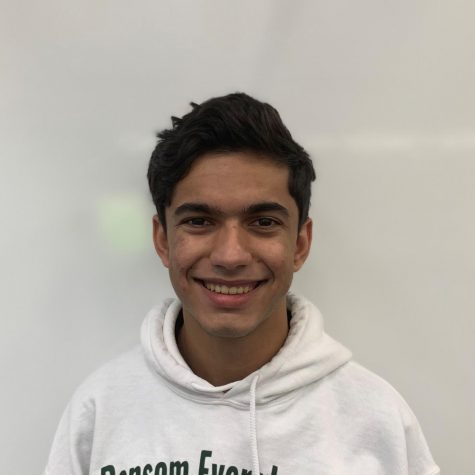 Javier Kumar '22, Staff Writer
Javier Kumar '22 is a staff writer for The Catalyst. He specializes in features.