As RE's World Languages program evolves, students raise questions about Spanish requirement
South Florida is a melting pot of cultures and nationalities, and the World Languages curriculum at Ransom Everglades strives to give students the skills they need to explore it. Through courses in Spanish, French, Chinese, and Portuguese, the entire student body prepares themselves to communicate with people from different cultures and countries around the globe. 
"For me, learning languages is about really expanding your horizons and getting to know people and places and cultures outside of yourself. It's about learning more about the world," explained Dr. James Monk, the Chair of the World Languages Department. 
Isabella Virtue '22, who studied Spanish and French at RE, concurred. "[Taking French] helped me broaden my perspective on the world," Virtue said. "That sounds really cliche, but it's how I started thinking about events in a more global manner." 
However, Virtue also represents an increasingly rare kind of student at the Upper School: one who took another language instead of Spanish at the Middle School. Virtue's course of study involved taking French in seventh and eighth grade, rather than Spanish, and then starting Spanish at the Upper School. For the Class of 2023 and beyond, that pathway no longer exists. Students may take another language at the Middle School in addition to Spanish, but may not opt out of Spanish entirely. 
Before Monk returned to Ransom Everglades in 2019, after working at the College Board and the International Baccalaureate, the World Language Department saw the implementation of a program requiring all students to study Spanish without exception. The program centers on "proficiency," as Monk explains, and has also involved making "biliteracy" a graduation requirement.  
The concept of a required language has generated some controversy among the student body. For Virtue, her hostility towards the decision stems from the fact that the Spanish requirement accelerates students into AP classes, particularly when they are underclassmen first arriving at high school.  
"Even as a sophomore [in AP Spanish], I struggled," Virtue said. "A lot of people that I've talked to struggled to take it in 9th grade. A lot of them got 3s, even though they are native speakers. I think it just really fast-tracks Spanish." 
Dr. Monk acknowledged the difficulty that some students were having, but emphasized the benefits of a program that allows students to achieve proficiency so early. "I think that sometimes you have to think big picture. A lot of what you do here is setting you up for success in college," he said. 
Mrs. Emily Aungst, a Spanish teacher at the Upper School who has taught a multitude of AP Spanish classes, elaborated on both Virtue's and Monk's perspectives. Aungst explained that she can see clear inequities regarding difficulty level for her students, but it may be a function of other factors beyond the new curriculum structure. "Some of the younger students don't have as much experience writing," she said. "So regardless of how strong their linguistic skills are, they are lacking the experience in organizing their thoughts and their words."  
At the same time, Aungst went on to highlight another aspect of the age range in her classroom, this time with a positive effect: "I think that in all the classes students have really learned from one another because every single student brings something different to the table." 
Lily Landman '23, who took Spanish as a sophomore, noted that "it was definitely a challenge, but I'm glad I took it. Underclassmen benefit from taking APs because it teaches them how to manage their time." 
With the final class of students who predated the new Spanish requirement graduating this year, more and more underclassmen are likely to find themselves in AP Spanish. Looking back, Virtue offered this piece of advice to younger language learners: "If you really lean into your teachers and take the time to do it, you will have the best experience with languages… that is how you reap the benefits." 
In the meantime, Monk and Aungst both echoed a very similar sentiment about where the World Languages Department is headed in the years to come: expansion, interdisciplinary collaboration, and growth. 
"I think there's going to be a lot more blending of ideas," Aungst said. "I think in the future there will be stronger connections between one discipline and another. I also think now, with the addition of Portuguese, we are becoming more robust in the selections we are offering. We really are creating a department and school that is more multilingual and more multicultural." 
As for Virtue, who studied Spanish in the classroom at RE while also speaking it at home, she expressed gratitude for the opportunity to deepen her knowledge. "It really just helped me connect to who I am, my culture and my family. [It] just connected me more to my heritage and to who I am," she said. 
About the Contributor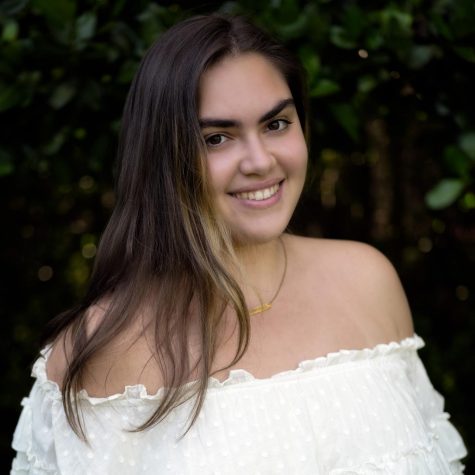 Katya Sucher '22, Staff Writer/Social Media Editor
Katya Sucher '22 is a staff writer and social media editor for The Catalyst. She covers the Ransom Everglades community.