Unity in Tragedy
How the Champlain Towers condo collapse brought the Jewish community in Surfside closer together
Miami has hundreds of buildings, with a striking skyline towering over the Atlantic. That perfect image shattered when Champlain Towers South, a 12-story beachfront condo in Surfside, Florida, collapsed on June 24, 2021. 98 people died and 11 were injured after the concrete base beneath the building's pool deck gave way. Unified in their grief, shock and concern, strangers came together to comfort each other not only at Surfside's churches and synagogues, but at the fenced off perimeter of the building collapse site. Many in the RE community had direct or indirect connections to someone who was tragically killed.  
Among the people connected to the tragedy were Dr. Gila Aloni, an English teacher at the upper school, Chani Stolik, the wife of a practicing rabbi in Surfside, and Dr. Howard Lieberman, a trauma surgeon who was on call for nearly a month helping victims both on the site of the collapse and in the hospital. In the following interviews, they offered unique perspectives on how this tragedy transformed their own lives.
Dr. Gila Aloni, English teacher at RE
Dr. Aloni lives across the street from Champlain Towers; when the collapse occurred, she was in Tel Aviv while her husband remained at home in Miami. During our conversation, Dr. Aloni explained the traumatic and emotional impact of the collapse on her own community and how the event has changed her own perspective on life.  
To begin, where were you when you heard of the collapse, and what was your initial reaction? 
The interesting thing is that I was in Tel Aviv when it happened, and it was 1:30 in the morning. My husband called me after waking up super early. A lot of people in the neighborhood were sleeping. They did not hear the collapse. He wakes up every day at 4 o'clock in the morning, and he said that when he opened the door for the dog, the cars were covered with dust, and one of the windows of my car was cracked. Debris from the building actually reached our parking lot. That's how close the building is.  
Do you feel that there are new sentiments of fear or unity in the Surfside community? 
It was completely changed! Completely changed. My friends live there. There are a few Israelis who live next to me, and I am very close with the Rabbi of the shul, Chabad of Bal Harbour. We all know him because a few years ago, he came to speak at one of the assemblies in memory of the Holocaust. First and foremost, I saw him on the news. One of my neighbors was constantly sending me YouTube videos when they went to [the building collapse site], and he was there comforting the families. My friends started to really collaborate to help the families. Everybody was gathering, either in the Shul or in the community center, providing help for whatever was needed. It was horrible to hear that family members that came from all over America were standing outside of the building, hoping to hear that their own family members had survived. There were survivors who had nowhere to sleep who were waiting outside of the building. The Jewish community in Surfside is very close. I live walking distance from the shul, as do most, so everybody knows each other. A lot of the people who lived in that building were Jewish because the building is so close to the synagogue. Somehow, indirectly, everyone knew someone impacted. Even though I was in Tel Aviv, the emotions and feelings were horrible. My husband was in Surfside, talking to the rabbi and opening up our home to whoever needed a place to sleep.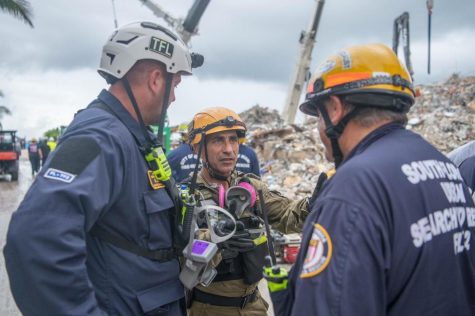 How do you as an individual feel that this experience has changed your perspective on life?  
I think when you are an immigrant, and you have family in your place of origin and make your new home in America, you are always divided. Moments of tremendous joy and moments of tragedy are the times at which I feel that the most. I wanted to be there, though I was in immediate contact with my neighbors, my friends, my shul, and my husband. Yet I am also happy that I wasn't there because I was living in New York during 9/11. For me, when things like this happen, the whole trauma of a terrorist attack resurfaces as my first reaction. When I am uncertain about what is happening, it provokes a lot of anxiety. As an Israeli, from a young age, I've been exposed to the fragility of life because so many of my friends and people close to me had fathers who went to war and never came back. You go to sleep thinking that you are not going to wake up the next day. This way of dying is just horrible. And so, I think that it puts everything into perspective. It's almost like a shock that puts into perspective the value of community and friends. I think that it puts into perspective the school here, and our place in the world, and in the community. I think that it puts relationships into perspective. Everything.  
Chani Stolik, wife of Surfside Rabbi Avraham Stolik
After realizing the extent of the tragic event's impact on the Jewish community, I spoke to Jewish community leader Chani Stolik, whose husband often leads services at the Chabad in Surfside. Chani explained the immediate reaction of the Chabad community and its communal efforts in the wake of the tragedy.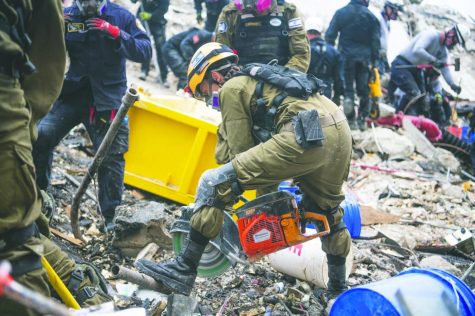 Can you explain how this event specifically impacted the Jewish community of Surfside?  
The Jewish community mourned. We were shocked. The feelings were very intense, but automatically, it became about feeling the connection and the action that needed to be taken. For me personally, when an Israeli [rescue] team came to the site, it was a huge accomplishment. Because I knew that if anyone was going to find anyone, [this team would] because they have so much experience. It was very uplifting for me when an Israeli team came because it felt like we were not alone. The families were brought all together.  
And how did the Chabad community unify in this time of crisis?  
Prayer groups were started, and there was immediate and intense support given without even knowing the names of [the victims]. We divided up the book of prayer, the psalms, which contains 150 chapters. So daily, there were WhatsApp groups of hundreds of people constantly saying prayers as one group, one heart. It was not so much about the who, the what, and the when, it was just that our prayers could make a difference. We bonded together with each prayer. Everyone immediately began to ask, "Where can you turn and what can you do?" And, of course, there were [donated meals], food, and non-stop physical and emotional support. 
Dr. Howard Lieberman, Miami trauma surgeon 
Mrs. Stolik and Dr. Aloni spoke clearly of the physical, emotional, and communal impact of this collapse on Surfside. Yet I still wondered how the tragedy impacted those who experienced the tragedy firsthand. Dr. Howard Lieberman, a Miami Trauma Surgeon who was on call for victims on the site for nearly 35 days, shared his experience with me.  
Dr. Lieberman, what was your initial reaction when you heard about the event, and how did you proceed so promptly in helping people? 
I initially found out around six o'clock in the morning when I got a call from the hospital asking if I wanted to cancel my elective cases for the day because of mass casualty incidents. I didn't have any idea of the details. I responded that I was going to go ahead with my regular day, [because] very often we get these calls of a mass casualty that is a building collapse, or bridge, or parking structure, or even a shooting, and it always ends up being overexaggerated from what it really is. Around 11:30, I get a call from our chief of trauma, Dr. Namias (parent of Nick Namias '20 and Lily Namias '23), telling me that he got a call from the chairman of the department of surgery and that they wanted me to go out there to relieve the trauma surgeon who had been there when it first happened at like two or three o'clock in the morning. They wanted me to go because I am also part of Miami Dade Fire Rescue Urban Search and Rescue Casacourse 1, which is one of several Florida casacourses that do only searches and rescue. So, I initially went there as part of the hospital's trauma surgeons to help out, and then, over the course of the day (about four hours or so) and officially 8 hours later, we were told by Miami Dade Fire Rescue that this was going to be an urban search and rescue deployment. When I finally got there, I realized the gravity and enormity of the whole situation. You're looking at about at least 50, maybe 60% of a building that was completely collapsed, and when you are standing there in front of it, that's when you realize exactly how enormous this is. At that point, I knew right away that it was going to be a very large event.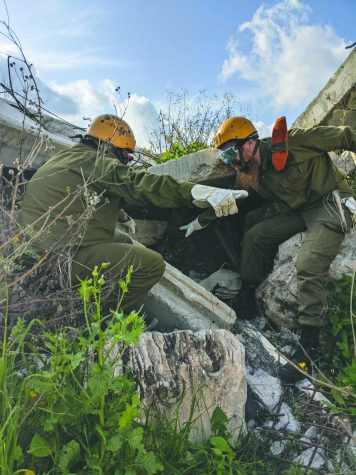 What was it like at the scene through the search?  
Things were being organized and orchestrated behind the scenes to get everyone mobilized and everything ready. It is a little bit frustrating because it starts off really slow. You have to make sure that the area you are searching is safe. And then, they employ technology and start pinpointing where they think they may have some survivors where they are hearing voices or hearing sounds. So it took the first half of the day to get that organized. When I got there, they were working on the underground parking structure where the old parking lot was, the old garage, and that's where they thought they heard some movement and some noises. But it was all flooded and under water, and it was just very difficult to navigate. That was where we focused our initial efforts. And then, later that evening or the next morning, it was an official deployment, and we started getting our resources ready, setting up our base of operations. That's where everything kicked in. Everyone had a part to play, and everyone started working, and that's it. And by about two days into it, everything was set up. We knew what we were doing. We started doing our shifts. We would do the midnight to noon shifts, and other teams would do noon to midnight, and that's what it was like for about 23 days. 
What impact do you think the event had on you as an individual?  
Being a trauma surgeon, I see people dying, unfortunately. I wouldn't say every day, but it's not uncommon to see three to four people a month die at your care. That's the nature of trauma. So, I was kind of expecting that. But by the same token, I was never expecting to deal with 100-150 people all in one spot, one small area, all just dead, with nothing that I could really do about it. So, it was frustrating, and it was incredibly sad. It was very emotional being in a small community—especially Surfside, which is a predominantly Jewish community where everyone knows someone indirectly who was impacted. If not, you know someone directly. I had friends who lost family members and friends. I didn't know anyone personally, but I was always just one tree removed. Some of my friends lost friends. Some of my friends lost family. So, for me, it was very sad and emotional. And it kind of changed the way I look at things. I mean, you say it very often, but life is unpredictable and short. You never know what's going to happen. But when you see that event up close and personal, and you are there for almost a month, it really does change your outlook on things, and you don't take things for granted and things that you may have put off or said you would do another time.  
What do you think the Surfside community and the Miami community as a whole can do to recover from the event?  
The Surfside community was phenomenal. Being a predominately Jewish neighborhood, and with a lot of the victims having been Jewish, the community of Surfside was just phenomenal with both emotional support and physical support. We had six meals a day every single day …  religious leaders were there to help and support the community that was grieving. I think the most important thing for how Surfside will recover and probably already is recovering is to first find out the cause of this and just make sure something like this does not happen again. I am sure it is going to be a long investigation, and everyone is going to have to help and support each other. People lost their families and may face financial difficulties right now. That may be one issue. Obviously, people need a place to live, so there are a lot of ways that people can reach out and help. But I think that from the moment that the building collapsed, that community was so unique in their response, in the way they were all there right away to lend support. Like I said, [they lent support] in every single way, from spirituality to actually supplying food and donating socks for us. It was just pretty amazing. Everything we needed, they were there for. So I think that they have already stepped in the right direction. If they just continue in that way, it is going to be the victims that continue to need their help. They were initially helping us, the rescuers, and now that sort of outpouring of support has to be focused on the victims.