Four books to read in the wilderness
While hiking, I read as if all books would disappear the next day
This summer, I hiked for three weeks in Washington State without my ever-present phone to keep me company. When I wasn't hiking eight miles a day, sleeping, or attempting to light the cooking stove without burning down federally protected forest, my activity options were limited. To stay entertained during downtime, I turned to a familiar comfort: books. 
Whether it was a read that made me exhale dramatically as I finished the last page or a four-dollar cheesefest I bought at Walmart, each novel left me feeling like my younger, book-obsessed self again. The trip was a great chance to read things I'd been hearing about for a while and discover new authors whose work I would read again. So, without further ado, let me introduce the books I read during my time hiking in the Pacific Northwest. 
1. Girl, Woman, Other by Bernardine Evaristo 
I was not expecting to like this book since the subject matter and writing style differ from something I'd typically pick up. What made me wary was the lack of a concrete genre—I wasn't exactly sure what I was getting into.  
There are romantic elements, but it's a journey of self-discovery, but it's also about mothers and college students and friendships and… the point being, there's no one plot. The story takes place in the United Kingdom and follows a group of Black female and non-binary characters with distinct personalities and lives who end up affecting each other in unexpected ways.  
The quality of the plot depends on whose point of view you're reading from, and there are many. Each chapter's title is the name of a different character, and each character is in the background of other chapters.  
There isn't just one main character and one version of the story. Throughout each chapter, you'll see that characters' experiences overlap, but the perspectives on a particular experience are varied. 
Reading Girl, Woman, Other is like having the ability to read thoughts. There's rarely punctuation (who thinks with proper grammar?), but emotion comes through very clearly and you're privy to all sorts of judgments and gossip through different voices. 
Although unusual, I found that the writing style helped me truly get to know each character. The author writes them all with such variety that I felt as if I had met multiple people who had spilled their life's stories to me by the time I finished the book. 
2. Profiling a Killer by Nichole Severn 
This is the thriller I found at Walmart. That tells you all you need to know. Just kidding! Parts of this book were enjoyable. It was a quick, fast-paced murder mystery, full of cheesy romantic lines, hot FBI agents, and somewhat predictable (but still fun!) plot twists.  
Profiling a Killer is about Agent Nicholas James, an ultra-talented FBI profiler brought on to solve the murder of Kara Flood, the sister of medical examiner Dr. Aubrey Flood. The stakes of this case are particularly high for Nicholas, though: sure, he may have a serial killer on his hands, but he's also in love with Aubrey—who is definitely in danger. 
Despite the two-dimensional characters and overuse of adjectives, I still found myself rooting for the romantic leads and trying to guess the murderer's identity. If all you're looking for is something entertaining, this is the book for you. 
3. Ramona Blue by Julie Murphy 
This book got absolutely destroyed on the book review websites I read. The main criticism was that it was "bad lesbian representation." So, naturally, when a friend also on the trip told me she had brought it, I had to see whether the reviews were justified.  
They weren't—you can't have bad lesbian representation when your main character isn't a lesbian. It's like the reviewers forgot that one, people can like multiple genders and two, she doesn't have to have herself figured out in high school. Overall, the story was cute, and I (mostly) liked the characters.  
This YA novel focuses on Ramona, a senior in high school growing up in a small Mississippi town. She is sure of the fact that she's attracted to girls and only girls—until her childhood friend Freddie returns.  
Yes, a major plotline follows Ramona and her feelings for Freddie, but this is not just a romance. Ramona experiences major character development throughout the novel, which I thoroughly enjoyed reading about. 
Ramona Blue is a simple read, but rather than subtracting from the book's quality, the simplicity makes the story easy to follow. I found myself relating to many different characters, even those whom I despised at the beginning. Without spoiling anything, I'll let you know that I found the ending quite satisfying. 
4. The Seven Husbands of Evelyn Hugo by Taylor Jenkins Reid 
I, for one, am a fan of Old Hollywood. The makeup! The outfits! You get a lot of that in this book, but the main premise is this: after remaining secretive about her life throughout her decades-long career, Evelyn Hugo—the nobody New Yorker turned movie star—decides to give a tell-all interview about her life.   
Because it's told from Evelyn's point of view from the beginning of her career to its end, the majority of Seven Husbands takes place in the 1900s. Not only does this novel touch upon the glamour of 20th-century Hollywood, but it also illustrates the sacrifices women had to make to succeed at the time. The central plot, however, is Evelyn's longest-kept secret: her romance with her female co-worker.  
Once you start reading, you're in for a wild ride. The romance is beautifully written, hopeful, and heartbreaking all at once. The subject matter is heavy, addressing socially unacceptable romance and the difficult life of a woman in a sexist industry. However, it's not a difficult book to get through. The writing is simplistic and the plot moves along soon after the beginning.   
I'd also like to note that I've read a decent number of romance novels before reading this one. Some are very bad, and I've finished those with a massive sense of regret for spending money on such a bad book. The Seven Husbands of Evelyn Hugo is not one of those. I would read it again for the first time if I could. 
About the Contributor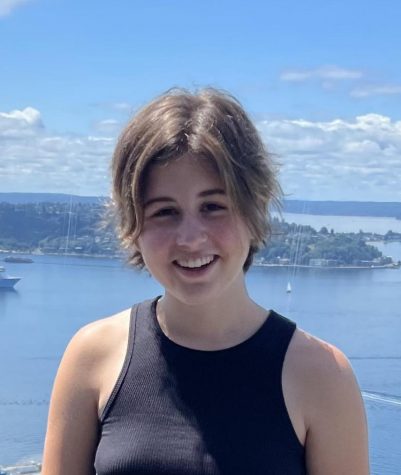 Sabrina Soto '22, Co-Editor-in-Chief
Sabrina Soto '22 is a Co-Editor in Chief and writer for The Catalyst. She covers the Arts and Opinions sections of the newspaper.