Inside the making of TEDx Ransom Everglades
With just under 40 years since its founding, the TED organization has become synonymous with the intellectual exploration of topics across the fields of technology, entertainment, design, and more. What started as a small scientific conference in 1984 that lost its investors' money grew into an annual conference in Monterrey, California with an almost cult-like following behind it. Many of its conferences have attracted world-famous speakers and have been viewed tens of millions of times, such as Simon Sinek's speech, "How great leaders inspire action," and Bill Gates's speech, "The next outbreak? We're not ready." Sir Ken Robinson's world-famous speech, "Do schools kill creativity?", for example, has been viewed an astounding 90 million times across both the TED website and YouTube. This conference has been expanded across the country through the TEDx program, where approximately 3,000 TED-affiliated events are held annually. In Miami, this event has typically been held through TEDx Coconut Grove. However, when this was canceled for 2021 because of the Coronavirus pandemic, RE students Valeria Solorzano '21 and Isabella Henriquez '21 decided to put on an event of their own. 
"I used to go to a different school before Ransom, the American School Foundation in Mexico City. They held a TEDx youth event two years ago that was started by a girl I knew, so I learned a lot about it through her and the event's Instagram account," said Solorzano. "I thought it was a really cool idea, so towards the end of junior year, I told Bella (Henriquez) about it, and she told me that the school that she was in the second semester of junior year in El Salvador also had a TEDx event. So, we met with Dr. John King. He told us TEDx Coconut Grove had been canceled this year because of the construction of the STEM building and COVID. He then said we could take on the reins of a new event and license it under Ransom Everglades and not Coconut Grove. Once we had his approval, we started the whole process of making TEDx Ransom Everglades happen." 
Despite their desire to put on the event, Solorzano and Henriquez faced some initial obstacles before being granted the TEDx license, specifically with the uncertainty caused by the Coronavirus pandemic. 
"When we first started, we had the hopes that the event could be held in person, but because of COVID restrictions that could not happen. So our biggest obstacle was having to record the event," said Solorzano. "However, this also brought a lot of benefits. With the license that we are under with TED, only 100 people could have been at the event if it was in person. Now that we are distributing virtual tickets, and anyone with the link can RSVP to attend the TED talk." 
Once Solorzano and Henriquez received the go-ahead from Dr. King, they moved quickly to create an application to hear from those in the Ransom community who wanted to participate in the event. Intending to create a broad theme that could capture the diversity of experience of the Ransom student body, Solorzano and Henriquez came up with the theme, Breaking Barriers. 
"I think Breaking Barriers can be taken in many ways. Usually, when you think about 'breaking barriers,' I think of breaking professional barriers, but it can also mean your personal barriers, such as facing your fears, overcoming a challenge, or breaking barriers in education," said Solorzano. "The best thing about this theme is its versatility, and we thought Breaking Barriers was an excellent all-encompassing way to talk about challenges, interests, passions, and projects in a very cohesive way." 
Once the application forms were released, many people immediately began applying to be speakers. With topics ranging from friendship to writing to visual art to the obstacles women face in scientific fields, the organizers rapidly assembled an exciting cast for the event.  
"I've always been taught from a young age that giving is the most important thing you could do to others and the best way to impact the lives of others. These are the same ideals that Tedx embodies- the sharing of ideas- to open the minds of others, give them new skills, and help them unlock wisdom by people who have experience," said Daniella Sanchez '21. "I wanted to share with others my experience in overcoming mental barriers because it was a tough lesson to learn and to come up with ways to immerse myself in the life I always wanted to live. I thought if I could help someone by giving them advice that took me three years to learn in eight minutes, then that's impactful." 
By early January, the TEDx group officially announced its speakers for the conference on April 22. The lineup consisted of students Yuhan Liu '21, Daniela Sanchez '21, Lucia Dahn '23, Alexandra Henriquez '22, Claudia O'Sullivan '21, Elanah Arnold'21, and faculty members Dr. Myriam Gollan and Dr. Matthew Helmers. Once selected, the speakers were given time and freedom to develop their ideas for filming and rehearsals in the upcoming months.  
"I felt very free to speak about what I wanted, so long as it related to the theme which is pretty broad," said Sanchez. "If anything, the team encouraged me to put in more examples and not to hold back, which was really helpful to me since I was timid at first to speak about a vulnerable topic." 
Attempting to maintain the legitimacy and professionalism of a typical TEDx event, the students leading the conference set about refining the speeches ahead of the event. Because of COVID, the Ransom Everglades TEDx event would be pre-recorded before being released at a specific time so those who reserved a spot could watch the speeches together. Therefore, the speakers were given an unmatched opportunity to perfect their speeches in a less-pressure-filled environment.  
"The rehearsal process was less rehearsal and more independent practice because of Covid. We wrote up our speeches and then submitted three videos of us speaking, improving with each one, and slowly memorizing," said Sanchez. "I met with Alex Dray '21, my speech coach, twice over FaceTime to figure out where specific intonations and modulations of my voice should be located. After that, [the speech] was filmed. I did a practice right before with no camera, and then two takes." 
Once the filming was done, the technology team's work truly began. In addition to focusing on staging and lighting as they always had been, members of the technology team were also tasked with editing the videos and streamlining the content to maximize all viewers' engagement. In total, approximately forty hours of editing took place before the final video was approved for the livestream.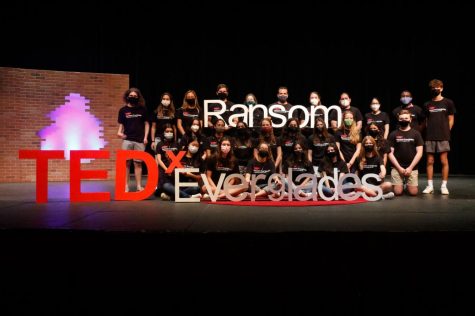 "During the production, I was responsible for setting up our multiple camera angles, coordinating with camera operators on desired shots and movements, and recording and processing the camera feeds," said Jake Perdigon '24. "The three days leading up to the filming (April 12-14) were our "load-in/build days," as our set team built the sets, lighting designers focused and programmed lights, and the video team set up the necessary equipment needed for the event. On the filming days (April 15-16, 19), the speakers came in, and we captured their speeches. From April 19 to April 21, I edited all of the speeches, proof-watched for validation and quality, and exported them for our livestream on Saturday the 24th." 
During these final stages of editing, the team launched a publicity campaign to advertise the event to the RE community. Through schoolwide emails and popular Instagram accounts, the event was able to gain significant traction ahead of the April 24 premiere. The initial reviews were overwhelmingly positive. 
"The event was a big hit, enjoyed by parents, faculty, and students alike. From the feedback I have received alone, it seems as though the feedback from the community was positive," said Perdigon. "In my personal opinion, I, too, believe that the event was a success. Bringing in speakers that spoke to a variety of topics combined with the expertise of the student directors and committee members created a fun and motivating environment that ended up with a great, intriguing event." 
Beyond simply bringing eyes to the fascinating stories of each speaker, the student-led TEDx Ransom Everglades program served to give RE students a platform where they were surrounded and supported by their peers in an unmatched manner. This not only allowed them to pass on their knowledge to the viewers but also achieve internal growth.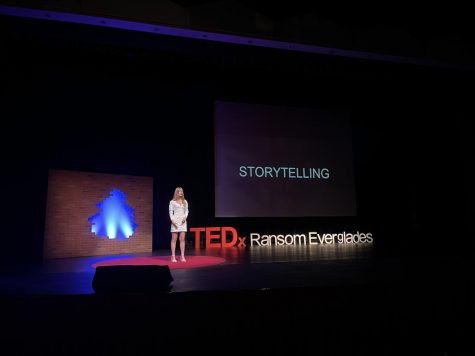 "The TEDx experience taught me a lot about myself, about courage, and helped me reinforce the skills that I learned throughout my life. Before my talk, I had this idea of my mental barriers being impediments of the past that I should avoid talking about at all costs," said Sanchez. "Taking on this project allowed me to see it as a learning process, as an opportunity to grow as an individual, and as a time of self-discovery. I would love to do something like this again in the future as I continue to live and learn and share with others any secrets of life I've picked up along the way." 
All in all, TEDx Ransom Everglades was a tremendous success that showcased the dedication and resilience of the RE students that worked so arduously to put on the event. The wide range of subject matter covered accurately displayed the diversity of the Ransom student body, and the familiarity among viewers and speakers truly helped magnify the effects of each speech. With many underclassmen forming part of the senior organizers of the event, it will be interesting to see if this tradition can be maintained in the future and become a landmark event that showcases what makes RE so special every year. 
About the Contributor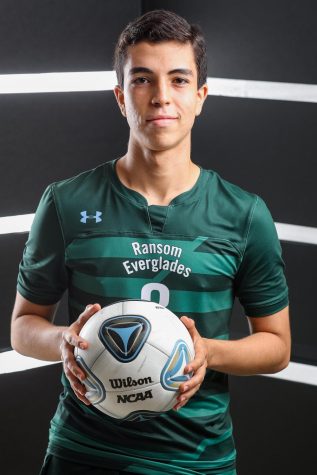 Gabriel Pulido '21, Staff Writer/Copy Editor
Gabriel Pulido '21 is a staff writer and copy editor for The Catalyst.