RE Baseball's seniors say goodbye after seven years of success
On Monday, April 26th, the Ransom Everglades baseball team walked off the field for the final time this season. For seniors Chris Basile '21, Jake Martin '21, James Srebnick '21, Emmet Gershman '21, Thomas Heisel '21, and Pablo Ocariz '21, it was the last time they played in a Raider uniform. The majority of them started playing in sixth grade and have stuck with their craft throughout all seven years of their time at RE. Together they have shared countless memories on the field and have formed inseparable bonds. 
Once they entered high school, the boys immediately contributed to the team's success. Their biggest accomplishment as a team came during their sophomore season, when they won the conference championship with Martin closing the game at pitcher and Basile hitting a three-run homer in extra innings. Martin called the game his "most memorable moment of RE baseball." 
"I'll never forget my 10 pitch at bat in the conference championship sophomore year," Basile said. "Winning that game was surreal, and I will always have those memories with my former teammates and current brothers." 
The following year, all signs were pointing up for the Raiders. Basile and Srebnick were named captains at the start of the season, and the team was ready to defend their conference title. However, adversity struck when COVID-19 abruptly ended their junior season. "Having the pandemic cut our season short was a gut-wrenching blow because we had so many aspirations as a team," Heisel remarked. 
While COVID-19 hindered the team's goals, it also altered the plans of the players who were seeking to be recruited by colleges. In addition to their most important season being shut down, players were also not able to visit schools and build effective relationships with coaches. "Getting recruited for college during the pandemic was very hard because contact with coaches was very limited," Martin explained.  
Martin was able to find a way to persevere, and he is set to continue his baseball career at Williams College as a pitcher. Playing this season also convinced Basile to continue playing baseball; he will spend his next four years at Bucknell University. "I was seriously ready to give up the game until I played this season and realized I couldn't let go of the pure joy and lifelong bonds that this game has given me. The guys helped me understand that I wasn't ready to hang up the cleats," he said. 
This past season was one to remember for the Raiders. Being able to take the field again reignited the passion these players had for the sport, and it influenced players like Basile to continue playing past high school. The Raiders navigated their way to a 13-6 record capped off by a runner-up finish in their conference tournament. 
The Raiders opened the conference tournament with a 16-1 thrashing of Everglades Prep Academy in four innings. They followed that up with a 10-3 victory over Miami Country Day before falling short to Riviera Prep 3-2 in the championship game. Basile starred with a walk off three-run homer in the first game, and Gershman and Nick Rubino '23 scored back-to-back home runs in the game against Miami Country Day. 
Gershman recalled his run as the most unforgettable play during his career as a Raider. "It was a hyped moment for our team, and the boys were buzzing. We took all the momentum from them," he said. 
The final game of the season resulted in a loss, and the boys were emotional—not for the outcome of the game, however, but for the significance of it being the last time they would play together. "The feelings were crushing after that game. What upsets me more than coming up short is accepting that it was going to be the time I'd ever play with my best friends," Basile remarked. 
One of the things the seniors spoke on was how they have grown closer together from playing baseball together for so many years. The bonds they have formed are so tight, they will carry over beyond their playing days. "As a group, our senior class has formed a bond so strong that it goes way beyond the field," Martin said. "Playing four years with James, Chris, Thomas, Emmet, and Pablo have made them my brothers." 
Basile spoke on the lasting impact RE baseball has made on him with the guys off the field. He said, "There's always a peculiar energy a baseball team brings to the table. I've played several sports for many different programs and year in and out, the RE team always means more to me than anything else. We tried spending as much time as we could together, on and off the field. The guys mean far more than just teammates to me. They're my brothers. They will always be members of my family." 
A big part of the success and player development of the baseball team over the last four years is credited to the coaching, spearheaded by Head Coach Kenny Perez, who has led the team for the last two years. "Under the masterful tutelage of Coach Kenny Perez, I definitely took my game to the next level," Gershman said. "Kenny had unwavering confidence in me and taught me how to be a leader," Martin added. 
Srebnick also attributed a lot of his success to Coach Hyde, who focused particularly on helping the team with pitching. "I give all the credit to Coach Hyde, who has developed me over the course of a season from a pitcher who can throw semi-hard, to a pitcher who knows how to pitch," he explained. 
The departure of six seniors will certainly leave big shoes to fill, but the future is bright for Raiders baseball. Gershman advised his teammates to "fall in love with the grind." "The team is in good hands now," Heisel added. But for now, it is time for RE to say goodbye to its seniors, who have taken the baseball program to new heights over the last seven years. 
About the Contributor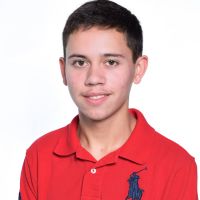 Daniel Fisher '21, Staff Writer/Copy Editor
Daniel Fisher '21 is a staff writer and copy editor for The Catalyst.