Gradual Evolution: The story behind 2021's off-campus Commencement
Watsco Center University of Miami Ten o'clock May 21st Social distancing 4 tickets per graduate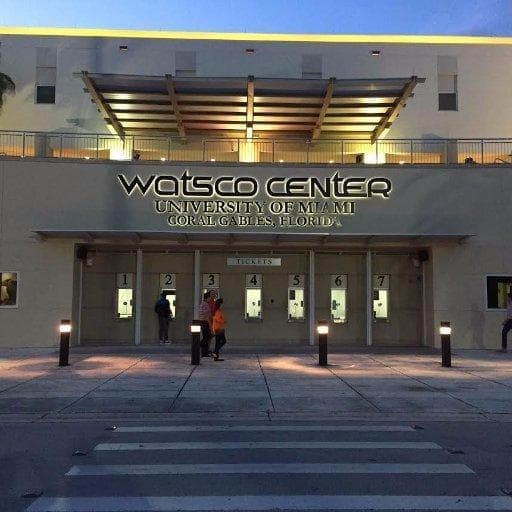 Under normal circumstances, planning graduation is fairly easy for most schools. "When schools do graduation, they get it down to a science. And then they just follow it," said Ms. Sasser, the Head of the Upper School at Ransom Everglades. Last year, when COVID-19 hit, the usual RE formula had to be dismantled completely. Instead of a packed auditorium with parents, teachers, grandparents, faculty, and graduates, seniors of the Class of 2020 were met with an online Zoom ceremony, yard side signs, and diplomas handed out a day later. These necessary precautions were taken for everyone's safety, but, like many pandemic-era changes, they came at the cost of what made the celebration so meaningful.  
"They missed out on a lot, because there was nothing, nothing, we could have done different last year," said Ms. Maria Elena Gonzalez,  Administrative Assistant to the Head of the Upper School, who has been planning Ransom Everglades' graduation for over twenty years.
This year, however, something different could be done, so RE set out to change the formula all over again. From the beginning, the plan was to avoid another Zoom graduation. But that still left a tough problem to solve: doing an in-person graduation in the time of COVID. 
"When we started there were a lot of things to take into consideration," said Ms. Sasser, going on to list questions the staff asked themselves. "Who will come? Just students or students and family? Can we do this on Ransom Everglades' Campus? If not, where can we set this up? How do we still celebrate them? How do we bring joy while they're experiencing loss?"
All these questions and more were continuous points of discussion in meetings, because when they started planning graduation in January, the vaccine rollout was still just beginning and there were concerns that the situation could worsen dramatically in the following months.
"It's been a challenge this year too, because we didn't know—we really didn't know—if we were going to be able to have it in person or not," Ms. Sasser said.
It was especially hard to plan for an event when they still did not know where it could take place. Until they got an actual location decided on it was near impossible to plan anything else like capacity, stage set up, and times. It was very difficult because the committee "was confined by adhering to the COVID-19 codes," according to Mrs. Miriam Gollan, Executive Administrative Assistant to the Head of School, who has also been involved in graduation planning. Luckily, a breakthrough came when they were able to secure the University of Miami's Watsco Center for Friday the 21st of May, the traditional day that graduation has occurred for Ransom Everglades seniors. 
Getting the contract down with University of Miami was a major milestone for the faculty and planners. They now knew the location, the number of people, and the restrictions; they had something tangible to work with. But that brought its own challenges: How does someone go about "Bringing RE into that space," as Ms. Sasser put it?   
The plan, according to Ms. Gonzalez, is to make the Watsco Center "Lewis Auditorium on a grand scale." "You're going to see the flavor of Ransom [Everglades]," Mrs. Gollan added. While the Watsco Center and UM Campus are larger than what Ransom Everglades has used in the past, the "grandeur of the place is amazing," said Mrs. Gollan. "[It will] be able to embrace all the students… I think every aspect of this graduation from the point of view of the UM Campus… you're just going to feel much more loved," she continued. "In the end it is your RE Spirit that makes this place special." 
Because the University of Miami is providing the location, the university gets to decide and set COVID restrictions like the limit of 4 tickets per graduate, which has generated some criticism among the student body. Mrs. Gonzalez recounted how, in the talks with UM, RE told them "how many students we have, how much faculty, how much staff had to be there present," and UM used those numbers to set the 4-person limit. "We have no control over that," said Mrs. Gollan. 
Even so, the team has undergone a massive effort to create a graduation that will feel more like a graduation, with a sense of celebration and, especially, togetherness. After all, this may be the last time—maybe even the first time—the Class of 2021 will all be in the same space as seniors.
"My whole class has never been together since '95. That [graduation] was the last time," said Ms. Sasser.
Whether or not this is the last time for the Class of 2021, it has been a long time in the making.