RE Boys' Volleyball cruises through District Semifinals with three-set win
The Ransom Everglades boys' varsity volleyball team faced the La Salle Royal Lions in the 3A District Semifinal, winning three sets to zero. RE returned to the district finals for the first time since 2019 and extended their three-game win streak. The team continued its momentum by playing strongly at the net and minimizing back-line errors. Ethan Gomez '21 continued to set up his teammates with his second 30– assist performance of the season. De'vonte Payton '22 continued to lead the team with nine kills, two blocks, and three aces in the win.  
"Ethan Gomez took control with his decision–making and helped get everyone involved," Nicolas Stone '21 said. "De'vonte's serving was also amazing; his long runs and his jump serve gave La Salle trouble on the sever reception." 
RE dominated from the beginning and never looked back. The team played with great chemistry and was particularly effective at setting. RE won the first set with a 25–12 lead and never let up for the rest of the game.    
"We played very well as a team and limited our errors early," Head Coach Jimmy Exley said. "The team continues to leave it all on the floor, and I expect big things from them moving forward."   
After the first set, the Lions struggled to keep up with the Raiders, who managed to keep their leads throughout the rest of the sets. The Lions' attack gave them some chances to strike back, but Magnus Kron' 21 played exceptional defense, particularly with his serve reception. Payton's long and consistent serving streaks led RE to win the next two sets 25-11 and 25-15.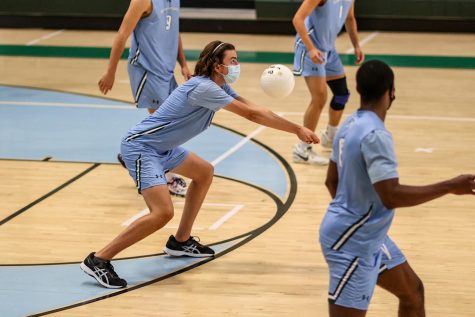 "Magnus Kron played really well today as his hitting helped us tremendously," Stone said. "His decision–making and ball placement stood out. His high volleyball IQ was on display."   
Ultimately, it was the Raiders' chemistry and extra effort that helped them win the game. Gomez, Kron, Payton, and Adrian Stone-Perez '23 were able to use some new plays that seemed to work out exceptionally. The Raiders move on to the District Final and this time will be playing away.  
"Our team collectively performed really well," Gomez said. "Everyone did a great job in their respective positions which lead to a very good team victory. We are prepared for Thursday's matchup and hope to carry on our momentum a long way in the playoffs."   
The Raiders are now in the district final and get ready to face Miami High Stingarees at 3:30 on Thursday.