RE Boys' Volleyball extends win streak on Senior Night
The Ransom Everglades boys' varsity volleyball team extended its win streak and beat the Chaminade Madonna Lions 3-0 in straight sets in their fourteenth game of the season. The team continued its momentum by making a strong play on defense and minimizing back line errors. Adrian Stone–Perez '23 turned in a commanding performance with 11 kills, 10 digs, and three blocks. De'vonte Payton '22 continued his consistent play with 10 kills, five digs, three blocks, and three aces in the win. 
"We played defense very well especially from Adrian Stone-Perez," Head Coach Jimmy Exley said. "De'vonte Payton played well in two positions and continues to be a dominate player on the team."  
The game was close, as both sides seemed to match each other's strong serve play and counter each other successfully on defense. It remained tight until RE was able to take a 1-0 set lead by a narrow margin of 25–23.   
"Senior Magnus Kron played well in his respective position and has been a great addition with his ability to hit and serve," Gomez said. "I was placed at libero and did a good job positioning myself and placing the ball to Sophomore Jackson Pegg."  
After the first set, the Lions were able to keep up with the Raiders, who managed to keep their close leads throughout the rest of the sets. The Lions' attack gave them some great chances, but Stone–Perez and Payton continued to be reliable on defense, saving several points. The team's overall hitting stood out, and Payton's hitting from the back row led RE to win the next two sets 25-21 and 25-19.  
"De'vonte continued his strong season. He is a beast in the front row with his blocking and hitting," Nicolas Stone-Perez '21 said. "Another player who is having a great season is my brother Adrian; he has become a complete volleyball player by contributing with his defense attacking, serve receiving, defense and serving."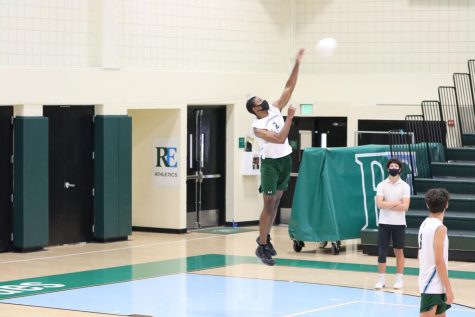 Ultimately, it was the Raiders' accurate setting and outside hitting that won the team the game. Many of RE's seniors stepped up this season and continue to send a strong message to the underclassmen as they start preparing to make a deep playoff push next week. The Raiders have clinched the second seed as they host the district semifinal. 
"The team was able to pass really well and transition from those passes into solid swings," Ethan Gomez '21 said. "A message I hope the underclassmen take away from us seniors is to continue to work hard. This team has an endless amount of potential to be great after we leave."  
The Raiders are now 11–4 and start preparing for the district semifinal match-up on Tuesday at 5:00 p.m.