RE Boys' Volleyball Sweeps Mater Lakes Academy in three sets
The Ransom Everglades boys' varsity volleyball team bounced back after a loss and beat the Mater Academy Lakes Bears 3-0 on sets in their 13th game of the season. The team's depth was evident in the one-sided victory, with four Raiders standing out. Ethan Gomez '21 led the team with 30 assists, and De'vonte Payton '22 dominated the game with 13 kills. Adrian Stone '23 was commanding on defense with 13 successful serve receptions, and Gabe Alencar'23 stood out with his improvement on kills and serve receptions.  
"Ethan Gomez and Gabe Alencar stood out with their serving," Head Coach Jimmy Exley said. "The team was serving a lot tougher and overall played very well." 
The game was in RE's favor from the beginning with their strong serve play and their success on defense. This intense, fast-paced attack helped RE cruise through the first set to a lead of 25-14.  
"Gabe ran the tempo well and was able to score points off the faster attack," Gomez said. "I was able to get my rhythm early which allowed me to place the sets in better spots for my hitters." 
After the first set, the Bears struggled to keep up with the Raiders, who maintained firm control over the game. Mater Lakes' attack was easily dismantled by RE's defense, specifically from Stone–Perez. The team's disciplined defensive formation made it difficult for the Bears' attack to get through and led RE to win the next two sets. RE won those sets by 25-12 and 25-19.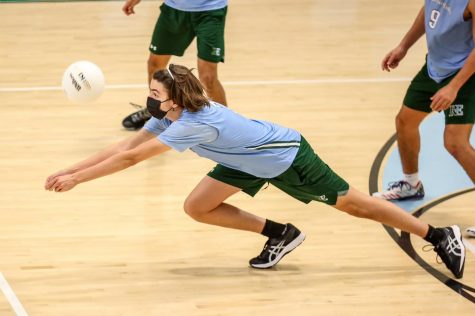 "Adrian in his usual position in the middle was really accurate hitting the ball to the corners and was always positioned in the right spot on defense," Nicolas Stone-Perez '21 said. "De'vonte continued to be a tremendous help with his versatility, and his positioning to block the ball stood out significantly in the game." 
Ultimately, it was the Raiders' accurate serving and outside hitting that won the team the game. Many of RE's players stepped up their performances to ensure that the team carried significant momentum to continue their win streak and start preparing for districts in the coming weeks. 
"Our hitting and setting played a huge role in winning this game," Gomez said. "There is always room for improvement. As Coach Jimmy says at every practice, 'we aim to get one percent better each day.'" 
The Raiders are now 10–4 and look to start a new win streak at 5:30 pm on Tuesday against the Chaminade-Madonna Lions.