Inside SailFuture, the revolutionary new school headed by RE legend Ms. Lindsay Danielson
April 19, 2021
Ransom Everglades's previous Dean of Students, Ms. Lindsay Danielson, endeared herself to the entire RE community through her sincere dedication to her job and the wellbeing of all RE students and faculty. So it came to many as a shock when she announced earlier this year that she would be leaving RE in order to serve as Head of School at SailFuture, a new school opening in Saint Petersburg, FL.  
For those who know Ms. Danielson well, however, her new venture might not be so surprising. Ms. Danielson is anything but an ordinary teacher—and SailFuture is anything but an ordinary school.  
SailFuture was founded in 2013 by Michael Long following his graduation from New College in Sarasota, Florida. As an avid sailor looking to get involved in his local community, Long was invited to take part in a mentoring program for at–risk teenagers. Long himself had experienced disciplinary issues in high school, so he could easily relate to the students. After a successful speech, Long decided to take the kids out sailing. The trip was a huge success. 
"These kids were all at risk of being expelled because of their behavior and academic performance so the administrators told me to do whatever I want. So I thought, alright, I'll take them sailing a couple times a week," said Long. "That proved to be a really good way to build relationships and I started bringing in various friends and college students into the program to pair them up with high school students. The students started to build strong friendships with each other and learn lessons that they can use for the rest of their lives." 
Spurred on by his initial success, Long decided to quickly expand SailFuture's operations and goals. He established SailFuture as a non-profit, and initially led week-long sailing expeditions for adolescents on felony juvenile probation. Seeing the tremendous potential for growth, Long began reaching out to his old college friends for assistance, such as co-founder and current Residential Program Director Hunter Thompson, and spreading the word about SailFuture. 
"Instead of just going out in the afternoon, we thought, what if students go out further and stay wherever they are staying for a longer period of time?" said Thompson. "The core philosophy became about how travel and experience is a way to foster relationships between people. So, if we can build relationships sailing on a boat in the afternoon, can we build deeper bonds and deeper relationships if we sail over a longer period of time to different places? That became the foundation for everything, beginning with weekly trips that eventually became three-month trips, and SailFuture has grown rapidly since then." 
With a team behind Long and the word of his mission spreading through Saint Petersburg, generous donations began pouring in from around the world. In 2015, SailFuture was donated its first large sailing boat, the 65–foot SV Defy the Odds from Turkey. Various highest-risk juvenile offenders and SailFuture employees traveled to Turkey and sailed over 20,000 miles to bring the boat back to Florida.  
"Our goal was to get a large boat that would allow us to sail to different countries for longer periods of time," said Thompson. "So when Michael (Long) told me about the donation of a sailboat from Turkey, we immediately got to work designing a program to take the kids to sail the boat back to Florida so we could use it right away." 
This momentum gave the organization the renown and equipment it needed to grow even further. In 2016, SailFuture purchased a 5,000 square foot home in Saint Petersburg, Florida that would serve as a full-time residential home for teens in foster care. 
"Our school depends on the generosity of our community to exist. This is because we are a tuition-free school," said Long. "We are free for families that qualify for Step-Up for Student scholarships, which covers $6,000 out of an $18,000 tuition. We have many foundations that support us, private individuals, and a boat donation program, where we take in people's old boats as training equipment for our students before selling them on to help cover the cost of tuition for our students. Companies such as Linkedin, Google, AT&T, and the TK Foundation have been some of our largest donors, and they have allowed us to really expand our efforts." 
The purchase of the home, known as The Pinellas Point Home, opened the door for the founding of a private technical school for the SailFuture residents in 2017. Its operations rapidly expanded to include international trips to Mexico, Puerto Rico, the Bahamas, and the Dominican Republic, in addition to purchasing a second seven–bedroom group home in Saint Petersburg. However, the organization initially faced some resistance from their predominately wealthy neighbors.  
"Some of the neighbors did not really want a group home or an area housing these at–risk children in their neighborhood because they thought it could drive down their property value," said Danielson. "A large part of what I have been doing recently has been walking around Saint Petersburg letting people know about our mission, and how they are just as much a part of it as we are. Initially, people struggled to get behind us because of the stigma that exists with a group home dealing with at-risk teen boys in a primarily affluent area. Everyone seems to be very receptive to our mission, and the people I spoke to seemed very excited to hear more about what we are doing." 
Having operated essentially free from controversy for several years and with the support of its generous benefactors, SailFuture is tackling its most ambitious project yet: establishing their own private high school. This private, non-profit, vocational school will be located in Saint Petersburg, and it is currently being built. The school will provide scholarships to students who cannot pay tuition, with a unique curriculum currently being designed by the entire SailFuture team. This curriculum will have three components: sailing, construction, and cooking. 
"The first semester of ninth grade will have all of our students sailing 420 sailing boats with the underlying goal of learning more about communication, because how can we function well as a school if we cannot communicate well first?" said Danielson. "This could also show them how sailing could potentially be part of their life in the long-term future. Every six days, the kids will also engage in one full day of maritime expedition, whether that be out sailing or on a motor yacht, and learning more about the associated responsibilities to learn through that process." 
In their second year, Danielson explained, the students will be involved in the design of "nautically themed restaurants," eating establishments for the community that they will then help run on a daily basis. Students will also "help out with any construction projects we may be working on to learn about the technical aspects of these large-scale projects. This would primarily include renovating school facilities or working at local community centers or churches." 
SailFuture divides its curriculum and its purposes in these three areas in a very structured way. In the ninth and tenth grades, students are broadly exposed to the culinary, construction, and sailing worlds and learn more about their operations. In eleventh grade, the students engage in internships under "social enterprises," which are essentially school-run businesses. These would include running the restaurant from a more administrative role or taking on more responsibility within a school construction project. During senior year, students take on apprenticeships with external organizations to try to build business relationships and take their lessons to the real world. 
However, Long made sure to explain that SailFuture is far from a trade school, and that its goals are much deeper. "We are a project–based school, so we teach people how to think critically and solve problems in a way that is going to set them up to be successful in anything they want to do in life. We are not designed to be a college prep school or a trade school. Just because you go to SailFuture does not mean you are going to be a boat captain," said Long.  "What we are going to do is teach you how a boat captain thinks, how an electrical engineer thinks, how a chef thinks. Essentially, we ask our kids: how do you solve these problems on a day to day basis? And [we] put them in charge of doing so."  
With Ms. Danielson as the new Head of School, SailFuture hopes to have approximately 54 boys enrolled for the 2021-2022 school year, increasing by 54 every year until there are around 216 concurrent students at the school. There are currently 15 children living at SailFuture homes. The construction for the school is currently on schedule, while Danielson and other staff have been meeting with Saint Petersburg community leaders to spread their message and collaborate with others to make SailFuture a unique educational institution. By striving to empower at-risk children with a high-quality education and various vocational skills, SailFuture hopes to give many of them the family they never truly had.
About the Contributor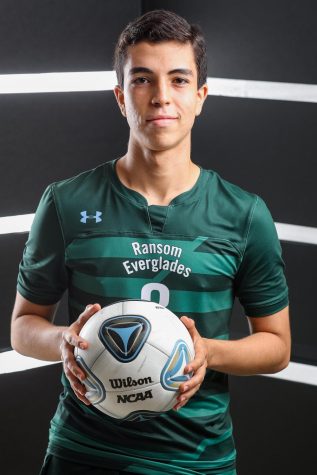 Gabriel Pulido '21, Staff Writer/Copy Editor
Gabriel Pulido '21 is a staff writer and copy editor for The Catalyst.