RE Boys Lacrosse heads into the playoffs strong with a hard-fought victory over Western High School
The Ransom Everglades boys' varsity lacrosse team bounced back from its run of three consecutive losses to beat Western High School Wildcats 13-9 on the Raiders' Senior Night. The team's depth was evident in the relatively one-sided victory, with five Raiders earning a spot on the scoresheet. Gori Spillis '21, Jacob Wolfe '21, and Parker Alhadeff '23 led the way for the Raiders with two goals each respectively. Nicky Denaro '22 also added two assists. Goalkeeper Elliot Sable '21 also completed an impressive 12 saves. 
"[The seniors] have been together for many years. With a new coach, they could have resisted the style of play and system. They have embraced the philosophy and style," Head Coach Tyrone Croom said. "Some of them are playing new positions and some have limited time from years prior. All have been greater leaders and have definitely set the standard for the future." 
The game began at a frantic pace, with both teams hungry to win. RE initially attempted to impose its physicality on Western, both through the tireless running of its midfielders and the relentless pressure of both the forwards and the defense. This intensity helped RE score some goals early in the game, but the Wildcats were able to keep up with the Raiders, tying the score 6-6 at the half. 
"I think what really helped us win yesterday was how much we have grown to trust each other," Sable said. "We feel very comfortable playing with each other, and I am happy to see us get a win over a team that has done pretty well this year." 
After halftime, Western struggled to keep up with RE. The Raiders immediately went on a 6-0 run in the third quarter that gave them firm control of the game. No longer displaying their early dynamic movements, Western's attack was easily shepherded by RE's defense. The team's disciplined defensive formation made it difficult for the Wildcats' individual attacking talent to shine through.  
"Yesterday's game against Western was the best lacrosse we have played all year. Everyone got involved and contributed to the win," Denaro said. "We learned during this game that we need to always prioritize putting the team first over ourselves." 
Ultimately, it was the Raiders' deep bench and never-ending energy that won the team the game. Many of RE's players stepped up their performances to ensure that the team carried significant momentum into the playoffs and the RE Seniors had a night to remember. 
"One of the strangest feelings was thinking about how much faster games go by as a senior than as a freshman. As a freshman, I remember thinking how impossibly long games felt," Erik Medina '21 said. "And now, regardless of how many stoppages, games fly by. As a senior, it was incredibly fulfilling to bring our career to a close in such a way. It reminded me of our eighth-grade championship, and it felt like coming full circle." 
Later this week, the RE boy's lacrosse team will be facing the Palmer Trinity Falcons in a must-win district quarterfinal Wednesday at 6:30 PM at Palmer Trinity. The Raiders hope to replicate their 11-1 victory from earlier in the season and continue to tap into their exciting potential ahead of this away game matchup. 
About the Contributor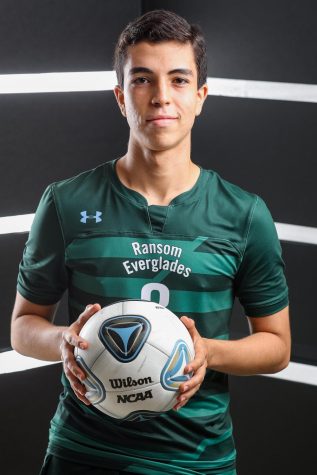 Gabriel Pulido '21, Staff Writer/Copy Editor
Gabriel Pulido '21 is a staff writer and copy editor for The Catalyst.