Spearheaded by strong senior group, RE Track and Field completes another successful meet
The Ransom Everglades Boys' and Girls' Track and Field teams, led by Head Coach Mike Becker, competed on Thursday afternoon at Coral Gables High School, winning several events and obtaining new personal bests along the way despite missing key members due to injury and COVID-19 protocols.  
RE faced off against Booker T. Washington, Carrollton (girls only), Coral Gables, Immaculata LaSalle, and Mater Lakes Academy.  
Nicole Tacher '21 won first place in the 100– meter hurdles, achieving her personal best time of 15.7 seconds, four seconds faster than her closest competitor.  
"What I like about these short races is that I genuinely don't have time to think," Tacher said. "All I've ever taught myself in that event is sprint, sprint, sprint, sprint, and sprint." She is approaching the school record of 15.34 seconds in this event, and she hopes to break it by the end of the season.  
For the first time, Tacher also competed in the long jump, and she finished in third place. To conclude her busy afternoon, she ran in the 4×400 meter relay along with Mia Balestra '21, Patricia Drulard '24, and Brooke Scott '21. They emerged victorious in the race, five seconds faster than the team from Carrollton. "I should run faster," Tacher joked about where she needs to improve. "It would help if I did that." 
Tacher enjoys balancing several different events but admits that it brings additional challenges. "I'm so used to telling myself to stay low in the hurdles but in the high jump I need to tell my body to jump up, so sometimes it's confusing," she said. "I need to focus on getting lower on the hurdle and fixing my steps in the high jump. Especially because when I think a lot [in the high jump] about my steps and my jump I start to freak myself out." 
In the individual 400-meter race, Scott finished in first place, and Balestra placed fourth. 
Lindsay Gould '21 won the pole vault, her preferred event, and finished third in the shot put. She also competed in the 100–meter hurdles for the first time, finishing runner-up only to Tacher.  
Gould previously competed in the 300–meter hurdles, not the 100 meters. "Since the 100–meter hurdles is such a short race, all I could focus on was getting over the next hurdle while maintaining my trail leg form and planned amount of steps," she said. "I'm happy with my result since it was my first time but realize that there are areas that need improvement regarding my hurdling form." 
Participating in track and field for the first time since her freshman year, Gould seeks to improve her performance in all her events. "I need to focus on timing my plant with my run for pole vault, my hurdling form and steps for 100–meter hurdles, my approach for the shot put to gain more power, and hopefully learning how to do other similar events." 
On the boys' side, Alex Dray '21 achieved his personal best time in the 3200–meter run (about two miles) of 10 minutes and 14 seconds. This was eight seconds better than his previous best. He finished in second place, trailing the winner by just 1.12 seconds. "I thought I pushed myself well on the first mile. Coming in at 5:11, which was what I wanted. Then I maintained really well and sped up for a 5:03 second mile," Dray said. "I am going to focus on improving on that first mile and just increasing my speed just a bit on it." 
Noah Gold '22 and Aidan Rothstein '22 finished first and second in the boys' pole vault, and Justin Wong '21 placed second in the boys' 800–meter run. 
RE also dominated the boys' 400–meter run. Luca Campiani '22 took first place, while Jayden Vrins '21 and Sebastian Mateu '21 were just behind, placing second and fourth respectively. 
"I was really happy with how the meet went yesterday… and I was stoked with my time [in the 400–meter]," Mateu said. Mateu had not trained or competed in the 400 meters since his sophomore year, but he still ran his personal best. "Since I hadn't run the 400 previously this season, I had some trouble pacing myself through the race. I started out fast in the first 100, then coasted for the next 200, and picked it up again for the last 100. I didn't finish the race that tired though, meaning I probably could have cut down on my time," he explained.  
Vrins, who ran despite a recent quad injury, was already thinking about how to improve on his performance. "I could have saved a little more energy for the last 50 meters in the 400 because I lost all my energy at the end," he said.  
Vrins approaches the mental aspect of these runs much like Tacher. "While I'm racing I don't really think about much. I just focus on the track in front of me," he added. He will "focus on building speed and gaining more endurance" in practice over the next few weeks. 
Campiani, Mateu, Vrins, and Wong also competed in the 4×400 meter relay for the first time this season, finishing in second place. Mateu believes that "the team did really well despite never having run it yet this season. "Coach Becker was really pleased with the performance." Vrins added, "I think as a team we all did very well today." 
It is difficult for RE students to watch these meets because the competitions do not take place on campus. However, in recent weeks, their meets have attracted more supporters than usual. "I've seen more people from Ransom coming to watch track meets this year than I have in past years," Tacher said. "And I appreciate how others are so supportive. People tell me after, 'I cheered you on today,' but I never hear them because I zone them out." 
One of the fastest sprinters in Florida, Daniel Daley '22, did not participate in this meet due to a hamstring injury. Daley trails the school record for the 100–meter dash by a razor-thin margin and hopes to break it upon his return later this season. His personal best, 10.92 seconds, is just one-tenth of a second behind the school record of 10.81 seconds. 
RE has two more meets before districts in April. Both the boys and the girls should contend for the team championships, and some Raiders expect to win individual district championships as well. "I'm excited to see how the end of the season plays out," said Mateu. "I can't wait to see what the rest of the season holds," Gould said. 
The girls' team seeks their 15th consecutive team district title. "We are looking to win districts again," Tacher said. "I don't want to be the one to give Coach Becker a heart attack." 
About the Contributor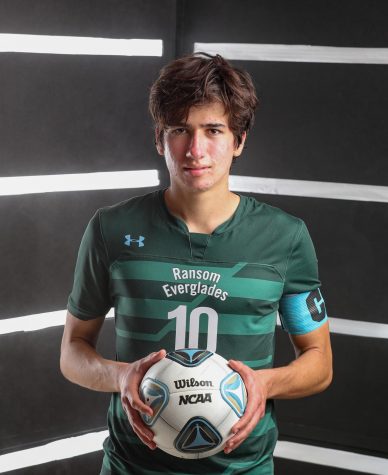 Nicolas Stone Perez '21, Staff Writer/Copy Editor
Nicolas Stone Perez '21 is a staff writer and copy editor for The Catalyst.