Track and Field reach new personal records and many wins at their past meet
The Ransom Everglades Boys and Girls Track and Field teams competed against Gulliver Preparatory School, Coral Gables High School, and Palmer Trinity High School on Wednesday at home. The team placed first and second in multiple events.  
For the Boys' Varsity team, Alex Dray '21 placed second in the 3200-meter race and Matthew Gallagher '21 placed first in the Javelin competition.  
"I was pretty happy about my race," Dray said. "I ran the second-fastest time I did all season, but I also learned what I needed to do to improve. The team did great! We won some events and really had a great time both on and off the field. We just need to stick to our training plan. Coach Becker has a great workout and if we can hit our times during the workouts, we can even surpass our own expectations for times." 
Eli Goldman '22 placed first in the High Jump competition, getting a new personal record, and Aidan Rothstein '22 placed first for the Pole Vault competition.  
"There was no added pressure in this meet," Goldman said. "I was just competing against myself, and I was confident that I would be able to clear six ft. It felt great to get a new personal record, but I'm not satisfied. I have a lot to work on including my approach, speed, and my arch over the bar. I'm happy with the progress I have made this season."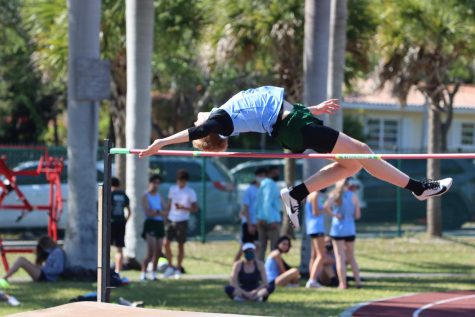 For the Girls Varsity team, Brooke Scott '21 placed second for the 800-meter race, Mia Balestra '21 placed first for the Girls Varsity Javelin competition and Alessandra Murray '23 placed second. Balestra also placed second in the Girls Varsity Triple Jump competition. Ransom Everglades also placed first for the 4×100 Relay. 
"It was my first competition in the Triple Jump so I don't know the technique to the jump that well yet, but I'm practicing, and hopefully I do well in districts," Balestra said. "This year we have a lot more girls on the Javelin team, which is very fun, and we are always competing against each other in practice and helping each other with learning the specifics of how to throw. Javelin is an obscure sport, so not that many people know the correct way to throw it, but we have been learning." 
Lindsay Gould '21 won the Pole Vault competition and reached her new personal record. Nicole Tacher '21 placed first for the 100-meter hurdle competition, 300-meter hurdle competition, and second place in the Girls Varsity High jump competition. Tacher reached a new personal record in High Jump.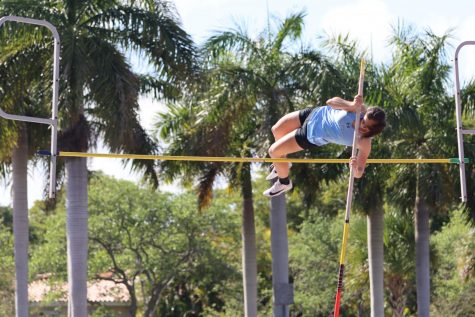 "Last meet, I was excited to get my PR and win, but am also looking forward to the next meet so I can try to beat it again," Gould said. "Shoutout to Aidan for winning and to Natalia for getting her PR! It was rewarding to see my progress and also to see where I need to improve, such as planting faster, getting my arms straighter, and improving my run." 
The Boys and Girls track teams will compete next on Thursday, March 25th at home. They will be up against Immaculata-La Salle High School and Carrollton School of the Sacred Heart. 
"I am very happy that, during this crazy COVID-19 year, our kids are still able to compete," Head Coach Mike Becker said.