Girls' Water Polo Thrashes Coral Gables in Season Opener
Last year, on March 12th, 2020, the RE Girls' Water Polo team was scheduled to play the Coral Gables Cavaliers. However, the global spread of COVID-19 caused RE to cancel the game. This marked the end of the spring sports season and the beginning of REmote learning. 
51 weeks later, also against Coral Gables, the RE Girls' Water Polo team coasted to a 15-3 win to open their season on Monday afternoon. Sabrina Shipley '22 led the team with three goals and three assists, while goalkeeper Camille Devaney '21 anchored the defense with a strong performance at the Ansin Aquatic Center, conceding only one goal and contributing three assists of her own.  
"We were all really excited to play, and it translated into lots of shots and lots of goals," Shipley said. 
RE jumped to a 7-0 lead in the first quarter, allowing Head Coach Eric Lefebvre the flexibility to make more substitutions and give the younger players more experience in the pool. Chloe Alfonso '24 and Dani Gardiner '24 made their varsity debuts, while Angela Dula '23 recorded a goal and two assists.  
Taking more shots and making decisions in a game environment increases the younger players' level of confidence, as they can "take more risks that they wouldn't have taken otherwise," according to Team Manager Peri Gould '21. Holly Alesandro '23 felt nervous starting again after such a long layoff, but "once the starting whistle blew and our first goal went in, things felt normal and comfortable." By halftime, the Raiders led the Cavaliers 10-1. 
Coach Lefebvre, now in his 13th year at RE, aimed to strike a balance between his team's immediate and long-term goals. "The team's ability to get [less experienced] players in the water is the difference between having a good season and having a good program," he explained. "I don't plan only for this year. I always plan for the following year and the year after that." 
Despite losing 10 seniors from last season's roster, the team has taken advantage of the longer break from competition to prepare for this season. They have adjusted to new teammates, new positions, and most significantly major changes to the rules of water polo while training without contact until February. Coach Lefebvre focused on self-improvement with his players, emphasizing that "if you improved as an individual, then the collective unit would be better as well." 
It is critical for the younger players to quickly adapt to the standards of the RE girls' water polo team, a program whose culture and dedication have brought home eight state championships since 2009. Gould believes the current upperclassmen lead "based on how the seniors led before them… in order to maintain the connections between past and present teams." "The older players have taught me the spirit and love for the game itself," Alesandro added. "They have made me want to improve not just for my own benefit but for the benefit of the team as a whole." 
Since last season ended abruptly due to COVID-19, the Raiders are still defending their 2019 state championship. "Having that memory fuels my expectations for the team this year," explained Shipley, a member of that victorious team. "Knowing that we have big shoes to fill brings us closer together and makes us work harder." 
"I couldn't have asked for much more given the circumstances," Coach Lefebvre added. "This start was what you would expect from the players if you weren't allowed to play for 51 weeks." 
The Raiders, now with a 1-0 record, look to continue their strong start at their away game this Friday at 5:00 pm against the St. Andrew's Scots. 
About the Contributor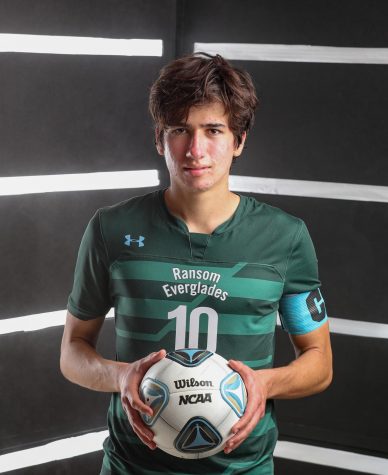 Nicolas Stone Perez '21, Staff Writer/Copy Editor
Nicolas Stone Perez '21 is a staff writer and copy editor for The Catalyst.