Miami-Dade Mayor Daniella Levine Cava outlines plan of action in "State of the County"
On Friday, January 29, 2021, Miami-Dade County Mayor Daniella Levine Cava delivered her first "State of the County Address" since being elected on November 3. Mayor Levine Cava won 54% of the vote in the general election for county mayor against Esteban "Steve" Bovo and was inaugurated two weeks later on November 17 as the first female mayor of Miami-Dade County.  
Over the past few months, Mayor Levine Cava, working closely with state and local governments, has begun to tackle the serious issues facing Miami-Dade. With a $9 billion budget, Levine Cava used her address to emphasize the county's priorities. In her 37-minute-long speech, shown in full here, Mayor Levine Cava laid out the work Miami-Dade County has been engaged in, focusing on the COVID-19 pandemic, equity, the economy and the environment.  
COVID-19 Response and Vaccine Delivery 
With COVID-19 cases topping 370,000 in Miami-Dade alone, the county government has been crucial in continuing to combat its spread. Mayor Levine Cava began her speech by recognizing the sacrifices people across both Miami and the nation have had to make, while also acknowledging her previous contraction of the virus. She continued by thanking the continual work of healthcare and essential workers, as well as teachers.  
Referencing the work the county has done to combat the virus, Levine Cava pointed to programs designed to allocate almost $1 billion in federal CARES funding to Miami-Dade, and the work of relief programs. Speaking about vaccines, the mayor stressed that the county is working to overcome some of the bumps in vaccine rollout that have occurred, while assuring that the county is distributing over 20,000 vaccines per week, allowing all seniors ages 65 or older to receive one. In addition to this, the Miami Herald has reported that the county is trying a marketing campaign to re-emphasize the need to social distance and stay safe. 
Equity 
Mayor Levine Cava also focused on ensuring the fairness of vaccine distributions. "While we have quickly put systems in place to distribute vaccines efficiently and safely, we must also ensure they're being distributed equitably to protect all our communities and move forward together," she said.  
This stresses another goal for Mayor Levine Cava, focusing on equity in Miami-Dade. She pointed to the creation of Miami-Dade's first Office of Equity and Inclusion, aimed at tackling "disparities in contracts awarded to minority-owned businesses and establish guidelines for equity in budgeting, hiring, and procurement." This office is coupled with renewed efforts at equity in law enforcement, public health, and equality organizations. 
Economy
Mayor Levine Cava is focused on the local economy's recovery after COVID-19 took its toll. According to the mayor, this rebuilding will happen through infrastructure investment, a gradual reopening of the tourism industry, increased affordable housing and public transit, funding entrepreneurship, and helping small businesses during these difficult times. In an Interview with 'South Florida Business Journal' Levine Cava specifically mentioned the need to have a dynamic workforce ready to adapt to technology, while also pointing to the creation of "RISE Miami-Dade," a loan fund for local businesses. 
Environment 
The mayor also stressed the importance of environmental protection in her address. Speaking grimly about the devastating issues facing Biscayne Bay and the local environment, Levine Cava referenced a 'Report Card' on Biscayne Bay that communicates the problems facing the bay as well as ways residents can help. In a panel discussing climate-change, Levine Cava stated her belief in the positive effects of environmental restoration and protection on low-income communities.  As one of her main priorities, Miami-Dade has taken several steps toward becoming carbon neutral by 2050 by making infrastructure more eco-friendly and transitioning to electric public transportation. The Miami-Dade school district is currently transitioning its entire fleet of buses to electric power.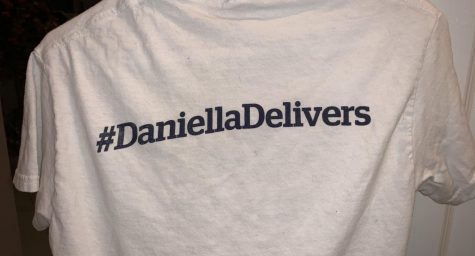 Engagement 
In her speech, Mayor Levine Cava expressed the belief that dialogue between government, business and community leaders, and everyday constituents is key to ensuring the success of Miami-Dade. She pointed to a new initiative in county civic engagement called "Thrive305." "This effort will directly engage people across the community through a survey and series of workshops to inform my administration's 'Year 1 Action Plan' – a bottom-up, community-driven policy framework," the mayor said. 
"It's with this sense of history and responsibility for the work ahead that I am proud and humbled to serve as your Mayor," Levine Cava said. "And to continue the legacy of so many pioneers and all the people, past and present, who love Miami-Dade and have put in their sweat and tears to make it better."