A Bit of HistoRE: The four-decade history of RE and Outward Bound
February 12, 2021
"We were following the map…or at least we thought we were following the map, and then [we] hit basically a dry spot of complete mud. In the moment, we thought we made a wrong turn and hit a dead end, so I got out of [the canoe] and instantly became submerged in mud up to my shoulders." 
Experiences like this one, from Alex Dray '21, capture the timeless memories that sprout from one of RE's longest standing traditions: Outward Bound. Since 1983, RE has partnered with Outward Bound to send the freshman class on an expedition into the Everglades. This year, due to COVID-19, Outward Bound postponed all activities indefinitely because they could not effectively socially distance in the limited space they have available in Everglades City. Yet the trip remains an integral part of RE's history and culture—one that has also evolved greatly over the years. 
Outward Bound was made possible largely by the work of former history teacher, Mr. Mike Stokes, and Spanish teacher, Mrs. Karen Thompson, who still coordinates Outward Bound to this day. "It was his brainchild," Mrs. Thompson remarked about Mr. Stokes's passion for Outward Bound. "In my first year, I was a new faculty member, but he knew I liked camping, paddling, things like that, so he was bouncing around ideas with me." 
Mr. Stokes hosted a camping trip during the 1970s where he would bring a group of students up to Wolfcreek Wilderness in North Georgia over the break. However, this trip was only for students who wished to go, rather than being a mandatory requirement. Stokes then contacted the North Carolina Outward Bound School to see if they could arrange a trip for the ninth graders. Outward Bound was unable to offer RE a slot because the freshmen did not meet the age requirement. 
A few days after Mr. Stokes communicated with Outward Bound, the director informed him that they were adopting a new program called the "Ransom model," where ninth graders would participate in a three-day program in the Everglades. Before long, the trip expanded to four days, before becoming the five days that it is now.  
Regarding the motives behind starting the Outward Bound program, Mr. Stokes said Outward Bound offers a level of education where everyone "finds some self-discovery." He added, "Most of what we learn [on Outward Bound] we learn ourselves." 
Another interesting element of Outward Bound was the inclusion of a ropes course. "There used to be a component with it where we went to the Outward Bound base camp in Everglades City, and they had built a ropes course, so we took ninth graders back over there to do a day at the ropes course," Mrs. Thompson said. This was separate from Outward Bound itself, and Thompson added that RE has stopped going to the ropes course for a while. 
One of the biggest changes to Outward Bound involved the decision to include faculty members on the trip. At one time, Ransom Everglades aimed to have one faculty member go along with the Outward Bound instructors and students in each crew, primarily due to lobbying from parents who felt more comfortable having an RE faculty member accompanying the students as well. 
According to Mrs. Thompson, this arrangement created an awkward dynamic between the students and the faculty. "When faculty go, they're used to teaching and being in charge, and when you go on a trip like that, they can't be in the group and have the same experience the students do. The teachers are kind of in this no-mans-land of, they're not a teacher, and they're not part of the group experiencing it the way the kids are," she explained.  
One teacher who participated in Outward Bound as a faculty advisor was science teacher and robotics coach Mr. Robert DuBard. "Whenever it came time to decide who did what work or where to navigate, all those sorts of things, I was specifically asked by the instructors not to participate. I was more there as an observer than anything else," he explained.
"It was a great experience for me to go on as an observer, but it was very frustrating to not feel like I could not contribute to the group conversation," Mr. DuBard added. 
While it was hard at times to not be able to participate with the crew, Mr. DuBard noted that going on the trip gave him a much better understanding of Outward Bound and the challenges the students face. "I remember my first year going out wondering, 'what is this Outward Bound thing?', and 'Why do they send the kids on it?', and being absolutely astonished at the kind of growth that you can see an individual have in a situation like that," Mr. DuBard said. 
Eventually, the school stopped sending faculty along with student crews. But Mrs. Thompson felt that there still needed to be a way for the teachers to identify with the students' struggles. So, one year, she organized a crew comprised entirely of faculty members. "Those faculty members experienced the program in a way where others didn't, so they kind of knew what students were going through," she explained.
When asked about potentially forming another all-faculty crew in the future, Thompson entertained the idea, saying she would "love to." "Back on the home front, a lot of teachers don't really understand what's going on out there, and that would open their eyes to what the experience is really like," she added.
The final major development in the history of Outward Bound at RE involved the implementation of a new waterfront program in the Physical Education rotation to help freshmen prepare for the five-day trip. "I have to give tremendous credit to one of our former P.E teachers, Penny Matthews, for having the vision and taking the initiative to actually directly implement paddle skills and getting these kids out on the water… I think it elevated the quality of the experience for those students who actually have it significantly," Mr. DuBard said. 
Outward Bound has been a fixture in Ransom Everglades culture for so long in part because of the values it teaches students, which they carry forward into their lives. Mrs. Thompson calls it "experiential education."
"I think we're going back to the basics of what Paul Ransom said. It is one hundred percent student motivated when you're out there," she said. Mr. Stokes echoed these comments, saying that "Outward Bound carries on the tradition of Paul Ransom's and the Adirondack-Florida School's mode of experiential learning." 
Witnessing the students learning to overcome their challenges influenced some of Mr. DuBard's teaching methods. "I think there's authentic challenges like [the ones in Outward Bound], seeing how students responded to those, that actually informed my teaching in some ways. I do a lot of hands-on stuff because if you give kids a challenge that has some authenticity…they approach it much differently," he explained. 
RE students also credit Outward Bound with teaching them teamwork, especially in a setting where the crew must rely on each other. 
"Coming together as a group was something really important I learned. There were moments when we were like 'we can't go forward,' but you just have to because you're out there all by yourselves, and there is no fallback," Dray said. Christian Gardner '23 said the qualities he gained most after doing Outward Bound last year were "leadership…and gaining more friendships." 
Outward Bound remains a highly anticipated event for freshmen each year, filled with unexpected twists and turns. Freshman George Wood-Leness '24 discussed some of the rumors he has heard about Outward Bound, saying "I hear all sorts of stories about people who've gone on the trip and said it was quite amazing." Like many freshmen in years past, he's excited—and also a little nervous. "I've never done something like it," he said. 
The COVID-19 pandemic has thrown a wrench in the plans for Outward Bound this year, and the school has not yet indicated how or when it intends to reschedule the trip for the class of 2024. 
Nevertheless, with Outward Bound being such a key part of RE's past and present, many people like Mrs. Thompson are optimistic that the school will find a solution once we return closer to normalcy. 
"Do we have an answer? No. Are we gonna try and figure something out? Yes." 
About the Contributor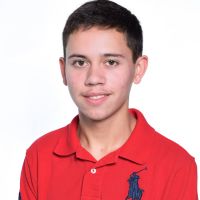 Daniel Fisher '21, Staff Writer/Copy Editor
Daniel Fisher '21 is a staff writer and copy editor for The Catalyst.