Connor Munroe '21 debuts first solo jazz album, "Then + Now"
In the past five years, the RE music program has earned several notable accolades, including a second-place finish in the 2020 National Jazz Festival. One of the most decorated groups in the program is the RE Jazz Combo, which has found particular success with senior Connor Munroe '21 at the forefront. 
Now recognized as one of the top saxophonists in the nation, Munroe picked up music at a young age. Growing up, he had been familiar with jazz, as his grandmother had introduced him to different artists such as Chet Baker and Dean Martin. But everything changed when he headed into second grade. "It was all because of this man, Oliver Diaz," he said.
Mr. Diaz, Munroe's elementary school band director, introduced him to instruments like the saxophone and created "a unique program that was unlike any other in the country, especially for an elementary school. He created this system of incentives within the jazz combo." 
A jazz combo in an elementary school is rare in itself, but Diaz's group really pushed its musicians, especially Munroe, to strive for greatness. This musical motivation stuck with Munroe, and he eventually brought his talents to Ransom Everglades, where his ability to perform at a high level has been evident since middle school.  
Mr. Jon Hamm, the head of the music program at RE, has known Munroe since 7th grade, when he made the all-state jazz band. "He's always been gifted," said Mr. Hamm. He elaborated further, saying that Munroe Mr. has kept improving by learning a variety of instruments, including the soprano saxophone, the flute, and the clarinet.  
Mr. Hamm also noted that Munroe has grown as a leader since his arrival at Ransom Everglades. "He's a great leader. He's been both the leader and the musical director of the RE combo, which is our top performing group here at the school. He has extremely high standards, challenges the other students, and overall, he's just a very motivated young man."
After teaching Munroe for 4 years, Mr. Hamm has developed a special kind of bond with him. "[Connor] is incredibly kind, polite, and modest for someone of such extraordinary talent," he said.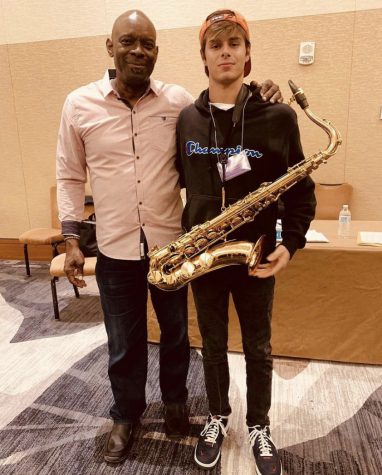 Munroe has also been developing as a solo musician, and just recently released his debut album titled "Then + Now." The album consists of seven unique songs that share a common denominator in jazz, but each evokes a unique mood. For example, the last song on the album, "This is Dreaming," combines piano with shades of existentialism in the lyrics, while the first song on the album, "Early Autumn," lacks any lyrics, but still emits tranquility with every saxophone note. 
Munroe believes that his greatest achievement as a musician hasn't been the countless awards he's won over the years, but rather his album. "My debut album is something I'm especially proud of," he said. "Although it's not exactly what I'd hoped for, because I set the bar so high for myself, I, in a way, exceeded my expectations. I'm just happy with how much work I put in."
When he started as a musician, Munroe always had the goal of releasing a solo album by the time he was 18. By spending countless hours creating and recording new music, he was able to fulfill his goal—with a surprising assist from the unique circumstances of 2020. "All the stars aligned, the stars being quarantine and new inspirations from artists like John Baptiste and my friend Miles, who actually made his own record last summer. Overall, quarantine paired with inspiration just sparked something within me."
Munroe hopes to continue growing as an artist in the future, and is applying to music programs across the country such as Miami Frost, NYU, and Manhattan School of Music. But improving his musicianship isn't the only goal: he also wants to make a larger cultural impact, using social media to build a platform. "My first goal, obviously, is to continue growing musically and get better at my craft. That's the immediate goal. However, the underlying goal, that's probably even more important, is laying the foundation for building myself up as a persona digitally."