Inside the world of sports media with ESPN's Billy Gil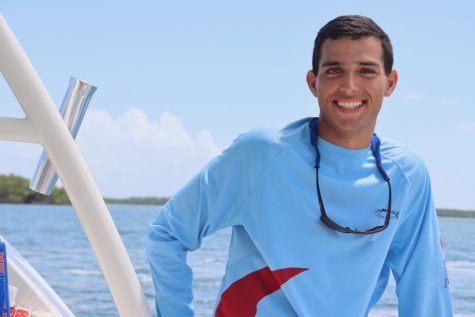 More stories from Daniel Mateu '21
Billy Gil is a homegrown Miami sports fan and Marlins fanatic. Gil attended Belen Jesuit High School and ran Track and Field, participating in pole vaulting, at Florida International University, where he graduated in 2008. After graduation, Gil followed his love of sports into a media career, bouncing around multiple local television and radio stations and eventually finding himself as a producer for the Dan Le Batard Show on ESPN and ESPN Radio, a show that has frequently held the network's highest ratings for podcasts and radio programs.    
I recently spoke on the phone with Gil for about an hour and a half. During our conversation, we spoke about his journey to ESPN and his experiences working on the Dan Le Batard Show. We also spoke about South Florida sports, with a focus on baseball. Below are some of the highlights of our conversation.  
What is your background as an athlete?    
Track was a passion of mine, something I started doing in high school, and then I decided to run with it. I was always small and didn't grow until I was older, and I liked baseball, but everybody grew fast and passed me. I wanted to do something, so I started doing track, and then I ended up liking it. 
How did you know you wanted to go into sports journalism after your athletic career?    
I did a yearbook in high school, so I kind of did journalism in that sense. When I was in college, I was trying to figure out what I wanted to do, but I didn't know right away what I wanted to study. I tried a couple of different things and took a bunch of electives and then tried journalism because I enjoyed yearbook in high school.    
Were you excited to pursue sports as a career? How did it start?    
I always was a little hesitant to do sports journalism because sports was always a kind of relief for me. But my first internship was at WLPG Channel 10 in the news department. I was at a news desk and they'd send me to a case with a cameraman as I reported on many different things. I didn't like the actual serious news stories, and I started sending stuff out for further internships. I landed another internship at CBS Channel 4, and then at 790 The Ticket. There, I started doing sports, and I really liked it, so I just worked my way up from there.     
How did you find your first internships? Did you get your first internship in college?? Did you get it in college after college? How did your internships lead you to a position on the Dan Le Batard Show on ESPN?    
So I started with internships in college, and it was a lot of emailing and seeing who would answer, but the key is being persistent. It's just a matter of sending out as many things as possible staying in contact with people. I got the WLPG Channel 10 internship early on in college, and I then had internships at CBS Channel 4 and 790 The Ticket. At The Ticket, I started interning on the morning show, which at the time was The Jorge Sedano Show. I interned on Mondays and Fridays. Dan Le Batard was hosting the afternoon show at the time, so he was doing the 3:00 to 7:00pm time slot. An intern left his show, so I began to intern on the Le Batard Show as well. I interned for the Le Batard Show for two years before they ended up hiring me on the show. I started with the show on The Ticket, and then a year after that is when the show went national on ESPN. Eventually, [the entire Le Batard Show staff] ended up working for ESPN. It all started with an internship at WLPG Channel 10, and then it grew from there.
What is your connection with sports in Miami? How have you seen sports change in Miami, and why have those changes occurred?    
Growing up, I was always a Marlins fan, but at the time Miami was a Dolphins town. The Dolphins were always the big thing until the Big Three (when the trio of Dwayne Wade, LeBron James, and Chris Bosh joined the Miami Heat). The Marlins had their two years where they had the World Series runs, '97 and '03. In October, it became a baseball town because it's early in the football season and the Marlins were competitive. But Miami has never really been a baseball town; the Marlins always seem kind of like an afterthought in the city. Personally, I've seen sports now as a business and a fandom. When you work in the industry, you kind of lose some of the fandoms a regular fan has. I have to cover it every day and need to be more objective, and can't blindly root for a team.   
You frequently bring on esteemed guests to the Dan Le Batard radio show and podcast, and now you are working for the same company as many of the people you are interviewing and having on as guest commentators. How does it make you feel when you're able to interact with great people in sports that I'm assuming you admire ?    
One of the craziest things about working at ESPN is that the people you see on TV growing up now work for ESPN. In Bristol (where ESPN headquarters are located), you're amazed because you see all these amazing people, and it's very surreal. The craziest part is realizing when a lot of these people that you grew up watching on TV are aware of who you are because they are such esteemed individuals. But I realized that athletes or analysts are just normal people who, at the end of the day, like sports and consume sports the same way I do or you do or your friends do. They're just normal people.    
What was it like producing a sports show at the beginning of the pandemic with no sports to talk about?   
It was challenging producing a show for such a long time without sports because we had to figure out what to do. We have three hours, what do we do to fill three hours, how do we have a show that has new and interesting things every day so that you know people will listen? It was a challenge, so we brought on more guests, and we tried creative things that we wouldn't necessarily have done if games were going on. One way that we got around it is we were trying to figure out interesting guests we could bring on the show to talk about a movie project or whatever it is that they're doing. It was challenging, but luckily we were able to get through it.