RE Boys' Basketball Comes Back to Defeat Miami Beach Hi Tides 70-60
The Ransom Everglades boys' basketball team surged back from a seven-point halftime deficit to defeat the Miami Beach Senior High Hi Tides 70-60 in the Henry H. Anderson '38 Gymnasium Thursday night. RE was led by Daniel Ribeiro '23, who scored 20 points in the winning effort, with the other double-digit scorers being Lucas Ortiz '21 with 15 points, Neil Schiff '21 with 12 points, and Asher Zhuk '23 with 11 points. 
"Our team as a whole has kind of been in a slump," Ribeiro said. "We kind of put it together this game. In the first half, we fell down. We weren't getting stops on defense when we were scoring, but in the second half we pulled it through. We made some adjustments during halftime, and we were able to play together as a team. In the third quarter, they went on a run, and it was back-and-forth, but in the fourth quarter we really played together and pulled out a victory." 
Early on, the game was close and fast-paced, with both teams going tit-for-tat exchanging made baskets and scoring runs. The Raiders made three three-pointers in the first quarter, but ultimately, these were not enough for them to hold the lead as RE entered the quarter break down 19-17. 
However, RE's offense would stall at the start of the second quarter as the Hi Tides came out of the break with a 7-3 run, forcing a Raiders timeout. The situation would not improve for RE from there as its defense struggled to get a stop while the players could not get their shots to fall, leaving the Raiders with a 35-28 halftime deficit.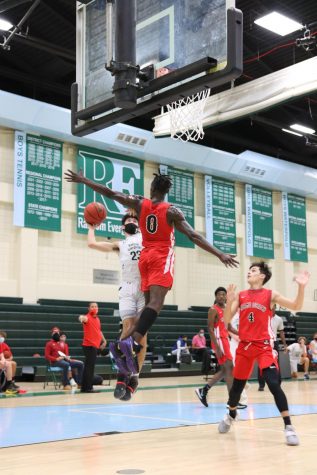 RE's second-quarter struggles spilled into the opening of the third quarter, with several Raiders players appearing fatigued. Ribeiro kept RE in the game with three made three-pointers in the period, slightly shrinking Miami Beach's lead to 53-48 by the end of the third quarter. 
"The past couple of games I've been struggling, but this game, once I saw the first [three-pointer] go in, I knew it was going to be a good night," Ribeiro said. "And in the third quarter, once the first one went in, on the second [shot] I just felt hot and kept shooting." 
Momentum began to shift in the Raiders' favor at the start of the fourth quarter, with RE fighting to erase the Hi Tides' lead due to newfound energy from the switch to a zone defense.  
"In the first half [Miami Beach] was just getting what they wanted. So, in the second half we took our wing defenders and moved them down a little bit to shut off the paint and make them hit shots," Berman said. "They're not a great shooting team, but we did a great job [covering number zero on Miami Beach]. We were more active. Our hands were good. Just credit to the guys. They played great." 
Ransom Everglades would eventually regain the lead on a Zhuk floater with just over four minutes left to play and would never look back. The Raiders unleashed a scoring barrage to complement their stout defense, expanding their lead to 70-60 by the time the final buzzer sounded. 
"I thought the second half was the first time it looked like Raider basketball," Berman said. "We got stops. We shut off the paint. We started hitting our shots, and our talent took over. We have a chance to be a really good team when guys get going like that and we play defense. We executed beautifully in the second half, so I was really proud of that."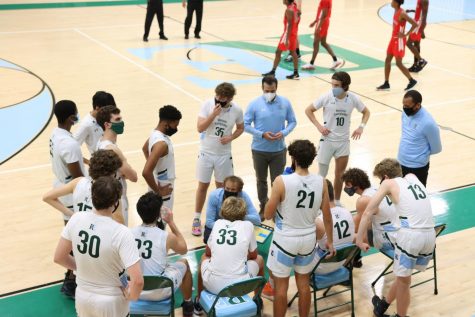 The RE boys' basketball team now has a 4-2 record and will look to extend their three–game winning streak to four Friday night when they take on the Divine Savior Academy Sharks in a 7:30 p.m. home matchup. 
"We want to take that second half and mirror it," Berman said. "We can't have a letdown. We can't be too happy about [the win]. We want to get to 5-2. We should win tomorrow night if we play well. And we just need to go to work. Our job as coaches is to make sure we're ready to go, and this was a big confidence booster tonight. I expect us to play really well tomorrow."  
About the Contributor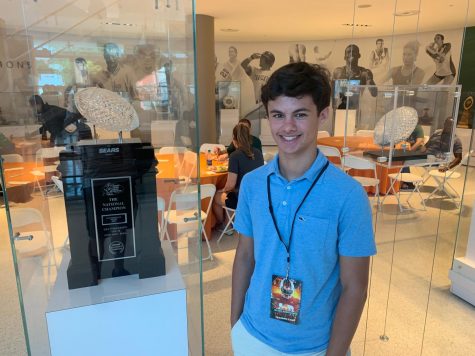 Danny Amron '21, News and Sports Editor
Danny Amron is the News and Sports Editor of The Catalyst. For the 2019-2020 school year he served as a sports reporter. He has been contributing since...