Boys' Basketball Outlasts Rival Gulliver Prep 53-52
More stories from Danny Amron '21
The Ransom Everglades Raiders boys' basketball team edged out their long-time rival, the Gulliver Prep Raiders, 53-52 on the road Tuesday night. RE was led by Lucas Ortiz '21 with 20 points and Neil Schiff '21 with 14 points. 
"To be honest, a win is a win and that's great, but we've got to get better," RE Head Coach Scott Berman said. "I really thought we were going to take a step forward tonight and we didn't. We found a way to win, and I thought Lucas [Ortiz] bailed us out. He's a really talented kid, and he really helped us. Aidan [Rothestein] did some good things. But we've got to be better. We have to have more energy. Guys got to want to win. They've just got to want to win. And we've just got to get better." 
"I thought we should have beaten them by twenty-plus [points]," Ortiz said. "We're much more talented than them, but we weren't boxing out a lot and we couldn't play any defense. But, I mean, a win is a win, so I'm happy with that." 
Gulliver Prep raced to an early lead to open the game, putting Ransom Everglades in a 19-5 hole by the middle of the first quarter. After RE's second timeout of the quarter, the momentum began to shift and the RE Raiders shrank the deficit to 19-14 to end the quarter. 
"First of all, [it was] a really bad start," Berman said. "We can't start games [down] 19-5. We were not ready to play coming out of the gate and that's on the coaches. I guess we've got to do a better job getting these guys fired up, but we had a good second quarter. [We had] a lot of energy. [Nick Lampert], Aidan [Rothestein], Neil [Schiff], and Lucas [Ortiz] did a really good job getting us back in, and then we kind of hung on." 
RE carried its first–quarter energy into the second quarter by surging to a 29-22 lead by the middle of the period and forcing a Gulliver Prep timeout. RE kept the positive energy flowing as it entered halftime with a 35-26 lead.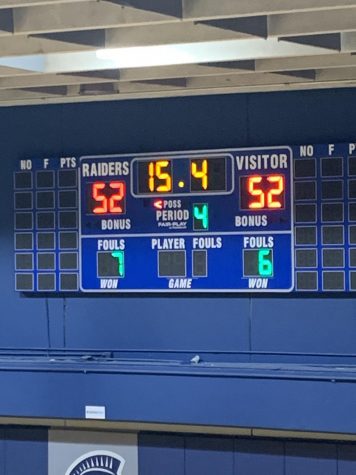 The RE Raiders came out of halftime and maintained their nine-point lead throughout a relatively low scoring third quarter. RE ended the period with leading 43-34. 
But the flow of the game was shaken up at the start of the fourth quarter, with Gulliver Prep cutting the RE lead to three points with 3:24 to play, eventually tying the game at 52-52 with 15.4 seconds remaining.  
"I think [losing the lead] was mostly [because we were not] boxing out," Ortiz said. "Every time they would put up a shot, they would get the rebound. I think on the first possession of the fourth quarter, they had almost like five possessions because they kept getting boards. So, I think that's it. [Not boxing out] really killed us in the fourth quarter." 
"We're getting tired," Berman noted about losing the lead. "We're not getting what we need right now from our bench. Our bench production needs to get a little bit better, which it will, but we're struggling. We're struggling right now … We've only had 12 practices, so it's a process right now. It's just going to take some time."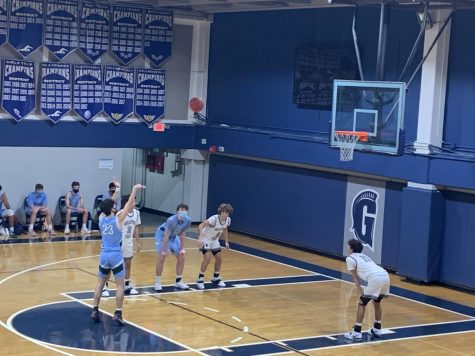 Ortiz then drove to the basket and was fouled with just 4.8 seconds left, giving the RE Raiders two opportunities to regain the lead before time expired. Ortiz made his first foul shot but missed his second, putting Ransom Everglades over the edge with a 53-52 victory. 
"I was just thinking I have to make one," Ortiz said. "Obviously I'd rather make two, but I made one and then we won, which is good. But I should have made both." 
RE boys' basketball now has a 3-2 record this season and will look to extend its two-game winning streak Thursday at 5 p.m. when they take on the Miami Beach Senior High School Hi Tides at home in the Henry H. Anderson '38 Gymnasium.