Raiders Fall to Wolverines 64-50 in Boys' Basketball Season Opener
Coming off just four days of practice since the end of tryouts, the Ransom Everglades Raiders opened the 2020-21 basketball season Monday night with a 64-50 loss to the visiting Belen Jesuit Wolverines. The Raiders were led by a 17-point performance from Lucas Ortiz '21, with Daniel Ribeiro '23 and Neil Schiff '21 making significant contributions to RE's scoring efforts with 12 points and 10 points respectively. 
"We played hard," Head Coach Scott Berman said. "We didn't play well, but we played hard. And at the end of the day, I can live with that. We have to play well to win games, but as long as we play hard, we'll start playing well." 
Ortiz provided RE with a spark of energy early on with an acrobatic and-one layup, and the positive energy for the Raiders continued throughout the first quarter with their stout defense and strong three-point shooting. By the end of the first quarter, RE held on to an early 16-9 lead. 
However, the Raiders fell into a pit of turnovers and travels, paving the way for the Wolverines to come out of the quarter break and erode RE's lead, eventually tying the game at 24-points apiece. Ransom Everglades would regain the lead on the back of nearly flawless foul shooting from Ortiz and Schiff, who powered the Raiders to a 32-26 halftime lead. Ortiz and Schiff were RE's leading scorers for the first half with each posting 10 points through the first two periods. 
But the slim halftime lead would not last long, as the Wolverines opened the second half with an onslaught of made baskets and staunch defense, forcing the Raiders to take outside shots as they struggled to make baskets from beyond the three-point arc. Belen Jesuit assumed a slight lead of 40-36 by the end of the third quarter.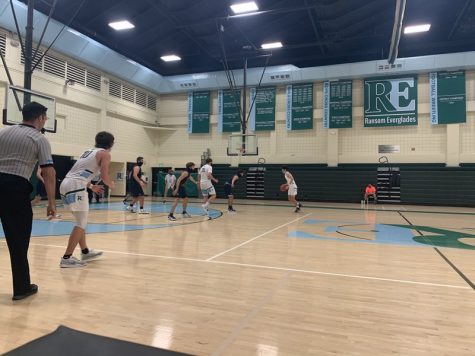 "We only scored four points in the third quarter, which is terrible," Ortiz noted. "They just outplayed us in the second half." 
"[We have to improve] our zone offense," Ortiz added. "We would sort of just be dribbling around not really doing anything. We have to kick to the middle. The coaches say that the ball moves faster than the defender, which is facts. So, we have to work on driving and kicking a little." 
The Wolverines did not look back from that point on, capitalizing on continued poor shooting and frequent turnovers by Ransom Everglades in the fourth quarter. The Raiders barely remained in the contest due to three three-pointers made by Ribeiro in the period, but ultimately saw the deficit balloon to a final score of 64-50.  
"At the end of the day, we've got to make shots," Berman said. "We missed shots in the second half, and it affected our defense. We've got to be better. Period. We have to be better, and we'll get better. We'll get back to work tomorrow. It was our first game and we got beat tonight." 
"[Cohesiveness] is what we have to find," Berman said regarding the team's short turnaround from tryouts to practice. "We have to see how we gel. We have to watch film and see how we can get better, and we as coaches have to do better at getting our bench involved. I thought our guys got tired, which is expected." 
Berman added that he was proud of the team for coming out and competing despite only having four practices and no games under their belt before the game Monday night. 
RE begins the season with a 0-1 record and will look to notch their first victory of the season next Tuesday at 6 p.m. when the team visits SLAM Academy.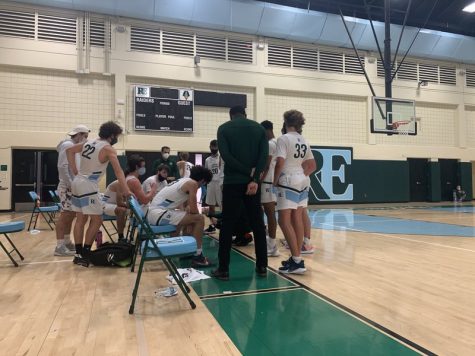 "We've got a lot of talent and a lot of good players," Berman said. "I'm looking to see how we bounce back. We didn't have much adversity last year. We had a great run, and we had some adversity tonight. I'm curious how we respond in practice tomorrow, but I expect a good season." 
About the Contributor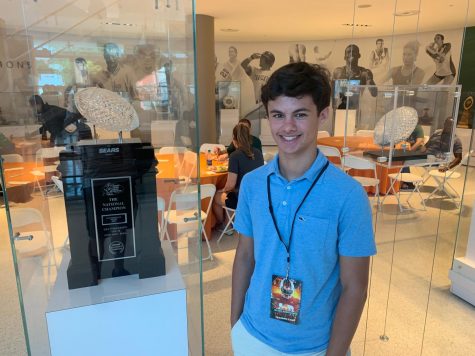 Danny Amron '21, News and Sports Editor
Danny Amron is the News and Sports Editor of The Catalyst. For the 2019-2020 school year he served as a sports reporter. He has been contributing since...