Raider Remedies for the Quarantine Blues
To say that the past months have been smooth sailing and smiles all around would be a lie. The world has faced tragedy, unexpected challenges, and instability. But Ransom Everglades students have found one way to cope, at least: by picking up hobbies and activities that have helped them bear the stress, anxiety, and boredom of quarantine.  
Zara Shapiro '21 always had an affinity for learning about other cultures and places. She imagined herself working at the UN or some other place where she could explore this interest after college. Many international opportunities and programs were canceled this summer for safety reasons, but this did not stop Shapiro from pursuing her passion.  
"I turned off Tiktok and opened up Duolingo," said Shapiro. "I decided to learn Russian, which would be my fifth language, because I thought it would help me the most in the future." 
She steadily improved every day, and being able to see actual progress gave her a much-needed feeling of stability and normalcy. She could forget about everything else and do something that really mattered to her while learning something that would help her when the pandemic ends.  
Dani Kaplan '21 not only fought the loneliness and anxiety of quarantine this summer, but also helped others whose jobs force extended periods of isolation. The astronauts NASA sends out are usually in groups of 6-8 and are away from their loved ones and life on earth for a little over a year.  
"They have been trying to cope with all of this stuff for long before we had to so they've gotten pretty good at it," explained Kaplan.  
Psychological research has shown that growing plants, and gardening in general, boosts mental health for a variety of reasons. They don't need gravity, just light, so the astronauts can grow them out in space. Not to mention, if the plants are edible, the astronauts can break up their meals with some fresh vegetables.  
"I grew plants in a LED chamber in my closet to determine which edible plants would be ideal for astronauts to grow and eat out in space," Kaplan said. "I was looking for plants that were full of vitamins, ones that grew well under low energy lighting, and ones that just tasted good!" 
She empathized with those astronauts in a new way and worked to make sure that they could benefit from gardening both psychologically and culinarily. Like Shapiro, she worked on learning new skills in order to affect the world around her, and both have new skills to show for it. 
Eliza Arnold '24 found a simpler way to blow off steam this summer in the aisle of Michael's Arts and Crafts. She is now an avid tie dyer and spends her free time tie-dying all of her family's clothes – with or without their consent!  
"Whenever I would feel bored or sad or stressed, I would just dye one of my dad's undershirts purple or something," Arnold said.  
Her big sister, Elanah Arnold '21, took another creative path and began developing film. She transformed her closet into a darkroom. In her makeshift darkroom, she felt herself forgetting about the world around her and reminiscing about the memories she had shot on film.  
Helaina Harris '21 started drawing and painting both everything around her and all of the thoughts in her head. She always liked painting but never had time to do it. She initially thought that in social isolation, she would have no inspiration, but she ended up being wrong. The time spent simply thinking during isolation inundated her with memories and ideas that she painted every day. It allowed her to process life in a new way. 
"By the time summer ended, painting had become much more than a random hobby," Harris explained. "I have quarantine to thank for that." 
In quarantine, Pablo Ocariz '21 turned his interest in sports journalism into a passion.  
"I used to rank players in my head when I was bored for fun," Ocariz explains. "But in quarantine, I got really bored so I decided to take it to the next level and write down these rankings and send them around to my friends and family members."  
The people who received these rankings realized he was a natural, and his Dad connected him with a contact at El Emergente, the Venezuelan website. After some back and forth, he landed a gig where he could publish articles under their Sports section. He hopes to continue writing for them and pursue sports journalism in college. "I am extremely grateful to have had this time to explore writing because I truly do enjoy it," Ocariz concluded. 
It wasn't just RE students who found themselves exploring new—or, in some cases, old—hobbies during quarantine. Dr. Matt Margini, who teaches English at the Upper School, time traveled back into the world of LEGO.
"I cracked open my own childhood bins of LEGO from the 90s," Dr. Margini said. "It was like opening Pandora's Box."   
With his 2-year-old son, he constructed an Upper West Side city block that included ornate brownstones and a pizzeria, "Ray & Nick's Pizza," named after his two children. He even built and designed a full LEGO church with vividly colored stained-glass windows, a priest delivering a mass, and two replicas of saint statues. Dr. Margini had not imagined that he would spend summer vacation building a cathedral out of plastic—but he did.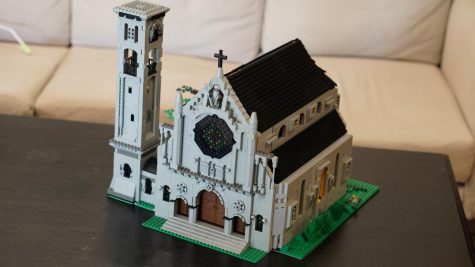 It might sound a little strange to seek relief at the bottom of a container of LEGO, but for Dr. Margini, like many RE students, it was the perfect remedy for the quarantine blues. In chaotic and despairing times, the new hobby allowed him to live in a "simpler world in which everything lines up and people don't have fingers."