Pandemic cuts off fundraising opportunities for clubs and volunteer organizations
According to a survey by the Charities Aid Foundation of America, over 91% of charitable organizations have been hurt by COVID-19. As COVID cases soar in Florida, Ransom Everglades-affiliated clubs and local Miami charity groups are no different. Clubs and organizations that depend on in-person interactions have been crippled by the pandemic, cutting off fundraising and tutoring to the students and members of the community that need it the most.   
One RE club that has had to adapt is Rock for Relief. Rock for Relief organizes student-led concerts to raise money for charities.  For example, after Hurricane Dorian devastated the Southern US and the Bahamas, Rock for Relief helped give hurricane relief to people devastated by storms. Over the years they have also raised money for healthcare and environmental charities.   
But social distancing guidelines have severely inhibited the ability of the club to function. "It's harder virtually than it would be in person," said Jackson Mopsick '21, the Secretary of Rock for Relief.
Without being able to hold concerts, the club's only avenue of fundraising has been cut off. Mopsick explained that the club has been trying to adapt by planning virtual events and shows that are in line with social distancing guidelines. Right now, the club is awaiting administration approval for some of their ideas, such as an online panel of alumni or a concert outside in the quad. Until they can reach an agreement with faculty, they will struggle to raise funds during a time when struggling communities desperately need them. 
Bruce Jagid '21, the president of Math Honor Society (Mu Alpha Theta), echoed a similar sentiment about the shift to online meetings. Mu Alpha Theta is a club that is dedicated to recognizing math talent in the RE community and providing tutoring to students in need. Jagid said that the club leadership has adapted well to the pandemic. Their meetings and peer to peer tutoring sessions have been moved online.
However, Jagid expressed that the group has had some frustration teaching online. "There really is no replacement for in-person learning," he said. Trying to teach calculus is difficult already; Jagid noted that not being able to interact with a person makes it even more so. The club has also faced difficulty getting the word out to new students. 
Student organizations outside of RE are also having to adjust to uncertainties caused by the pandemic. Hanna Hicks '21 is the corresponding secretary for an organization called Twenty Little Working Girls. TLWG is a student-run organization that performs community service and raises money to contribute to local Miami charities. Usually, the members of the club fulfill community service requirements at places like Camilla's House, a local homeless shelter, but this year, they've been unable to. "It's been very difficult because of Corona," Hicks said.  
Hicks described how, because of the pandemic, the club's ability to interact with the Miami community has been incapacitated. "We haven't been able to do the shifts we usually do. We've been scrambling trying to figure out how each member can still participate and help the community," she said. 
Last year they raised over thirty thousand dollars for local Miami charities including the START program (an afterschool program for underprivileged kids), Camilla's House, homeless women, and victims of sex trafficking. But this year, TWGL leaders are anxious about their club's ability to be successful.   
"[I am] worried for the rest of the year because its already been really difficult trying to organize and keep people excited," Hicks said. "We haven't been able to do the things we usually do so we're already behind on our fundraising goals."  Most of the money raised by the club is from in-person fundraisers (like an annual fashion show) that are too unsafe to organize during the pandemic. 
Helen Hannan '21, the president of the student-run charity group Symphonettes, expressed similar wariness. As part of the club's community service, its members usher for local symphonies and concerts. But for the first time in 54 years, they won't be able to do so, nor will they be able to raise the same level of funds for local youth arts programs like Young Musicians Unite and Guitars over Guns.
With many of the in-person fundraisers that the club depends on being postponed or canceled, Hannan told me that she "just [doesn't] expect to raise as much money." Usually, the club raises over $40,000, but this year Hannan says they will be lucky if they can raise $25,000. This will be a problem for the Miami students who participate in the programs that Symphonettes helps fund—students who, during this pandemic, will need mentorship more than ever.  
About the Contributor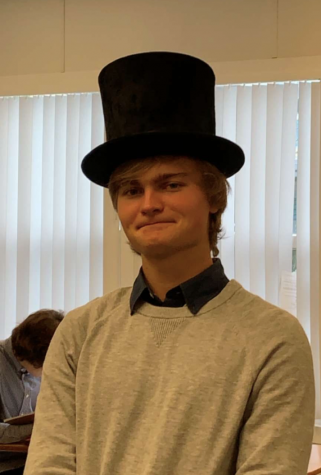 Axel Hicks '21, Copy Editor
Axel "Axel Hicks" Hicks goes to Ransom Everglades.