"The show must go on": How the Drama Department has adapted to COVID-19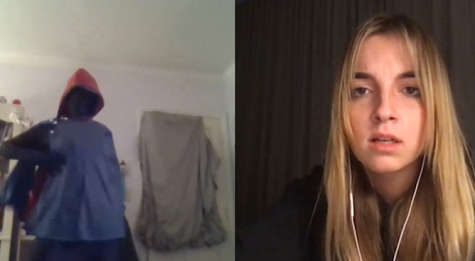 With all that the Ransom Everglades community is facing right now, the school has had to make many adjustments in order to keep the student body, faculty, and staff safe. The need to make activities and environments virtual has caused many teachers and departments to make serious adjustments to their curriculum and plans.
One of the departments most affected by the switch to virtual school is the Drama department, where performing Arts teacher Ms. Samantha Shapiro has been working nonstop to make changes to her curriculum in order to keep her students engaged in the virtual classroom. But the "show must go on" mentality that drives all of theatre is clear in Ms. Shapiro's attitude.  
Of the many different learning environments affected by the pandemic, theatre is one that has been uniquely damaged. Without the physical connection between the actor and the viewer, it becomes hard to create the same level of energy. Shapiro explained that "theatre, and the art of storytelling, is a tradition meant to be shared with others. Performers thrive on the electric energy created between themselves and the audience. They depend on sharing that experience with a live audience." 
However, Ms. Shapiro has developed several strategies to deliver a robust drama curriculum in the next year, despite this not being the most ideal situation.
Without traditional auditions, Ms. Shapiro was forced to move online. "Auditions were held virtually, in the form of pre-recorded video submissions, for both the Senior-Directed Fall plays and the Spring musical, Mary Poppins," she said.
Additionally, Ms. Shapiro had to rework Mary Poppins to fit a new digital format in case RE remains virtual next semester. This video adaptation does not include dialogue and places further emphasis on the musical numbers, ensuring the best possible performance. 
Theatre is meant to provide new perspectives, and with the current social and political crises, Shapiro is excited to show the students the different ways that groups in the arts have been handling the change. She is thrilled to "explore the ways Broadway and other regional theaters have responded to the pandemic and the Black Lives Matter movement," she said.

The pandemic has brought setback after setback, but Ms. Shapiro's passion for her craft and love for the stage won't let her do anything less than she would in a normal year. Through the fall and spring shows, as well as her numerous classes tackling new and old issues alike, her work in carving out the next generation of thespians will keep going.